Enjoy everything Cape Cod has to offer on this 9-hour, guided sightseeing tour from Boston. From quaint villages, seafood shacks, lighthouses and ocean beaches, Cape Cod has it all in the summertime. Travel through Hyannis Port, site of the John F. Kennedy Memorial, and experience a narrated cruise along Cape Cod Canal with a perfect view of the Kennedy Compound. There's also time to sightsee and shop along the Cape's waterfront. Hotel pickup and drop-off is included from select Boston hotels.
Highlights
Cape Cod day trip from Boston

Experience New England in the summer on this sightseeing tour and cruise combo

Spend time in Hyannis Port and visit the JFK memorial
Relax on a narrated sightseeing cruise along the Cape Cod Canal
Get the best possible view of the Kennedy Compound from the water
Enjoy free time to sightsee and shop in quaint seaside villages along the Cape
Why Our Insiders Chose This Tour
Cape Cod is best during the beautiful summer months. Instead of exploring the busy city areas, sit back and relax on a soothing sightseeing cruise for the best possible views of Hyannis Port, the Kennedy Compound and the cape's coastal lighthouses and beachfront properties.

Recent Photos of This Tour
Cape Cod Summer Day Trip from Boston Including Sightseeing Cruise
What You Can Expect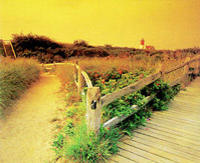 This sightseeing tour begins with a convenient hotel pickup for those staying in downtown Boston.
Then it's a 1.5-hour drive to Hyannis Port, a small residential village and affluent summer community on Hyannis Harbor. It's also the largest recreational boating port on Cape Cod and the former home of President John F. Kennedy, who used three houses and six acres of land as a "Kennedy Compound." It served as a headquarters for his Presidential campaign in 1960 and later as a summertime White House retreat until his death in 1963.
Visit John F. Kennedy Memorial Park on Lewis Bay, then get a perfect view of the Kennedy Compound when the tour continues with a narrated sightseeing cruise along Cape Cod Canal.
Spend the rest of the day browsing Cape Cod's variety of gift shops, independent stores, bookstores and specialty boutiques and buy lunch at one of the many village restaurants.
Please note: This is a seasonal tour that operates from June-September.
June 2016
We loved this day trip to Cape Cod! Brian, the tour guide, was fabulous and it was because of great reviews, by other people, about Brian, that we booked this trip. He is a gem. And his stories! Hilarious! He is definitely doing something he loves and the tour is made even that much more fun! Great day!
June 2016
This was our first trip to Boston. We spent a week. We covered the entire city. Ate at the best places. Went to Lexington and Concord. Went on the harbor cruises. Took the trolley and got off at every stop and explored. Went to Cheers. Went to Quincy's Market. Did a pizza tour in the North End. Stayed at the Four Seasons and ate at places like The Bristol, Ostra and the Atlantic Fish Company. Top shelf experience. Full and rich on history and an amazing blend of old within the midst of modern. We had this day set aside for the tour to Cape Cod. It was beautiful. It reminded us of some of the shore towns that we live near. Quaint, quiet, picturesque indeed. The drive there was simple. The boat was great and we had a chance to see everything. It was a beautiful summer day. What we want share is about our Driver/Guide that day, David. A true Bostonian at heart. Salt of the earth guy who was incredibly dutiful and caring. Driving for years covering nearly 2 million miles. He knows the road and has seen it all. We had difficulty with the air conditioning on the bus. Unbeknownst to most of the guests on the bus he went into action. He got on the phone and made arrangements for another bus if needed and once parked he was able to cool the bus down. As we where heading back, unbeknownst to the guests, as most would prefer to complain rather than to appreciate and understand how David was being the professional he is. He did something that was brilliant. The greatest people in life are those that do things without calling attention to themselves. He intentionally stayed in the left lane 47 miles as it was shaded and he knew it would help the temp inside the bus even if by 5 degrees. His actions impressed. If asked would you return to Boston the answer would be yes. Although the food, places and history are nice it is because of David and his actions that day. He demonstrated the true spirit of Boston.Thank you David! We appreciate you!
Donna and Michael Philadelphia
September 2015
We very much enjoyed this 5 day coach trip to Cape Cod beginning when we were picked-up outside our hotel and transferred downtown to the main coach which was clean and comfortable. We driver was very knowledgeable and kept everyone amused with his stories. When we arrived at the interesting Kennedy Park and Memorial and also time to walk around and enjoy the sea view, then on to Hyannis Port to take the ferry boat trip around the bay offering a view of the numerous Kennedy homes Compound where family members are still living. Our lunch stop was at a pretty town called Sandwich where we enjoyed a excellent seafood meal and had time to do a little shopping along the street which had many different and interesting shops. Our last stop was at a Glass Making factory and museum which had lots of beautiful glass displays where it would have been possible to spend some time as there was several rooms to be seen. We arrived back at our hotel by 6.00pm after a wonderful 5 day out.
Suzyblue United Kingdom
September 2015
Very enjoyable day!
Would have liked a little bit more free time, but overall a great day and would recommend! :-
September 2015
Lovely trip to Cape Cod Island. Thanks to our driver Brian who gave lots of helpful and interesting information. The scenic stops were great.
September 2015
It was a great trip and our tour guide Bryan was awesome.
September 2015
It was a very informative and enjoyable trip. I highly recommend this trip except I still wanted to shop but there was only time to eat lunch. I may never pass this way again and I felt bad I could not browse around.
August 2015
Great use of time and getting the most of the area. Brian was the BEST driver and provider of information.
We will return for other tours with you.
August 2015
Unfortunately we picked a very rainy day for this trip. But our driver Brian still made it fun and even added some stops since we couldn't go on the boat ride. He was very knowledgeable and we enjoyed the trip.
August 2015
We booked this last minute because we didn't know what our schedule was going to be. The agent who helped to make the travel arrangements was very helpful. It was a wonderful day, more than we could have hoped for. Brian was a wonderful guide, very informative and personable. Bus accommodations were comfortable. Definitely the highlight of our trip, well worth the cost.
Advertisement
Advertisement