Discover thousands of marine animals at the New England Aquarium! Meet green sea turtles and blue penguins, touch sharks and stingrays, observe eels and jellyfish, and watch seals and sea lions at play. See the new 200,000 gallon Giant Ocean Tank with a vibrant Caribbean coral reef teeming with hundreds of tropical fish. You can also catch an IMAX film on the largest screen in New England!

Highlights
Admission to the New England Aquarium in Boston

Explore vibrant coral reefs
Meet fish, touch rays and sharks, and watch penguins and seals play
Experience an unforgettable IMAX® film on New England's largest screen (general movies are included)
See the Giant Ocean Tank, home to everything from sea turtles to sharks to tropical fish
Recent Photos of This Tour
What You Can Expect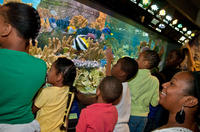 Dive deep into the ocean inside the New England Aquarium in Boston and experience engaging exhibits featuring animals from across the globe.
Experience a close encounter with gentle sharks and rays in the largest shark and ray tank on the East Coast, and stand in awe of the four-story, 200,000-gallon Giant Ocean Tank, home to everything from sea turtles to sharks to tropical fish.
Get up-close with charismatic seals and enjoy interactive exhibits at the New Balance Foundation Marine Mammal Center. Meet Northern fur seal pups and two frisky California sea lions at the open-air exhibit space featuring sweeping views of Boston Harbor.
Go face-to-face with blue penguins from Australia -- the smallest species of penguin in the world -- and learn how they got their name as you watch them take a dip in the water, preen, socialize and eat.

Explore the aquarium's backyard with the Gulf of Maine exhibits, featuring such local mainstays as Atlantic cod and halibut, rare blue lobsters and the notoriously ugly monkfish (also known as goosefish).

Try to spot the camouflaged seadragons at the Thinking Gallery and don't miss the Freshwater Gallery, where you can explore wildlife from the flooded forests of the Amazon River Basin to the still waters of a New England pond.
You can also sit back and experience an unforgettable IMAX® film! The Simons IMAX Theater uses amazing IMAX 3D technology and New England's largest screen to take you to places most have only dreamed of going. IMAX films provide people of all ages with larger-than-life experiences that captivate, enlighten and inspire (see list of movies in Itinerary section).

Itinerary
New England Aquarium Exhibits:
Trust Family Foundation Shark and Ray Touch Tanks - In this mangrove-themed tank, visitors can get a close encounter with Sharks and rays, even having the chance to gently touch the back of Cownose rays, Atlantic rays and sharks as they swim gracefully.

Harbor Seals and Fur Seals - Visit with these charismatic and intelligent marine mammals and catch a Training Session to see how they respond to cues.
New Balance Foundation Marine Mammal Center - Get ready to get up, get active, get moving and get close to marine mammals this summer with the grand opening of the New Balance Foundation Marine Mammal Center and the launch of the Get Your Feet Wet programs.

Entertaining and engaging programming, along with the new innovative, interactive exhibit space, promote activity and fitness while increasing awareness of marine life and conservation. Draw connections between marine mammals and humans and learn about the challenges marine mammal face in our oceans today. Interact with our charismatic fur seals through daily presentations that highlight animal health, fitness and diet. The new exhibit is specially designed to promote hands-on contact with the animals so you'll be able to experience marine mammals closer than ever before possible.

Enjoy an amazing program exclusively sponsored by the New Balance Foundation, Marine Mammals in Motion, which serves as your interactive pathway to discovering how healthy living protects both humans and the oceans. Grab your exercise guide upon arrival, and make sure to join our trainers and marine mammal stars for "Fitness Fridays" all summer long. Finally, you will be coached by "Splash" the fitness mascot about how you can as healthy and strong as he is!

Giant Ocean Tank - As one of the world's largest cylindrical saltwater tanks, it offers a multi-level view of the sharks, sea turtles, moray eels, and other tropical fishes that live inside. The tank's center structure represents a Caribbean coral reef. Myrtle, the giant green sea turtle, feels so much at home, you can find her asleep at the bottom for an hour at a time.
Blue Planet Action Center - This exhibit showcases the challenges facing oceans and the Aquarium's global leadership in searching for solutions to these issues. There is a combination of interactive displays, interpretive presentations and small live animal exhibits.

IMAX Movies Currently Screening (subject to change):
Island of Lemurs: Madagascar 3D - Narrated by Morgan Freeman, meet several species of lemurs and look at life in a lemur colony. Follow along as they leap from tree to tree in the Madagascar forests.

Great White Sharks 3D - Come face-to-face with great white and hammerhead sharks, witness their feeding frenzies and swim alongside the biggest fish on Earth, the whale shark. Sharks 3D will help you overcome your deepest fears and change how you think about sharks forever.
Journey to the South Pacific - Explore the island paradise of West Papua, the world's most diverse marine habitat. See shimmering schools of fish, swim alongside whale sharks, take a look at tiny sea turtle hatchlings and view giant manta rays.

September 2015
January 2014
I've been here dozens of times and I'm fascinated every time. I could stare at the penguins for hours.
August 2013
I bring all our visitors from out of town to the NE Aquarium, and everyone has loved it! It's a great experience for kids and adults- entertaining and educational. I'm sure we'll be back!
August 2013
jumped right ahead of the huge queue. well worth it.
May 2012
Perfect get-away for our family of 4! Can't wait to go back!
April 2012
The Aquarium was fascinating! We spent 6 hours in awe..... including the IMAX theater to conclude our day. We would definitely plan to visit again.
December 2011
We had a great time! My little ones (5 and 8) were on sensory overload. They particularly enjoyed the penguins and the touch tanks. We all enjoyed the IMAX movie about Orangutans and orphan elephants...and at a great price thanks to Viator.
August 2011
This was the best familily trip! The kids loved it
August 2011
Excellent, our voucher meant we could jump the queues. Really worthwhile going round the acquarium
Anonymous
September 2009
Great with kids. Been to a lot of aquariums and the kids really enjoyed this one. Fun thing to do when you're in Boston, definitely recommending.
Advertisement
Advertisement