From seals and sea lions to sea turtles, seadragons and stingrays, the New England Aquarium is the place to discover more than 800 different marine animals under one roof — or in one big tank. Check out the four-story Giant Ocean Tank, featuring a brand new coral reef, underwater communications system and hundreds of Caribbean reef animals. Grab an admission ticket and IMAX movie pass and have an unforgettable aquarium adventure.
Highlights
Admission to the New England Aquarium in Boston

Explore vibrant coral reefs
Meet fish, touch rays and sharks, and watch penguins and seals play
Experience an unforgettable IMAX® film on New England's largest screen (general movies are included)
See the Giant Ocean Tank, home to everything from sea turtles to sharks to tropical fish
Recent Photos of This Tour
What You Can Expect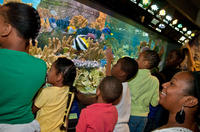 The New England Aquarium is one of the premier visitor attractions in Boston with over 22,000 members and 1.3 million visitors each year.
Start on the front plaza, where a slice of New England rocky coast and 42,000 gallons of water are home to resident harbor seals. Look for a massive globe, featuring the oceans, continents and animals that call this blue planet home.
Step inside for New England Aquarium admission, where informative and entertaining live animal presentations happen every day, allowing visitors to get up close and personal with their favorite aquatic animals. Watch fur seals interact with their trainers. See turtles eat right from the hands of divers, including Myrtle, a 550-pound green sea turtle, who has been living at the Aquarium for more than 40 years.
"Sea" it all: sea turtles, sea stars, sea urchins, sea lions and sea dragons, not to mention snails, hermit crabs, horseshoe crabs, shorebirds, lobsters, goosefish, octopus, piranhas, anacondas, salmon and many more.
Like penguins? The New England Aquarium's penguin exhibit is home to more than 80 of them — African penguins, Northern and Southern rockhopper penguins, even little blue penguins.
Then there are tanks. The largest "touch tank" on the East Coast features more than 100 animals, including cownose rays, Atlantic Rays and sharks, and the centerpiece exhibit, a cylindrical 200,000-gallon Giant Ocean Tank featuring turtles, sharks, eels, stingrays, tarpon and many more, including colorful tropical fishes.
Relax and experience an unforgettable IMAX movie in 3D, like Humpback Whales, Great White Shark or Jean-Michel Cousteau's Secret Ocean.
Purchase a snack at the kid-friendly Harbor View Café or head to Faneuil Hall for a quick lunch — and don't forget to grab a souvenir at the Aquarium Gift Shop before leaving.
Itinerary
New England Aquarium Exhibits:
Trust Family Foundation Shark and Ray Touch Tanks - In this mangrove-themed tank, visitors can get a close encounter with Sharks and rays, even having the chance to gently touch the back of Cownose rays, Atlantic rays and sharks as they swim gracefully.

Harbor Seals and Fur Seals - Visit with these charismatic and intelligent marine mammals and catch a Training Session to see how they respond to cues.
New Balance Foundation Marine Mammal Center - Get ready to get up, get active, get moving and get close to marine mammals this summer with the grand opening of the New Balance Foundation Marine Mammal Center and the launch of the Get Your Feet Wet programs.

Entertaining and engaging programming, along with the new innovative, interactive exhibit space, promote activity and fitness while increasing awareness of marine life and conservation. Draw connections between marine mammals and humans and learn about the challenges marine mammal face in our oceans today. Interact with our charismatic fur seals through daily presentations that highlight animal health, fitness and diet. The new exhibit is specially designed to promote hands-on contact with the animals so you'll be able to experience marine mammals closer than ever before possible.

Enjoy an amazing program exclusively sponsored by the New Balance Foundation, Marine Mammals in Motion, which serves as your interactive pathway to discovering how healthy living protects both humans and the oceans. Grab your exercise guide upon arrival, and make sure to join our trainers and marine mammal stars for "Fitness Fridays" all summer long. Finally, you will be coached by "Splash" the fitness mascot about how you can as healthy and strong as he is!

Giant Ocean Tank - As one of the world's largest cylindrical saltwater tanks, it offers a multi-level view of the sharks, sea turtles, moray eels, and other tropical fishes that live inside. The tank's center structure represents a Caribbean coral reef. Myrtle, the giant green sea turtle, feels so much at home, you can find her asleep at the bottom for an hour at a time.
Blue Planet Action Center - This exhibit showcases the challenges facing oceans and the Aquarium's global leadership in searching for solutions to these issues. There is a combination of interactive displays, interpretive presentations and small live animal exhibits.
June 2016
June 2016
Fantastic place to take your children!
April 2016
Not my first trip to the aquarium, but as usual a beautiful place. Staff friendly and helpful. Only downside was that we went during April vacations and it was extremely crowded.

December 2015
Loved it--beautifully maintained and informative! Great whale film too.
November 2015
TOOK THE GRANDCHILDREN IN THEY HAD A GREAT TIME, GREAT DAY!!!
October 2015
I really enjoyed visiting the Aquarium. Everything about our trip was great, I can't down load pics, as I don't know how.
September 2015

Ginjabread USA
January 2014
I've been here dozens of times and I'm fascinated every time. I could stare at the penguins for hours.
August 2013
I bring all our visitors from out of town to the NE Aquarium, and everyone has loved it! It's a great experience for kids and adults- entertaining and educational. I'm sure we'll be back!
August 2013
jumped right ahead of the huge queue. well worth it.
Advertisement
Advertisement