63 Reviews
Location:

Boston, Massachusetts

Duration:

8 hours

(approx.)
Journey back in time and see how life was for the Pilgrims and Wampanoag American Indians in the 1600s on this day tour to the Plimoth Plantation, a living museum south of Boston in Plymouth, Massachusetts. Interact with costumed actors who reenact the Pilgrims' daily tasks in the English colony and check out a Wampanoag home site that has been recreated alongside the colony. Board the Mayflower II, a replica of the ship that brought the pilgrims to the New World, to complete your trip into colonial America.
Highlights
Day tour of the Plimoth Plantation in Plymouth, Massachusetts from Boston
Interact with actors who accurately reenact life in colonial America at Plimoth Plantation
Visit the recreated Wampanoag homesite and learn from modern day American Indians about the Wampanoag ancestors as well as life today
Stroll along the waterfront where you can see Plymouth Rock, where the English colonists first landed
Tour the Mayflower II and get an idea of what the journey from England to America would have been like for the pilgrims
Climb Cole Hill to check out the first pilgrim cemetery in Plymouth
See artisans at the Craft Center work with the technology of the 1600s to make clothing, tools, housewares and other necessities

Recent Photos of This Tour
What You Can Expect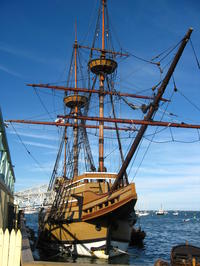 After morning pickup at your Boston hotel, travel by air-conditioned luxury coach 45 miles (72 km) south while listening to your professional guide explain the history of Plymouth and the arrival of the first pilgrims on the Mayflower. When you reach Plimouth Plantation, immerse yourself in this living museum where you meet convincing actors who speak old English as they tell you about their daily life in this historically accurate recreation of the small English colony. Watch how the blacksmithing, cooking and farming was done in the early 1600s and feel free to ask questions of the knowledgeable actors.

At the Wampanoag home site next to the colony, you'll meet American Indians from different nations who demonstrate how the Wampanoag's ancestors lived and talk about how they interacted with the pilgrims. They also tell you about how they live in present day and will answer questions.

Don't miss the Craft Center at Plimouth Plantation, where contemporary artisans show the 17th century techniques that American Indians and English colonists used to make tools, pots, headdresses, clothing and furniture. The center aims to preserve the knowledge of these ancient technologies.

You'll have free time in to check out the waterfront where you'll find Plymouth Rock and the Mayflower II, a replica of the original ship that the English colonists sailed to Plymouth. Historical actors describe the journey and living conditions aboard the Mayflower during the Atlantic crossing, bringing history to life with vivid detail as you walk about the ship. Or choose to climb Cole's Hill, a National Historic Landmark, which contains the first cemetery used by the pilgrims in 1620.

After you have explored the living history at the Plimoth Plantation, your coach returns you to your Boston hotel.

This tour is seasonal and only operates from June to October

When the Mayflower II is in drydock, an alternative venue is scheduled.
November 2015
Bob was our guide and he was fantastic. Had an answer for everything, and I mean that in a very positive way. Great tour.
November 2015
This si a great way to see Plimoth Plantation. We had just enough time to see most of the place. Our driver was very nice and informative. There is a lot of walking here so be ready for that! It'sa a very interesting place.
October 2015
Very interesting tour. you wander around the museum by yourself which is good. The actors enjoy talking to you about life at that time. After that we went to the coastal town of Plimoth. Again you were left to wander around and have lunch and also visit the replica of the Mayflower which is very good. A very good day which we thoroughly enjoyed.
October 2015
Great tour and guide, Mark!
October 2015
Bob, our driver, was exceptional. He was very knowledgeable, interesting and fun to be with. We had a great experience and recommend this day trip to all.
Evie
United States of America
September 2015
Great tour, Bob was a wonderful tour guide. It was a nice piece of history with beautiful views.
September 2015
This was one of our favorite day trips from Boston. Our tour guide, Bob, was excellent. We covered many sights, had a great lunch, plus lots of time to walk around and learn. I recommend this day trip!
September 2015
Enjoyed this tour. Great Bus driver. Gave lots of information and history of Plimoth.
September 2015
A great trip. The Plantation was fascinating. Plymouth and the Mayflower were great.
Our driver Brian had plenty of localknowledgeand made the trip interesting throughout
August 2015
Fabulous day! We loved having Brian as our guide. He was fun, knowledgeable and showed us all of Plymouth. The plantation was incredible! From the Native Americans to the Pilgrims who totally stay in character you can almost feel yourself being transported back in time. The Mayflower II really helps you in vision what the voyage and winter aboard must've been like for all aboard. Great history lesson! Great restaurant, The Cabby Shack, was featured on The Food Network for their clam chowder was well worth it.... amazingly good! This tour is a MUST do.
Advertisement
Advertisement