Travel back in time to experience the Plymouth Colony as it was in the 17th century on this guided day trip. Plimoth Plantation, the living history museum in Plymouth, Massachusetts, shows the original settlement of the Plymouth Colony established in the 17th century by English colonists, some of whom later became known as Pilgrims. Mingle with costumed role players who re-enact life in colonial America, step onto a full-scale reproduction of the Mayflower II and more. Hotel pickup and drop-off are included on this narrated sightseeing tour.
Highlights
Day tour of the Plimoth Plantation in Plymouth, Massachusetts from Boston
Interact with actors who accurately reenact life in colonial America at Plimoth Plantation
Visit the recreated Wampanoag homesite and learn from modern day American Indians about the Wampanoag ancestors as well as life today
Stroll along the waterfront where you can see Plymouth Rock, where the English colonists first landed
Tour the Mayflower II and get an idea of what the journey from England to America would have been like for the pilgrims
Climb Cole Hill to check out the first pilgrim cemetery in Plymouth
See artisans at the Craft Center work with the technology of the 1600s to make clothing, tools, housewares and other necessities

Recent Photos of This Tour
What You Can Expect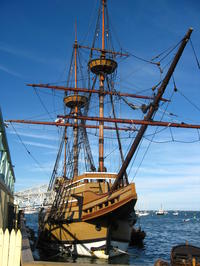 Following hotel pickup in downtown Boston, enjoy a 45-mile (72-km) drive south to Plymouth in an air-conditioned, private coach. Learn from the professional guide about the history of Plymouth and the story of the first Pilgrims who arrived on the Mayflower. Upon arrival at Plimoth Plantation, witness the compelling story of the Pilgrims and the native Wampanoag people.

The first outdoor living history exhibit is the Wampanoag Homesite, located on the banks of the Eel River. Discover how the 17th-century Wampanoag would have lived along the coast during the growing season — planting crops, hunting and fishing and collecting wild herbs and berries for food as well as gathering reeds for making mats and baskets.

Step onto the Mayflower II, a full-scale reproduction of the ship that brought the Pilgrims to Plymouth in 1620. Actors in authentic costumes talk about their perilous journey across the Atlantic, and guides present the fascinating history of the Mayflower.

The 17th-century English Village is a replica of a small farming and maritime community built by the Plymouth colonists (aka Pilgrims) along the shore of Plymouth Harbor. This really brings colonial Plymouth to life, with timber-framed houses, kitchen gardens, and heritage breeds livestock. The townspeople will be happy to speak of their new lives in Plymouth Colony.

Note: This seasonal tour operates from June to October.

When the Mayflower II is in drydock, an alternative venue is scheduled.

June 2016
November 2015
Bob was our guide and he was fantastic. Had an answer for everything, and I mean that in a very positive way. Great tour.
November 2015
This si a great way to see Plimoth Plantation. We had just enough time to see most of the place. Our driver was very nice and informative. There is a lot of walking here so be ready for that! It'sa a very interesting place.
October 2015
Very interesting tour. you wander around the museum by yourself which is good. The actors enjoy talking to you about life at that time. After that we went to the coastal town of Plimoth. Again you were left to wander around and have lunch and also visit the replica of the Mayflower which is very good. A very good day which we thoroughly enjoyed.
October 2015
Great tour and guide, Mark!
October 2015
Bob, our driver, was exceptional. He was very knowledgeable, interesting and fun to be with. We had a great experience and recommend this day trip to all.
Evie United States of ...
September 2015
Great tour, Bob was a wonderful tour guide. It was a nice piece of history with beautiful views.
September 2015
This was one of our favorite day trips from Boston. Our tour guide, Bob, was excellent. We covered many sights, had a great lunch, plus lots of time to walk around and learn. I recommend this day trip!
September 2015
Enjoyed this tour. Great Bus driver. Gave lots of information and history of Plimoth.
September 2015
A great trip. The Plantation was fascinating. Plymouth and the Mayflower were great.
Our driver Brian had plenty of localknowledgeand made the trip interesting throughout
Advertisement
Advertisement