Have more time to explore Fraser Island on a 3-day tour with an expert guide. Traveling by 4WD-vehicle, stop at Cooloola Recreation Area on your drive from Brisbane and the Gold Coast. Savor Fraser Island's highlights: a dip in the pristine waters of Eli Creek, Lake Birrabeen and Lake Wabby; rainforest walks to see Pile Valley, Wanggoolba Creek and the Hammerstone Sandblow; and zipping along Seventy-Five Mile Beach to Pinnacles and the Maheno shipwreck. Your tour includes two nights of private or shared accommodations at a beachside resort with most meals included.
Highlights
Three-day tour of Fraser Island by 4WD from the Gold Coast or Brisbane

Visit Cooloola Recreation Area to admire its colorful red sandstone formations and wide-open beaches

Learn about the rainforest and former timber industry at Wanggoolba Creek, Central Station and Pile Valley

Dip into Lake Birrabeen, Lake Wabby and Champagne Pools


Get great photo ops at the Maheno Shipwreck, Indian Head, Red Canyon and Rainbow Beach

Spot wildlife such as kangaroos, dingos, humpback whales, dolphins, rays and turtles

Choose from a range of accommodation options at a resort located on 75-Mile Beach
What You Can Expect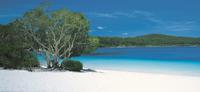 The Aboriginal name for this UNESCO World Heritage-listed island says it all: K'Gari — paradise. It features 800-feet-tall (250-m) sand hills, more than 100 freshwater lakes and creeks, and the world's only rainforest growing in sand. Visit top spots such as Eli Creek, Lake Birrabeen, Lake Wabby, Hammerstone Sandblow, Pile Valley, and Wanggoolba Creek. Your knowledgeable guide shares informative commentary about the island's history, animal and plant life throughout your tour.

After your day's adventures, enjoy a well-deserved rest at Eurong Beach Resort, a motel-style resort located on Seventy-Five Mile Beach. Choose to book a private twin or single room, or share an affordable 4-person dorm-style room. Two breakfasts, one lunch and two dinners are included.
Itinerary
Day 1: Gold Coast or Brisbane – Fraser Island (D)
Meet your coach in the Gold Coast or Brisbane. En route to Fraser Island, for a brief visit to nearby Cooloola National Park. Spot kangaroos on the Noosa North Shore and go off road in your 4WD vehicle to cruise along Teewah Beach. Stop to grab lunch (own expense) before snapping photos of the brilliant sandstone at Red Canyon and, weather permitting, the colorful sands set against an ocean backdrop at Rainbow Beach.
After taking in colorful Cooloola, zip over to the Fraser Island ferry for a short ride to the island. Upon arrival, your 4WD vehicle sets out to explore the island, which is on the UNESCO World Heritage list. Fraser Island is also known for its resident population of wild dingos — keep a lookout for them as you go!

Drive down the sandy highway of Seventy-Five Mile Beach to the Hammerstone Sandblow, a giant sand dune that sits next to Lake Wabby. Follow your guide on a walk over the sands to arrive at an emerald lake for a refreshing swim.

In the late afternoon, check in to your room at Eurong Beach Resort and then rejoin the group for dinner at the restaurant. Afterward, take a nighttime stroll on the beach or sip a drink at the bar.

Overnight: Eurong Beach Resort, Fraser Island

Day 2: Fraser Island (B, L, D)
Hang on while the 4WD coach motors along Seventy-Five Mile Beach to the Yidney Dripping Rocks and the Maheno Shipwreck where you can snap great photos of these iconic sights.

Then continue to Eli Creek, which runs from the island's interior to the ocean. For fun, splash upstream then float back to the beach on the creek's gentle current.

After cooling off in the creek, tuck into a picnic lunch provided by your guide. When you have refueled, drive by the Pinnacles. Your guide recounts aboriginal legends about these rocky outcrops that glow in hues of red, yellow, and orange.

Next, continue to admire the Champagne Pools, a series of tide pools tucked into rocky coves. After inspecting the fragile ecosystems, walk along a rocky headland to Indian Head and get amazing views over the ocean. You may spot dolphins, turtles, rays, sharks, or even the humpback whales that migrate here from July to November.

Wrap up the afternoon with a hike to Rainbow Gorge, passing through coastal scrub and cypresses to reach the fantastical landscape of the gorge and Kirra Sandblow. If conditions do not allow for visits to Indian Head or Rainbow Gorge, you may instead go to Lake Garrawongera. After coastal day adventure, head back to the resort a leisurely evening including dinner.
Overnight: Eurong Beach Resort, Fraser Island
Day 3: Fraser Island – Brisbane or Gold Coast (B)

Set out after an early breakfast for Pile Valley where you follow your guide into the rainforest. Note the satinay trees, valuable timber due to their resistance to fire and termites. Hear more about Fraser Island's importance to the timber industry at Central Station, the former headquarters for logging on the island.
Next, meander along a boardwalk that skirts Wanggoolba Creek. Walk through king ferns, ghost gum and pine trees and watch as the clear water of the creek 'disappears' as it ripples over the sandy bottom.
Take a scenic drive to Lake Birrabeen for a refreshing swim and relaxation on the sandy lakeshore. Then relax on the drive back to Brisbane or the Gold Coast after a memorable trip to Fraser Island. Board the ferry at midday and return to the mainland where you will stop in Rainbow Beach for lunch (own expense).
April 2016
Myself and my boyfriend Steve went on the trip at the end of March 2016. We were picked up promptly from Hotel Jen on the first morning. I had completely forgotten that you have to pay cash for some fees to the driver on the day but luckily read it in the small print whilst we were waiting so could quickly head to the cash machine! Do take this into consideration when pricing up the trip as it was 90 each so adds quit abit to the cost.
Fraser Island is beautiful and I am so glad we decided to this trip whilst during our 3 week holiday in Australia. The weather on the island whilst we were there was stunning, 34 degrees so extremely hot! Make sure you take water bottles as you can regularly fill these up and you will need to keep hydrated! Steve the driver was lovely and friendly and happy to answer any questions.
We stayed at Eulong Resort and had a private room as we didn't fancy sharing with strangers being in a couple. The food at the resort was nicer than I expected. It was a buffet and would have a 'theme'. The lunch provided by Steve was fab, basically make your own rolls :.
At the night time in the resort there is a bar you can go to. We were exhausted as we had not been in Australia for long so were still suffering from jet lag so didn't stay around at night although did have a couple of drinks. Make sure you get the discount wrist band at lunch we were nearly missed off the first night as this gives you a couple of dollars off drinks at the bar. Make sure to take your time to head down to the beach in the morning before/after breakfast as it is lovely to enjoy the view and take a few pictures.
I would recommend this trip to anyone reading.
February 2016
Excellent trip and good value for money.
Our guide was Peter was very good and informative. It was is a fascinating sand island and the Eurong accommodation was very good. Food was varied and plentiful.
Would highly recommend this tour.

October 2015
Great tour. Highly recommend the 3-day option because it gives you more time at each location on Fraser Island. The tour company is also great Peter was an excellent guide, easy-going and fun.
May 2015
Awesome tour! Terrific guide! One of the best tours we have ever done. Family and kid friendly.
December 2014
Even through it was raining most of the weekend, Scott and his wife were amazing tour guides. They knew so much about the island, and I felt as if I was being left into their family for those days. Amazing tour, absolutely beautiful island, and great food. Definitely worth the money and time. Hope to be back one day!!!
October 2014
We thoroughly enjoyed this trip . Fraser Island is so beautiful. Mat was very knowledgeable. We would recommend it highly. Excellent value for money.
March 2015
A very nice tour. Great sights and a lovely Island to go to. The tour guide was excellent and had great knowledge of everything. The resort where we stayed had a nice location and an excellent buffet dinner, although the rooms were not the best.
A fairly large group, around 26-30 people, being a first time solo traveller, it took a little time to make friends and feel included as most other people were in groups or with others.
Overall a fantastic Island, great tour guide and certainly well worth a visit!
February 2015
Very good. Nice ride over the beaches. Beautiful pools to swim. Steve the guide took good care of lunches. Nice bar to drink beer.
Advertisement
Advertisement