Explore the Great Barrier Reef on a 3-day guided tour that includes a full day on Lady Musgrave Island, part of the southern reef. After departing from the Gold Coast, Brisbane or Sunshine Coast, travel to the charming town of 1770 where you stay two nights at a beachside resort. During your day at Lady Musgrave Island, enjoy options such as snorkeling and swimming with turtles (included), and scuba diving or deep-sea fishing (own expense). At the resort, hit the swimming pool and beach, with surf lessons and kayaking available.
Highlights
3-day guided tour to 1770, Lady Musgrave Island and the Great Barrier Reef
Enjoy amazing sunsets from the beach next to your resort
Spend a day at Lady Musgrave Island snorkeling, swimming and relaxing on the beach

Go scuba diving or deep-sea fishing on the Great Barrier Reef (own expense)
Choose from shared and private accommodation options

Round-trip transport from Gold Coast, Brisbane or Sunshine Coast included
Recent Photos of This Tour
3-Day Great Barrier Reef Tour: Lady Musgrave Island and the Town of 1770
What You Can Expect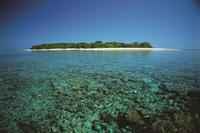 Travel to a resort located on the beach in the small town 1770, the mainland departure point for Lady Musgrave Island and the Great Barrier Reef. Each day, you can choose from included and optional activities, or simply relax and enjoy the beach and its amazing views. During your full-day tour to Lady Musgrave Island, you can add activities such as scuba diving or deep-sea fishing, or view the coral reef while snorkeling with provided equipment. The choice is yours! See Itinerary for more details.

Spend two nights in your choice of a private room with ensuite, or shared accommodation; see Pricing for options that suit a variety of budgets and tastes.

Itinerary
Day 1: Gold Coast, Brisbane or Sunshine Coast – 1770 (D)
Meet your coach in the morning at a central location in Gold Coast, Brisbane or Sunshine Coast and head north to the township of 1770.
Stop for lunch (own expense) and a visit to Snakes Downunder Reptile Park and Zoo. Catch sight of the Glasshouse Mountains as you go. Afterward, get back on the road to arrive in 1770 by mid-afternoon and check in to your resort.
Once you have put down your bags, choose from several activities for the afternoon. You can try optional activities (at own expense) such as surf lessons and kayaking. Looking to just unwind? Lounge and swim at the beach or pool at your leisure.
In the evening, have dinner at a local café or restaurant, and then enjoy the nightlife on site or a walk on the beach to look for shooting stars.
Overnight: Sandcastles 1770 Motel & Resort in 1770
Day 2: 1770 – Lady Musgrave Island – 1770 (B, L, D)
After breakfast, hop on board the
Spirit of 1770
boat and cruise to Lady Musgrave Island, situated on the southern part of the Great Barrier Reef. This area is known to be free of stinging jellyfish so you can enjoy the turquoise waters without worries.
After about an hour-long ride, you arrive at Coral Lagoon for more paradise. You have several options for your day here. Swim among the amazing coral and fish with the provided snorkel gear, and take a trip by glass-bottom or semisubmersible boat. Keep on the lookout for turtles; you might the chance to swim with the famous Lady Musgrave residents, or spot their nesting sites on the beach.
You also have the option to try scuba diving or deep-sea fishing (own expense). Both beginning and certified divers can explore the diversity of marine life on the Great Barrier Reef; meanwhile anglers of all skill levels can attempt to reel in some fish with provided gear.
Enjoy a provided lunch, morning tea and afternoon tea on the boat. If time and weather permit, you'll be treated to a sunset tour. Afterward, enjoy dinner at a local café or restaurant and then enjoy the rest of the evening on your own.
Overnight: Sandcastles 1770 Motel & Resort in 1770
Day 3: 1770 – Gold Coast, Brisbane or Sunshine Coast (B)
Check out of the resort after breakfast and head to the beach for some fun in the sun. Take an optional surfing lesson (own expense), swim or snorkel, depending on the conditions and timing.

Next, visit the family-run Mammimo Gourmet Ice Cream. Lick fresh ice cream or sorbet (own expense) as you watch a farm demo about sugarcane production (seasonal). Afterward, get back on the road. You return to your starting point in the evening to end your tour.

April 2016
What a great tour and especially great value for money for everything included. The island/reef is amazing and a once in a lifetime experience. I would recommend would definitely recommend this tour to anyone.
March 2016
Thanks Harry so much for the whole trip. Harry, our tour guide and coach, is very nice and friendly and taking good care of all of us. As I dont eat chicken, Harry was so nice that he asked the cook making me a special dish for my dinner. The day we went to the boat trip is nice but boat is a bit bumpy due to the weather. Low tides and strong waves also made me got hurt by the corals tho. Overall, it is a good memorable trip.
Rob L United Kingdom
January 2016
Amazing trip. Even with the boat fee and reef tax this is a great price for what you get. The accommodation, whilst basic, was good. Harry, the guide, really makes the trip. He will do anything to make sure you have a good time, and answered every question anyone threw at him. Luckily for us there was only 6 people on our tour which meant we had a more personalised time, but Harry really goes the extra mile to make sure everyone is happy.
The drive both ways is broken up into a couple of stops depending on where other guests are being picked up and the activities the group wants to do. The Snake and Reptile park was good fun, whilst the Bundaberg Rum Factory is definitely recommended! The sunset tour round 1770 is a nice end to the first day, and there are some wonderful views.
The boat trip out to the Great Barrier Reef is worth the price alone. It is a fantastic day, Lady Musgrave Island is beautiful and the glass bottom boat ride to it from the pontoon lets you get your first view of the reef. Lunch on the boat was great, lovely choice of food, and plenty of it. Snorkelling over the Reef is incredible, it really is amazing. We paid the extra to go Scuba Diving as well, and absolutely loved it. Having never Scuba'd before it was perfect for us as there was only a small group 3 for the instructor to take diving, and the high level of the reef means you are never excessively far from the surface.
We also booked a surf lesson for the final morning which was great fun, and very well priced. The meals in 1770 were good, and we were well fed throughout the 3 days.
October 2015
Great value for money and the trip to the reef was very informative. Harry our driver and guide for the trip was very informative and nothing was to much trouble to make the whole trip extra special
July 2015
Harry was an amazing tour guide! He did a great job catering the tour to what we all as a group wanted to see and eat which made the trip. He was full of fun facts the reef was beautiful for being at the end of the barrier reef.
June 2015
Booking this tour was the best decision I made when coming to Australia! Such a great deal for your money, and Harry, our tour guide made it a blast. The accommodations were very clean and comfortable, and the Great Barrier Reef day was spectacular! I already want to go back!
June 2015
Amazing experience, new friends for life and awesome tour guide Harry! :)
Hop on the Nemo bus for an unforgettable trip!! Don't forget to remind Harry for his macadamia nutcracker and his luigi joke at dinner time! Have fun!
March 2015
A fantastic tour that fitted so much in to only 3 days! Many thanks to our tour guide Harry who was funny, informative and very helpful. He definitely made the trip more memorable and nothing was too much trouble, even after a long day driving us around everywhere.
The hotel we stayed at was great, just a short walk to the beach, clean rooms with everything we needed and yummy food included. Every stop on the way to and from the reef was action packed. We especially loved the animal encounter park demonstrations. We had a full day on the reef with all equipment provided and the optional surfing lesson on the last day was an added bonus! Great value for money considering all the activities and meals that were included, we would definitely recommend to all!
April 2016
Snorkeling was excellent. Didn't have to swim far to see lots of sea creatures closeup. Water was calm. Crew also pointed out the location of the turtle.
April 2016
The guide and other staff were terrific! Lady Musgrave was very beautiful and the snorkeling was really something. The hostel/hotel was really nice too.
Things I would change: the boat ride OUT to Lady Musgrave was horrible big waves, and they said it's always like that.
You could do the same trip youself for a cheaper price, but if the price is no problem then I really recommend this one!
Advertisement
Advertisement