For the best views of the Glasshouse Mountains and Moreton Bay, two of Brisbane's most amazing landmarks, take to the sky on a Brisbane sky dive. Feel the adrenaline rush of a short freefall before you float gently through the air, coming to rest on one of Redcliffe's beautiful beaches.
Highlights
Beach landing on one of Redcliffe's beautiful beaches
Great views over Moreton Bay and the Glasshouse Mountains
Sky dive up to 14,000ft

Highly trained, professional instructors

No previous experience required

What You Can Expect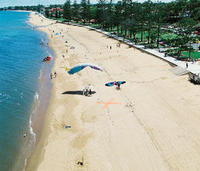 A tandem skydive is a great introduction to skydiving. Enjoy the thrill of floating through the air with great views as far as the eye can see, as your diving companion takes control.

Your highly trained instructor will give you a 15-minute safety and training session before you strap on your parachute and get ready for the flight of your life. Soaring to a height of up to 14,000ft, the drop zone is located between Moreton Bay and the Glasshouse Mountains, giving you spectacular views. If you are lucky enough to be enjoying this experience during the months of June to November, you may spot the migrating whales frolic in the bay beneath you. Feel the exhilaration of a short freefall before your parachute is released and you float gently to the ground for a soft landing on one of Redcliffe's beautiful beaches.

Enjoy the beach and relax with your fellow sky divers before returning to Brisbane. Roundtrip transport from Brisbane's Central Business District is included. Photos and DVDs of your sky dive are available to purchase on the day.
July 2012
What an awesome experience....
February 2011
Best thing I have ever done!!
July 2013
WOW! This was excellent, the weather brilliant sunny and blue skies. The staff friendly and Peter my expert was very good and no time for butterflies! quickly up in the air to 12000 feet and then the shutter was open and out we all fell and it was so quick and then the parachute opened and we glided down onto the beech. Got the video and watched this when we returned home and it was wonderful to see my reaction.
March 2011
It was an amazing experience! They were really professional and I felt like I was in safe hands the whole way! Definitely do it again! Cant wait!! would recommend to get your own way to and from their office in Redcliffe though
April 2014
Experience started off badly with the time and meeting point provided by Viator turning out to be completely wrong. Bus was late picking us up and girl at reception was terribly rude. Overall experience of actual dive - fantastic especially instructors who were all lovely and extremely helpful.
Advertisement
Advertisement