Try out Moreton Island's most popular activities — sandboarding and snorkeling — on an adrenaline-fueled small-group tour from Brisbane. Spend a full day exploring the island by sea when snorkeling through the Tangalooma Shipwrecks, and on land when sand boarding on giant sand dunes and visiting pristine beaches. Snap photos of the gorgeous scenery and learn from your guide about the abundant animal life. Travel in a small group that is limited to 16 people for a more customized experience with your guide.

Highlights
Full-day 4WD adventure on Moreton Bay Island from Brisbane

Sand boarding down Moreton Island's sand dunes

Snorkel alongside an abundance of marine life residing in the Tangalooma shipwrecks

Time to swim, kayak and relax on Moreton Island's pristine beaches

Picnic lunch and photo opportunities spotting turtles, dolphins and dugongs

Small-group tour limited to 16 people ensures a personalized experience with your guide

Travel across Moreton Island Marine Park aboard luxury catamaran

Recent Photos of This Tour
What You Can Expect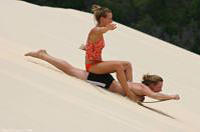 After morning pickup at select hotels in Brisbane, transfer to the ferry that takes you across Moreton Bay. When you arrive at Moreton Island, travel by 4-wheel drive (4WD) vehicle to the beach and along Middle Road.

Moreton Island is the world's third largest sand island. Most of the island is a protected national park without paved roads, making 4WD an essential mode of transportation.

Admire the scenery as you pass eucalyptus forests with some trees that are 250 years old. Head to 'the Desert' for a classic sandboarding experience on Moreton Island.

When sandboarding, you can reach speeds of up to (50 km) per hour. Despite the potential for speed, everyone from beginners to speed demons can enjoy the activity and modify it to their comfort level.

After the sandboarding excitement, head to a lake where you can take a dip in the blue waters or relax on a white-sand beach while your guide serves up a tasty picnic lunch. Then head to the Tangalooma Shipwrecks for a guided snorkel tour around the 15 submerged shipwrecks. The wrecks are located only (50 meters) from the beach, making them easy to reach. Enjoy watching a range of aquatic life swim around the vicinity, including parrotfish, trevally, blue-tang surgeonfish (dory) and clown fish.

Alternatively, take a kayak tour in the area of the Tangalooma Shipwrecks, observing the shipwrecks from above.

Please note: Snorkeling is subject to tide and weather conditions and may change without notice. Kayaking may be offered as an alternative to snorkeling if conditions are unfavorable.

At the end of a full day, enjoy the sunset over Moreton Bay as you return by ferry to the mainland and transfer back to Brisbane where your tour ends.
June 2016
What a fantastic day I had. It was perfect in every single way and our guide was so much fun and very knowledgeable. The sand surfing was great and the snorkeling once in a lifetime experience. This is a must do tour!

September 2015
This was a fun and great tour led by our guide Adrian. The snorkeling was a surprise hit and well led. I do wish time permitted a greater exploration of the island but the ferry schedule limits this. Two ideas for making this better: 1 the equipment and facilities of the company need improvement. The male wetsuits were tattered and old. The campsight where we had lunch was very poorly maintained with trash strewn throughout the eating area. 2 the lunch was of poor quality as has been mentioned in other reviews. It's not that difficult to put together a decent lunch. Instead, soggy sandwhiches and generic store brand cookies, granola bars, and soft drinks - and again, consumed in a poorly maintained camp area was a bad experience.
June 2015
The tour guide was great and accommodating. The provided lunch was not very substantial (it probably cost $2.00) nor healthy (small deli meat sandwich and a side of donuts and cookies).
April 2015

March 2015
What an adventure! From the ride into the island to the sandboarding. It was great. I opted for kayaking instead of snorkeling and had a blast. Others that snorkeled near the ship wreck saw some really cool stuff. Highly recommended!
russ United Kingdom
February 2015
An action-packed day with snorkelling being the main event. It was hard work swimming out to the wrecks, round them and back against the current. Andrew, the guide/driver, knew his stuff and helped less able swimmers. This is for serious action-people only - there is no chance of a rest half way round as it is deep water. A chance to get away from boring coach tours. You will be wet, covered in sand and bounced around in a 4x4 car as your drive along the beach for miles. You stay in your swimmers all day. No toilets (hole in the ground, or wait for the ferry). No roads - hence need for 4x4. Bring sunscreen (waterproof), insect repellent, towel, swimmers and flip-flops as these make it easy as there are no changing facilities.
I thoroughly recommend this tour. Small group of eight on the day worked well, any more and the 4x4 would be too cramped.
The picture associated with this tour is misleading - I wouldn't recommend it if younger than 17.
We didn't get to sandboard as it had been raining so we did a tour of the island instead. I think the day varies based on tides, weather and participants.
January 2015
Had the best day. The tour guide was great, kept the group laughing and having a good time. Awesome experience, awesome place, totally recommend. Would do it every weekend given the chance
December 2014
the tour was snorkeling gear included.My friend and I enjoyed the trip. The tour guide Andrew was kind and professional. Sandboarding was awesome although after couple of times climb up to the top of dune required good muscle workouts. lol. the whole island does not have proper road so we were sitting back of 4WD and enjoyed humps n bumps that we felt. The snorkeling near 15 shipwreck was the most memorable event for me. It was my first ever snorkeling so Andrew gave me a life jacket to put on so I was comfortably and safely did snorkeling. This trip has only two activities: sandboarding and snorkeling but from morning 7am for pick up to 7pm to drop off at Roma street bus stop 125, it was pretty busy day. The tour price was very reasonable which included picnic lunch. It is worth to go there with this tour! I would like to go there again!
January 2014
Tour guides were good characters. Heaps of fun. Highly recommended
December 2013
I enjoyed snorkelling at the ship wreck, we saw a shark!
Advertisement
Advertisement