Learn to catch Caribbean waves with a 2-hour small-group surf lesson in the British Virgin Islands, and experience the thrilling sport at one of the Tortola's best beaches. Find out how to read the swell as it enters Josiah's Bay, and practice paddling, standing up and making the most of every ride. Surf alongside your instructor as you soak up the tropical sunshine, enjoy perfect views of white sand and blue water, then finish your session with a cool drink on the beach.
Highlights
2-hour surf lesson in the British Virgin Islands
Learn to balance on a surfboard with a qualified instructor
Catch a wave in Josiah's Bay, a top surfing destination in Tortola
Relax on the beautiful tropical beach, a popular spot with the locals
Open to participants age 10 and up
Includes refreshments and 1-hour surfboard rental after your lesson
What You Can Expect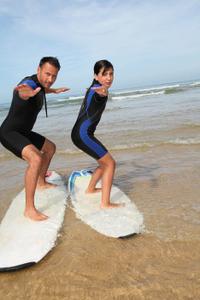 For a great introduction to surfing, meet your instructor at Josiah's Bay, which boasts the best surf in the British Virgin Islands. The fun begins on the beach, where you'll learn key aspects of surfing, from basic water safety to reading and reacting to sea conditions.
After this half-hour orientation on shore, move into the water and continue with a 2-hour lesson on the waves. You'll learn the basics of paddling, controlling your board, catching a wave and standing up. The small-group setting makes learning to surf a fun activity, and you can practice for an extra hour after your lesson with a complimentary surfboard rental.
Josiah's Bay is a great place to hang out afterward with newfound friends on the beach. Watch local surfers catch a perfect wave or enjoy sunbathing, swimming and playing on the long, sandy beach. Head to Josiah's Bay Beach and Snack Bar for a simple meal or enjoy the garden setting at A Secret Garden (own expense). Be sure to bring your camera, swimsuit, towel and sunscreen for a scenic time out in Tortola.
Advertisement
Advertisement