The Dolphin Discovery program is tailored to suit passengers of all ages and capabilities! Waist deep in water, you'll kiss, caress and observe the dolphins as they perform high energy tricks that will absolutely amaze you! If you wish, move deeper into the water while the dolphins swim and play around you! Perfect for the whole family!
Highlights
Dolphin discovery swim from Road Town, Virgin Islands
Kiss, caress and observe dolphins up close
Swim and play with the friendly marine mammals
Recent Photos of This Tour
What You Can Expect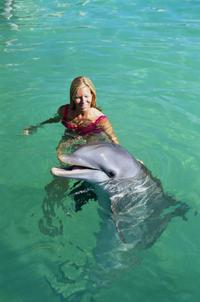 The Discovery Swim is an interactive program designed for the highest level of participant comfort. From a waist deep platform, guests get the opportunity to caress, kiss and observe the dolphins while they perform high energy tricks that will amaze you!

For those passengers who feel comfortable, there is an opportunity to move off the platform into slightly deeper water to participate in some fun activities while swimming with the dolphins. This is a great option that the entire family can enjoy!
January 2014
I took this trip because it was half the price of the one offered on my cruise - both went to the same dolphin place. However, I had to pay $64 for a round trip cab, which made the trip only about $20 less. The experience with the dolphins was amazing and well worth the trip! Compare pricing to make sure you're getting a good deal - the ship provided transportation, and with Viator, we had to get there on our own.
December 2013
what a wonderful time my husband and I had at the dolphin experience the staff were wonderful and informative it was the hi-light of my holiday and something I will never forget We will be recommending this experience to everyone S.Greenfield England
July 2013
Awesome experience of a lifetime
December 2012
If you can arrange it, this should be a must do on your vacation. There are three or four other pools, so they can accommodate several groups. If you can avoid it do not book with a large group or tour bus. 30 or 40 people in the pool at the same time does not give you much individual time with the dolphins. The session is only about a half hour in the water.
Our group included my family of four and another family of four......8 of us in all and just the right size goup. We were delighted to interact with FOUR dolphins, two adult females and two smaller ones. We were all able to stroke them, shake hands, play ball, kiss and play with them. The experience was all that we could have wished for. My two grandchildren wanted to return the following day. You are not allowed to take your own pictures, but there is a photographer who snaps scores of pictures. And, of course, you are encouraged to buy the pix and/or the CD. A somewhat pricey day if you are on a tight budget. But, if you can, save up ahead of time and splurge on the experience.
February 2011
Really a fun thing to experience and our kids loved it-will cherish our pictures always. When any one asks how our trip was my four year old replies,"I swam with the dolphins"
July 2010
Told I must reconfirm 24 hours before trip, difficult when on a cruise. Then given wrong telephone number, which really didn't help!
Advertisement
Advertisement