Swim with dolphins during this interactive experience at Dolphin Discovery on Tortola. During the 30-minute Royal Dolphin Swim, get to know these intelligent, friendly marine mammals. Experience a dorsal tow and a foot push, where the agile creatures tow and push you around the lagoon while the trainers supervise to make sure both humans and animals are safe.
Highlights
Royal dolphin swim from Road Town, Virgin Islands
Swim, touch and kiss these amazing marine mammals
Experience the adrenaline filled dorsal ride and foot push
What You Can Expect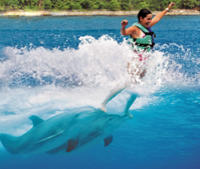 Make your way to Dolphin Discover Tortola, located in the Prospect Reef Hotel. Meet the dolphin trainers and listen to an informative orientation that informs you about dolphin behavior and how to safely interact with them.
Wade into waist-high water and wait until a dolphin initiates an interaction with you, then get a handshake and a kiss on the cheek. Staff photographers will be on hand to capture these moments.
Peer underwater to grasp the full grace and athleticism of the dolphin's movements. Listen for their singing and clicking sounds as you watch them swim and play. Finish up your unique day with these creatures by catching a ride on one of them via foot push or dorsal tow. Trainers will follow closely to make sure that both animals and humans are totally safe during this special opportunity.
After 30 minutes with the dolphins, you will exit the water with a new respect for these creatures and some great memories.
March 2015
This was just a dream come true.......for sooo many years i dreamt of swimming with these wonderfull mammals. The staff were helpfull and friendly and the location was really good - especially for the dolphins. Once in the water i was in my glory - the dolphins are such characters and funny as well. I would do it again in a minute - just to be able to be a part of their space - even for such a short time was wonderfull.
June 2013
It was one of the best experiences I ever had! I hope to do it again someday. The dolphins are amazing and I met wonderful people. Unfortunately, the cd I purchased of my photos was damaged and I hope to purchase another. Do you know if that's possible and if so, who would I contact? I will be very sad if I cannot get another copy. Please advise. Thank you, Karen Richel
September 2011
We had a lot of interaction with the dolphins and it was so much fun! I highly recommend it!
August 2011
The experience of swimming with the dolphins was absolutely fantastic. Having watched the other activities available which looked great I think it was well worth paying the extra money to have the Royal Dolphin Swim programme as the groups are smaller, you have more personal time with the dolphins and the programme has greater content. I will add however that the photographs and DVD's produced on site by the centre staff, whilst professional in quality are highly priced and a 'rip off' in my opinion. I think the centre would sell more of these if they were more sensibly priced.....Steve and Lynne Palmerini.
February 2010
We really loved it, and anytime we are back in Tortola we will do it again.

Alicia R Australia
February 2010
Excellent!
Janette V United Kingdom
August 2008
An experience I would not have missed for the world. Fantastic!!! I would do it again and again. If anyone has not done it, swim with dolphins, fantastic!!!
Rebecca D Virgin Islands-US
August 2008
Wonderful experience. Staff is excellent and helpful. I want to do it again asap.
March 2011
The online booking was easy, but the experience was fantastic. Great facilities, with good natured staff who helped on the day. Great day out. Could have had longer in the water with the dolphins
March 2011
amazing experience swimming with dolphins, but i thought that paying $80 for the photos was a bit over the top, if you want only 1 photo its $25, but it was a wonderful experience.
Advertisement
Advertisement