Interact with dolphins during this dynamic experience at Dolphin Discovery in Tortola. During the 30-minute Dolphin Swim Adventure, get to know these intelligent, friendly marine mammals. Experience a relaxing belly ride around the water with your dolphin friend and watch a series of impressive energetic dolphin activities. Trainers supervise to make sure both humans and animals are safe.
Highlights
Dolphin swim adventure from Road Town, Virgin Islands
Swim, touch and kiss these amazing marine mammals
Enjoy incredible underwater views of the dolphins
Recent Photos of This Tour
Tortola Dolphin Swim Adventure
What You Can Expect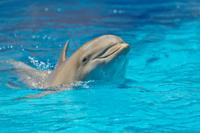 Make your way to Dolphin Discover Tortola, located in the Prospect Reef Hotel. Meet the dolphin trainers and listen to an informative orientation that informs you about dolphin behavior and how to safely interact with them.
Begin the Dolphin Swim Adventure Program, designed to let humans share safe and intimate moments with some of the ocean's most intelligent marine mammals. Wade into waist-high water and wait until a dolphin initiates an interaction with you, then get a handshake and a kiss on the cheek. Staff photographers will be on hand to capture these moments.
Relax as you are towed around the water on a belly ride. During your free time among the dolphins, enjoy moments of spontaneity and then watch the dolphins speed through the water and perform tricks. Enjoy many chances to caress them and see them up close throughout the 45-minute experience.
At the end of the program, you'll leave with a greater appreciation and understanding of these water-dwelling mammals.
April 2016
Amazing!!! Perfect family experience.
January 2014
I booked this independently and it saved me around 70 GBP for the party of three. It would have been more expensive booking with my tour operator. The whole was seamless, and we arrived earlier and were allowed to do the swim earlier than my allotted time which was great as we missed the really busy time. The instructor with the dolphins was fabulous. We all had the same amount of time with the lovely creature. The only thing that the complex could improve on is the photo package is too expensive. Also we wanted one paper copy of our son with the dolphin and it would be great if they offered this facility.
Excellent I will book with your web site again
June 2013
Absolutely fab. Very friendly people, well organised. Wonderful experience. Dolphins were lovely too!
March 2013
This was a great excursion! The trainer was a lot of fun. We got to kiss the dolphin, shake hands, go for a ride. They had a platform you could stand on which was nice that you didn't have to be in the deep water the whole time. The water was on the cold side but we went in March so that was expected. Anyone who loves dolphins should definitely do this. The excursion came with lunch which was good but the people behind the stand had a bit of an attitude. Other than that, it was a great experience.
March 2013
Had the best price for this booking through viator. Conformation was swift. Didn't need to produce the receipt on arriving for the swim, just gave my name. The swim was a wonerful experiance. The staff all very friendly. I wouldn't hesitate in booking with viator again.
February 2013
more than we expected!!!!!!!!!!!!!! amazing
Eric R Canada
January 2013
The members who ran the event , were very good, they were helpful and always close at hand. The animals looked well cared for and the atmosphere was very good. I recommend this to anyone. It was worth the money spent.
January 2013
Absolutely brilliant experience!
We originally booked for the "Dolphin Swim" adventure (towed by one dolphin) as we were a little unsure of being towed by two dolphins as in "Dolphin Royal Swim". However, on the day, were luckily enough to be upgraded, by the operators, to the "Dolphin Royal Swim". We were so glad, after our initial trepidation, that we were this fortunate as it was a truly fantastic experience.
The only slight "hiccup" in proceedings, is that the operators did not have record of our booking, which did alarm us, as we did not think we were going to get our experience.
Fortunately, we arrived at the site early and had our Viator voucher which the operators, after a little discussion, accepted.
April 2012
Wonderful experience with my teenage son. Staff were professional but very friendly and accommodating. Worth every penny and glad to have shared the memory with my boy
April 2012
A really wonderful experience enjoyed by myself and 3 friends,I would recommend for all age groups from young children to retired persons.Thank you.
Advertisement
Advertisement