Delve into the poignant history of World War I on a full-day tour of the Flanders Battlefields from Bruges. Follow in the footsteps of soldiers with an accomplished historical guide and visit moving memorials that immortalize soldiers lost in battles. Gaze at endless rows of graves at the German Military Cemetery; revitalize with a traditional Belgian lunch at a local restaurant; and visit Flanders' Field Museum to see exhibitions that speak eloquently of the area's turbulent past. Conclude your emotionally stirring tour by experiencing a Last Post Ceremony in Ypres.
Highlights
Day trip to Flanders' WWI battlefields from Bruges with an expert guide
See the sobering Käthe Kollwitz sculptures, Grieving Parents, at the German Military Cemetery of Vladslo
Enjoy a light Belgian lunch of cheese and bread in Paschendaele's famous Old Cheese Factory
Pay your respects to fallen WWI soldiers at Tyne Cot Commonwealth War Graves Cemetery
Explore In Flanders' Field Museum at leisure, listening to audio-guided commentary
Attend the Last Post Ceremony in Ypres with your guide
Recent Photos of This Tour
World War I Battlefields Tour of Flanders from Bruges
What You Can Expect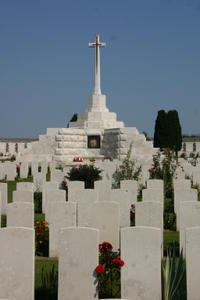 Depart from a central Bruges location in a comfortable, air-conditioned minivan and travel towards the traditional town of Vladslo to visit the Germany Military Cemtrery, a significant burial site of thousands of soliders. Admire the poingnant sculpture of Grieving Parents, by Käthe Kollwitz, then reboard your coach to venture to the small city of Diksmuide.
Disembark at the foreboding Trench of Death, a stretch of the Western Front upon which many soldiers met their end. Admire the impressive Gate of Peace and Yser Tower, and then depart the city in search of Passchendaele, a brutal battlefield that transformed in a tranquil and traditional town. Appease your appetite with a hearty ploughman's lunch in a local restaurant.

Sated, head to the Commonwealth War Graves Cemetery to feel emotionally stirred at he sight of 35,000 solemn headstones. Learn about the global significance of this memorial site then travel to Essex Farm Field Hospital to see the iconic bunkers in which John McCrae wrote his influential poem, In Flanders Fields.
Peruse the varied exhibitions of the Flanders' Field Museum to observe artifacts that speak eloquently of the battlefield's history; hear the story of the war on an audio guided tour before ascending Hill 60 to see tunnels that played a pivotal role in the war. Venture to your final destination, Ypres, to enjoy some leisurely free time and then reconvene with your guide to witness the moving last Post Ceremony at Ypres Menin Gate.
Observe the simplicity of the daily tribute that remembers the courage of fallen soldiers. After the ceremony, return to your vehicle and relax during the journey back to Bruges, where the tour concludes.
April 2016
Thoroughly enjoyed this tour.
November 2015
This was a fantastic day, driver and guide were very professional. We visited all the areas that we wanted to see with the highlight being the Menin Gate service. Top tour
November 2015
A fantastic full day. Very well organised where the tour guide went above and beyond to make our trip memorable. The coach driver and mini bus pick up lady were supurb too. Well recomended.
November 2015
Excellent tour. Our guide Dietrich was quite knowledgable and an excellent presenter. He provided great context and information as we travelled between stops and at each visit. The Flanders Field Museum was excellent. The Last Post ceremony was quite moving. I learned quite a bit about WWI would highly recommend this tour.

September 2015
Very good guide, very knowledgeable. Various stops, enjoyable lunch in Ypres. The Menin gate service and Last Post very moving. A busy day but plenty to do.

September 2015
Tour was excellent. Little late to start but not a big issue. Tour guide was extremely knowledgable and willing to answer all questions. Delivered on all aspects of tour as described. Only issue with tour operator was lack of specific information on pick up location. A small map would be very helpful.
September 2015
We thoroughly enjoyed this tour. Our guide was excellent. He not only knew his subject material well, he approached the tour with reverence for the huge personal sacrifices made by men and women on both sides of the first World War. We learned so much and it was great day.

August 2015
It is a very somber trip through FLanders. Very powerful to see the memorials to the lost. May we always honor their sacrifice
Ann-Maree Australia
August 2015
The entire day was so informative and interesting. Stefan our guide was exceptional with his knowledge, empathy and sense of understanding of these sites, and how we the clients may feel about visiting them. Despite being a long day it is necessary in order to capture that special moment in Ypres for the last post ceremony, I came away feeling that I had just lived a special day and created an unforgettable memory. I highly recommend this if you have time, it is indeed confronting, and a compelling yet sad story. 10 out of 10
August 2015
By taking this tour and having a very knowledgeable guide, I was able to see so much more than I could have done on my own. The sites are widely dispersed and sometimes out-of-the-way. It lasted an entire 10 hours and included a very nice lunch consisting of open-faced sandwiches in a nice restaurant on the square in Ypres across from the Flanders Field museum which we had plenty of time to visit. Because some of us joined in Brugges, they brought a separate van to take us back to Bruges while the remainder of the folks on the bus returned to Brussels. The Menin Gate ceremony was impressive. I would take it again.
Advertisement
Advertisement