Special Offer
Book this trip and save 10% compared to booking the two tours separately!
Combine two incredible tours and save money with this Brussels Super Saver for a comprehensive cultural experience of Belgium. Accompanied by a knowledgeable guide, feast your senses on the architectural majesty of Brussels during a sightseeing tour; see alluring attractions like the Houses of Parliament and the Grand Place before heading to Antwerp to discover revered artworks and sparkling diamonds. Be dazzled by a diamond factory and marvel at some of Rubens' master artworks at the Cathedral of Our Lady.
Highlights
Brussels Super Saver tour including a Brussels sightseeing tour and trip to Antwerp
See top Brussels attractions on a guided tour, such as the Royal Residence, Royal Square, Houses of Parliament and Art Nouveau houses
Take a half-day trip to Antwerp with your expert guide
Discover Antwerp's city center, take a walking tour of Market Square, and visit a diamond factory
See the Cathedral of Our Lady and admire famous works of art by Rubens
Complimentary pickup from selected Brussels hotels
What You Can Expect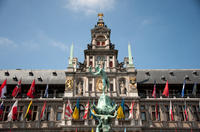 Brussels Half-Day City Tour
Greet your knowledgeable guide at your Brussels hotel and embark on an enriching stroll of the city; discover significant sights like the medieval Market Square and the picturesque Grand Place before continuing onto St Micheal's Cathedral on a luxurious coach. Marvel at the colossal spire of the sacred structure, and then wander to the National Basilica of Koekelberg to hear of its rich historical heritage.
Next, head to the cosmopolitan constructions of the Chinese Pavilion, the Japanese Tower and the Atomium, to see fascinating collections of Chinese and Japanese ceramics. Explore the throngs of antique shops in the Sablon district after passing the Royal Residence of Laeken, and then marvel at the fabulous facades of the Court of Justice and the Council of Ministers. Arrive at Jubilee Park to relish the sight of the Triumphal Arch and then return to the city center to conclude your comprehensive tour.
Antwerp Half-Day Trip from Brussels
Spend the afternoon discovering Belgium's second largest city of Antwerp, home to revered 17th-century artist Rubens and some of his artistic masterpieces. Climb aboard a luxurious coach to admire the architectural tableau of the historical city; travel to an ancient fortress and disembark to explore the ancient houses of Market Square and the masterpieces harbored by the Cathedral of Our Lady.
Gaze at prominent Rubens' works like The Raising of the Cross, and then stroll through the charming city center before enjoying some relaxed free time to explore independently. Conclude your tour by visiting a diamond factory and be dazzled by rows of glittering jewels.
Return to Brussels in your comfortable vehicle and bid farewell to your guide.
Artur Ribeiro Brazil
October 2015
Muito boa excursão!
Caminhadas calmas, explicações sucintas e suficientes e bom tempo livre para fotos e curtir as atrações.
Falta uma parada de alguns minutos no Atomium e Palácio Imperial. Faltou incluir no roteiro o Arco do Triunfo, bonita atração de Bruxelas. Ou seja, a excursão pode começar mais cedo.
Antuérpia foi maravilhosa, com tempo ideal para conhecer bem tudo que foi apresentado.
September 2015
Very good guides, would like to do Antwerp again.
June 2015
Both tour guides were excellent. The morning tour had some technology issues but the guide did remarkably well speaking in 3 languages without a microphone.
Antwerp was fascinating. As it was a Saturday the Diamond demonstration wasn't available but we got to see plenty of other sights including the port area. Frank was an excellent guide with a great sense of humour.
October 2014
September 2012
Both the morning excursion and the afternoon were so good. Dan was excellent in giving us information about Brussels and made sure everyone was accounted for. In the afternoon we had guide and he was wonderful as well. I wish I could remember his name but both of these guys provided a lot of information and history on the places we went too.

January 2016
A full day Antwerp trip would have given us more time to explore the town.
December 2015
As a first time visitor to Brussels, the morning portion of the tour was a good outing and a nice introduction to the city. Frank, the English tour guide, was friendly and informative. But, the jewel of this tour was the visit to Antwerp. I can't remember the name of the English guide, but she was EXCELLENT! I do remember she was from Antwerp and the tour experience was very personal, engaging and thoughtfully conducted. Oh, Antwerp is a beautiful port city!
November 2015
Very good. Value for money excellent and very knowledgeable and helpful guides. Would recommend
July 2015
Good but not very detailed introduction.
June 2015
good. 4.5 star. One of the operator of Brussels's city tours was rude.
Special Offer
$76.83 Save $8.09
Advertisement
Advertisement