See all of Europe's legendary landmarks in miniature at the model park of Mini Europe in Brussels. Observe the structures that characterize the charm of each European country as you stroll amid the Eifel Tower, Big Ben and the Bell Tower of Bruges during your unique journey around this alluring attraction. Upgrade your ticket to include entry to Océade Water Park, an exhilarating attraction replete with gravity-defying slides and soothing saunas.
Highlights
Brussels' Mini Europe admission ticket

Miniature models bring the streets of London, canals of Venice and Athens' Acropolis to life

See the best of Europe without leaving Brussels

Option to include entry to Océade water park
Recent Photos of This Tour
Mini Europe - Miniature Model Park
What You Can Expect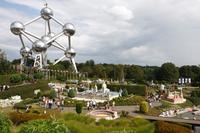 Make your own way to Mini Europe - Miniature Model Park and begin strolling around the most beautiful cities of the Old Continent. Hear the unmistakable chimes of Big Ben as you visit London; listen to romantic mandolins herald the approach of Venice's waterways; and see the iconic spire of the Eiffel Tower as you wander through the City of Light. See the ancient Acropolis of Athens; marvel at the traditional bullrings of Madrid; and gaze at the picturesque canals of Amsterdam.
Watch animations as they create an adventurous atmosphere within the exhibition; see molten lava spill from Mt Vesuvius and watch the oppressive bricks of the Berlin Wall break down before your eyes.
Upgrade you ticket to visit Océade Water Park as well as Mini Europe; plunge into the aquatic attractions of the park and enjoy adrenaline-fuelled water slides, soothing steam rooms and the adventurous Aqua fun house.

Baz United Kingdom
December 2015
Really good , weather was nice that helped , found it very interesting and inspires me to visit more locations , found a cool bar at the exit great staff and great beer , great value for money
October 2015
September 2015
I love it its something different and amazing to see all t g e Europe in one place.I will definitely recommend it to everyone to visit while you are in Brussels.
August 2015

July 2015
The tour was amazing.. I've booked it less than 24 hours before going. It was informative, enjoyable and really worth the ride.

May 2015
The trip was great, our kids enjoy it a lot!
Cristina M Romania
March 2015
I enjoyed very much visiting Mini Europe. Had a lot of fun there admiring all the models. It really deserve to spend some hours there, especially if it is a beautiful day like it was mine.
Yoisman United States of ...
March 2015
Amazing park with all European monuments. Minutes away by metro.
September 2014
It's very fascinating and impressive. Everyone there can see the movement of mini trains, boats and rockets with the music sounds.
October 2013
Skip the line for tickets and enjoyed the Park.
Advertisement
Advertisement