The Brussels Card is your entrance ticket to over 30 museums in Brussels. From chocolate to comic strips and Magritte to music, there is a museum to suit. Along with free entrance, you can also use your Brussels Card to enjoy discounts in selected shops and restaurants across the city.
Highlights
Get around Brussels with the Brussels Card

Choose a 24, 48 or 72-hour card

Free admission to over 30 museums across the city

Use your Brussels Card to enjoy discounts at a variety of shops and restaurants

Free guide book and city map
Recent Photos of This Tour
What You Can Expect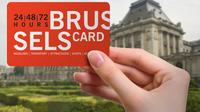 SAVE MONEY WITH THE BRUSSELS CARD:
Choose a card valid for 24, 48 or 72 hours and enjoy free entry to over 30 museums, as well as and exclusive offers in designer boutiques, shops, exhibitions, restaurants & attractions across Brussels.
Every card comes with a FREE guidebook with helpful information on the establishments associated with the card, as well as a city map
This guide comes with your Brussels Card and explains everything about the museums below and about other discounts included in the Brussels Card:
Description
Where it is
How to get there
Opening hours
The descriptions are in 3 languages: Dutch, French and English.
Itinerary
Once you have purchased your Brussels Card, entry to the following museums is FREE:
Art & Marges Museum
Aquarium of Brussels
Autoworld Brussels
BELvue Museum
BOZAR Centre for Fine Arts
Belgian Brewers Museum
Le Botanique
Charlier Museum
Choco-Story Brussels
Cinquantenaire Museum
Museum of the City of Brussels
Belgian Comic Strip Centre
Museum of Costume and Lace
Coudenberg - Former Palace of Brussels

Erasmushouse and Old Beguinage

Belgian Museum of Freemasonry
Fin-de-Siècle Museum
Halle Gate
Botanic Garden Meise

Ixelles Museum

Musical Instruments Museum (MIM)

Jewish Museum of Belgium
Museum of Natural Sciences

Magritte Museum (City Centre)

René Magritte Museum (Jette)

Museums of the Far East

Old Masters Museum
MOOF - Museum of Original Figurines
Toy Museum
Planetarium of Brussels

WIELS
Culture and Leisure - 25% discount:
Atomium
Koekelberg Basilica
Oceade
Mini-Europe

Shops - Various discounts:
Belgian Chocolate Village

De Biertempel - The place not to be missed for beer amateurs boasts up to 700 different Belgian beers and adequate glasses to serve them
Godiva Manneken Pis
Planète Chocolat (atelier)
Elisabeth
Rubbrecht
Le Fabuleux Marcel de Bruxelles
Librairie Galerie Brüsel
Laurent Gerbaud Chocolatier

Restaurants and Bars - various discounts:
A La Mort Subite - Free coffee if taken with a typical lunch

Archiduc - 50% discount on Sunday concerts in an authentic Art Deco bar dating from 1937 and renowned for its jazz sessions
Aux Armes de Bruxelles - 10% discount

Bij den Boer - Free aperitif if taken with a meal
Green Kitchen - In the prestigious setting of the BELvue Museum, you can enjoy dishes prepared with the greatest care. Also homemade pastries in the afternoon. There is a summer cafe in the magnificent garden with a view on the Royal Palace
L'Entrée des Artistes - One free house aperitif or coffee if taken with a meal

MIM Restaurant - One free coffee

Le Roy d'Espagne - 2nd Leffe beer free - This bar and tavern, with its typically Bruegelian historical setting, offers wonderful views over one of the world's finest market squares
La Fleur en Papier Doré - 1 euro discount on your first drink
La Rose Blanche - 2nd beer FREE
Moeder Lambic - one free tapas dish if taken with two beers
L'Arrière Pays - Free kir if taken with a meal
Hard Rock Cafe - exclusive gift

't Kelderke - 1 free dessert, if taken with a lunch
Restaurant Chez Léon (1 free Léon beer or coffee)

September 2015
It's very easy to locate the bus staff very helpful.
July 2015
We hardly used this card so I would recommend it only if you are staying more than two days.
February 2015
The Brussels card was a brilliant asset to our trip. It gave us free transport around and free or discounted entry into the places we wanted to visit. The only negative thing I found was trying find the actual tourist office where I had to collect them from as signage was poor. The card is a defiant if you are taking a trip.
October 2014
the most flexible way to see Brussels - worth every dime!!!
September 2014
We loved this card! Free entry to so many Museums, free fares and discounts. It was brilliant.
The only inconvenience is that you cannot order it to a hotel or place of residence, but you have to collect it - and there are only 2 locations to do that. They also keep regular working hours which sucks if you want to go sightseeing from early morning, or you arrive in the evening :(
August 2014
A great way to travel on the Metro and the added benefit of reduced admission to many venues.
April 2014
We purchased a 72 hour card and really got our monies worth! Used it at as many museums and transportations that we could fit in! Good value!
March 2014
The card was very useful and cost effective. You had access to some good venues and discounts in others. I can say that not all off the museums were as great but the card allowed to go into places that otherwise i would have not seen
January 2014
We loved Brussels and the card worked great for us and we were able to use it on Christmas Day as the transportation was running and some of the Museums were open. Definitely worth the money spent!
October 2013
This is a wonderful and very useful tool to use visiting a new city. Viator cost is very reasonable. The card enables you to use public transportation and visit most museum and places of interest. I wouldn't go without one!
Advertisement
Advertisement