To commemorate over a century since World War I began, take a poignant private tour of the Flanders battlefields from Brussels. During this Viator Exclusive tour, venture to a selection of cemeteries to see moving collections of graves that memorialize fallen soldiers. See where McCrae was inspired to write his influential poem 'In Flanders Fields' and witness a moving tribute to the deceased at a Last Post Ceremony in Ypres. Enjoy the undivided attention of your guide on this private tour, the itinerary of which can be tailored according to your interests, and appreciate the convenience of round-trip transportation from your Brussels hotel.
Highlights
Private day trip to World War I Flanders battlefields from Brussels, a Viator Exclusive

Mark the 100th anniversary of the beginning of World War I with this highly educational and in-depth tour of battlefields and memorials

Visit Vladslo and Tyne Cot cemeteries, where thousands of soldiers are laid to rest

See the sites of major battles and memorials to Canadian and Australian forces

Attend the poignant Last Post ceremony, a tribute to those who died defending the city of Ypres

Enjoy comfort and style as you travel by luxury minivan
Don't miss this engrossing experience that can't be booked anywhere else!

What You Can Expect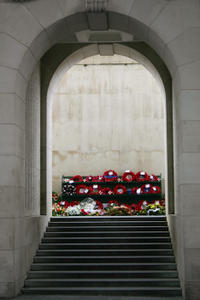 Depart from your centrally located Brussels hotel in a climate-controlled private vehicle and listen as your guide sets the historical scene for this Viator Exclusive tour. Hear fascinating facts and figures about one of the world's most destructive wars as you travel through Ghent towards Flanders Fields.
Stop first at the Vladslo German War Cemetry to see endless rows of gravestones beneath which 25,000 soldiers are buried. Feel stirred by the saddening sculpture of 'Grieving Parents' by Kate Kollwitz, and then continue to the town of Diksmuide to see the destructive 'Trench of Death.'
Visit an impressive monument to those that perished in a poison gas attack in St-Julien. Then head to another cemetery to gaze at poignant memorials immortalizing 35,000 soldiers that remain missing then stop briefly at Polygon Wood to admire a monument to Australian soldiers.
See the inspiration behind John McCrae's iconic poem 'In Flanders Fields' then visit the entrancing exhibitions of the museum in nearby Ypres (own expense). Enjoy some relaxed freetime for lunch and independent exploration in Ypres before reconvening with your guide at 8pm to witness a soul-stirring daily tribute to all fallen soldiers; see the Last Post ceremony at Meihn Gate and reflect on those that died in defense.
After the ceremony, return to Brussels in your comfortable vehicle with unforgettable memories of your moving experience.
December 2015
Excellent. The guide was extremely knowledgeable and showed a great flexibility. I would highly recommend it.
November 2015
Fantastic day, promptly collected from our Hotel by Jean and driven for the day in luxury vehicle
Watched excellent video on the way, full day, very educational and informative, comprehensive
We were a group of 4 New Zealanders so got to see the ANZAC and NZ heroes resting places.
Worth doing some reading before you go about the various battlegrounds but our host was brilliant.
Flanders Museum excellent too. Menin Gate Last Post very moving despite it being a cold October evening.
September 2015
Jean, the guide was simply terrific.

April 2014
A very insightful and somber day - it is incredible to still see landscape affected by events of 100 years ago. Our guide customized a bit for us and we visited the site of McCrae's poem as well as the "In Flanders Fields Museum" in Ypres. The Irish, Canadian, and Tyne Cot memorials were very powerful.
June 2016
Excellent and emotional tour. A must see for all Canadians visiting Europe, especially with 100 year anniversary approaching in 2017. A suggestion: ask the quide to slow down a bit - quality over quantity
June 2015
This trip was excellent, our guide was very informative and certainly knew his history of the area. We saw and learnt so many things about Flanders in general. The whole day was a great experience.
June 2016
Jean was a nice man, but was totally unprepared as far as taking Americans on a WWI tour. It would have been nice if he'd prepared a historical overview of WWI, including the eastern and western fronts, explaining how the was was started. There was no overview. His presentations were wandering and not focused. He seemed to have the information, but presented it in a disjointed way. We cut the tour short because it was so poor and we weren't learning anything. Also, at the In Flanders Fields Museum in Ypres, we had to pay our own entrance fees: Really??? Are you kidding??? We paid almost 900 for a private tour of Flanders and had to pay entrance fees to one of the museums??? On the positive side, Jean was better at explaining today's Belgium - it's culture and economy. Overall, this Brussels tour was a waste of time.
Advertisement
Advertisement