Discover Budapest with a 24-, 48- or 72-hour Budapest Card, providing discounts, tours and transportation while you explore the city independently. Enjoy free entry to top museums, two complimentary walking tours, admission to the thermal baths and more. Your card also includes discounts at popular restaurants, free public transportation and a guidebook with helpful information about the included services.
Highlights
24-, 48- or 72-hour Budapest Card

Discover Budapest at your leisure and see the attractions that you want to see!

Enjoy two free walking tours, free entry to Lukács Thermal Bath and Pool and unlimited use of public transport

Receive free entry to top city museums like the Budapest History Museum and Hungarian National Gallery

Eat out and pamper yourself for less with discounts at restaurants and spas

Delivered to your Budapest hotel!

Recent Photos of This Tour
What You Can Expect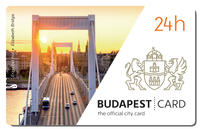 Depending on the option selected, your Budapest Card includes the following services.
Itinerary
Travel services and activities:
Unlimited travel on public transport – FREE
Airport shuttle-minibus services – 10% discount
Two walking tours – FREE
Various restaurants and spas – 10-15% discount
Audio-guide that can be downloaded to cell phone or tablet – FREE

One time free entry at the following museums and spas:
Budapest Museum of History
Aquincum Museum
Kiscelli Museum
Vasarely Museum
Hungarian National Gallery
Hungarian National Museum
Szt. Lukács Thermal Bath and PoolNew Budapest GalleryHopp Ferenc Art Museum of the Far EastMai Manó House - Photo GalleryRobert Capa Contemporary Photography CenterPocket Guide Mobile App
Discounts at the following museums and attractions:
Memento Park-Statue Park Museum 20%Hospital in the Rock 30%Műcsarnok (Art Hall) 20%Dreamcar Collection 50% Dohany street Synagogue 10% Hungarian Jewish Museum and Archives 10% Urban Public Transport Museum 10-20% Museum of Applied Arts 20% Castle Museum (Nagytétény) 20% Underground Railway Museum 10-20%
ProgrammesBudapest Summer Festival 2016- 20% Hungária Orchestra & Folk Ensemble - 10% Water Tower on Margaret Island - 20% Center of Scientific Wonders - 50% Budapest Zoo and Botanical Garden - 25%Tropicarium- 30%MINIVERSUM - 30%Center of Scientific Wonders - 30% Cityrama City Tour by bike 20% Budapest Gala Concert 10% Budapest Pinball Museum 10% Bunkergame! - Europe's largest exit game 20% Castle Garden Bazaar - Guard's Palace 30% Castle Garden Bazaar temporary exhibitions and own programmes 30% Chefparade Cooking Budapest 30% City Park Ice Rick, Boating Lake 10% Dorottya Diamond Palace - Caprice 1 FREE Gödöllő Royal Palace 50% Korda Filmpark - Visitor Centre 20% MiniPolisz 30% Palm House Garden Centre and Herbarium 50% Pesti Vigadó 20-50% TimeTrap Exit game 30% Traditionalist riding display at the Lázár Equestrian Park 50%

RecreationSzéchenyi Thermal Bath - 10%Rudas Thermal Bath - 20%St. Gellért Thermal Bath - 10%Király Thermal Bath - 20%Római Lido - 20%Palatinus Lido - 20%Aquaworld - 30% Széchenyi Thermal Bath - 20% St. Gellért Thermal Bath - 20%
GastronomyGellért Brasserie and Restaurant - 30%Gellért Panorama Restaurant - 30%Gellért Espresso - 30%Cafe Astoria - 30%Café Dorottya - 30%Halászbástya Restaurant - 20%Spoon Cafe&Lounge - 20%Mátyás Pince Restaurant - 20%Karpatia Restaurant, Brasserie and Terrace - 20% Columbus Boat - 20%Vén Hajó Restaurant - 20%Terminal Restaurant and Bar - 20% Café Dorottya - 20% Gundel Restaurant-10% Rhapsody Restaurant & Bar - 40% Seasons Steak Bistro -10% Molnár's Kürtőskalács - 20 %

Please be aware that on Mondays most museums are closed.
May 2016

April 2016
It is highly recommended to buy, went everywhere and anywhere

March 2016
We took out a 72 hr card which was great hoping on and off trams etc, the cards were at the hotel when we arrived. But if you are over 65 yrs its free to travel on buses and trams .

March 2016
The Budapest card was one of the best decisions we made, but a little disappointed with Viator, as when i booked and paid for the card i gave details of the Hotel we were staying in. Sadly the Hungarian company did not get these details and sent me an email which was sent to Junk mail, so I did not receive it until the day I flew. I sent an email to confirm Hotel but the card was never delivered to the Hotel. The Hotel was so good as they supplied me with a card from their stock and they were provided with cards to cover the issuing of a card to myself and my partner. Thanks to the Hotel i did not lose anymore time having lost the use of the card the previous night, when we arrived.
March 2016
February 2016
This card was extremely useful especially as we were staying outside the city and we were using public transport a lot . Also great offers available when purchasing the card
February 2016
December 2015
Cards were waiting for us on arrival at our hotel. Used for public transport and entrance to many museums and attractions. Great value for money.
November 2015
Get it! The best way to see Budapest by far!!!
October 2015
Extremely handy. We took full advantage of this card in both travel and accessing attractions.
Advertisement
Advertisement