Venture to the beautiful Buda Hills for dinner and a folk show on your next trip to Budapest. You'll be picked up at your hotel in Budapest by a guide and transported to an authentic restaurant in the hills, where you can enjoy night-time views of the city. A three-course meal and wine will be provided, followed by traditional folk music and dance. This ticket also includes free admission to a Budapest casino that you can use after the tour concludes.
Highlights
Dinner and folklore show in Budapest
Three-course dinner
Aperitif and wine
Folkloric music and dance show
Night-time views of Budapest
Free admission to the Casino
Pick-up and drop-off from central Budapest hotels
Recent Photos of This Tour
What You Can Expect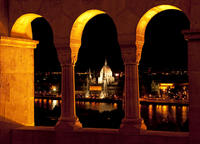 After hotel pickup, your evening out in the Buda Hills will begin with an aperitif when you arrive at the restaurant. Enjoy the chance to sample authentic Hungarian flavors with a three-course meal and accompanying regional wines.

Then it's time for the show! Sit back in your seat and soak in a traditional performance of folk music and dance.

Afterward you will be driven back to Budapest, enjoying stunning views from Castle Hill of the city lit up at night. Your tour will conclude at either your hotel or at a Budapest casino, where a free admission voucher will be provided.
Itinerary
SAMPLE DINNER MENUMENU 1
Welcome drink
Gulyas soup
Roast meat (chicken, turkey or pork) with garnish
Dessert
MENU 2
Welcome drink
Gulyas soup
Turkey a la Jóasszony with steak potato
Pancake
Vegetarian Menu available On Request.
June 2016
This tour was amazing we highly recommend it to anyone who likes great Hungarian food and traditional dancing.
March 2016
Very well organized. You'll have tons of fun. Great ambiance and good typical food. They make you part of the show. Lots of singing, dancing and drinking. Overall excellent evening.
December 2015
Really a fun night. Music was amazing and food was incredible. Lots of it. A great night out.
November 2015
We were looking forward to this event to experience the tradition of Budapest and we were not disappointed. The communication from collection to the venue was excellent and full of information. We were made to feel welcome and involved all the way. The food for the evening was wonderful and the energy of the dancers made me feel tired. The venue itself was decorated very tasteful for the type of event held there. All round from the minute we were collected to the minute we were deposited back at our hotel it was a wonderful experience. Thank you so much for the effort involved with this attraction.
September 2015
My wife and I loved this tour. The food was excellent and all the meat was tender. It was served to 8 tables sat 10 at our table family style on big platters, which we passed around. Besides the excellent goulash, we had pork and chicken and of course potatoes, followed by a nice dessert.There were 4 wine bottles on our table, 2 white, 2 red, and we were told we could have all we wanted.
The music began almost immediately. It was performed by the Lugosi Gypsy Band. They do sell a CD but only accepted euros maybe Hungarian forints. Then, there was a trio of musicians to play for the 6 dancers. Very athletic! Some of the mens' solo steps reminded us of the buck and wing dancing of the American Appalachians.
The post-dinner bus tour was ok, but we did not go all the way up Castle Hill, just to the first overlook. We discovered far more to see on Viking's daytime bus tour. We were not interested in the Casino, but the bus did not offer the option to get off there. It did take us to our hotel.
We ordered the tour from Viator, but confirmation came from a local tour company, and the travel agency that picked us up was Eurama, based in the interContintental hotel. I suspect that all tours ultimately go through Eurama and end up at the same venue. Most likely just pick the best rate you find for the tour from any of these and it is probably going to this venue. Found it best to order online as going though our travel agent here in the US cost about double for some reason.
September 2015
Very enjoyable! Good meal. Stop at the citadel on the way home was a bonus to see the views by night.
August 2015
We really enjoyed the evening. The food, wine and entertainment was great. One suggestion though is to be sure all sit together. We had a table for six and had fun with the couples we sat with but others sat by themselves and didn't enjoy it as much by themselves. More fun the merrier! City was beautiful at night. I am so glad we got to experience it! Thank you!

Patricia T Australia
July 2015
Fantastic tour, highly recommended.Francis,the tour guide took us round to the Roman ruins on Buda side and after the concert and dinner, he took us up to Castle Hill to see a panoramic view of Budapest at night. ( a surprised treat) . The concert and dinner is also great and amazing
July 2015
Would highly recommend this! From the tour given on the way to/from, to the ambiance, food and drink - all good!
May 2015
Advertisement
Advertisement