Discover and experience the traditional ingredients of Hungarian cuisine on our classical walking tour. Come Hungry as it includes lunch and wine tasting! This four-hour culinary and cultural walking tour will give you a thorough introduction to the cuisine and wine of Hungary. Led by local foodies, this tour includes generous tastings along the way. It introduces participants to the fascinating history of the Central Market Hall, offers inside knowledge on what to taste and where to shop there, as well as the best restaurants and cafes in the neighbourhood.
Highlights
Overview of Hungarian cuisine through its history, culinary culture and ingredients, focusing on both the traditional side and modern artisan producers and speciality food shops
Tour of Budapest's Central Market Hall with tastings
Visits to three additional venues during the walk with tastings at each location
Several food tastings at the market, and during the walk at the other locations including main course and dessert as well. Come hungry!
A taste of a typical Hungarian spirit, and an introduction to Hungarian wine with a tasting of three top-quality local wines
Small groups with a food and wine-specialised guide
Recent Photos of This Tour
Budapest Classic Gastro Experience with Wine Tasting
What You Can Expect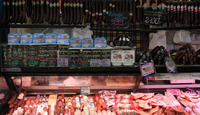 Exploring Budapest through its food and drinks is the best way to do it! Our food, wine, and cultural walking tour begins at The Central Market Hall - one of Europe's largest and most spectacular indoor markets - and continues through the charming nearby neighbourhood. Be sure to come with an appetite. You will need it on this tour!

At the Central Market Hall we will begin getting acquainted with Hungarian cuisine through the great variety and abundance of ingredients (which are mostly local and seasonal) on display. We will discuss the history of the building, the culture of eating and drinking in Hungary, and the everyday cooking and eating habits. The tour also includes an introduction to Hungarian paprika and will reveal why it is so special, how Hungarian cooks use it, and how it is produced. After tasting a few carefully selected things at the market, we will head out to the surrounding neighbourhood and visit a few more places. Lunch will be at a traditional restaurant, where we will taste a special Hungarian spirit as well. No day in Budapest is complete without dessert, so we will also stop at a cafe visited only by locals to taste some very special local dumplings.

The tour will end with a tasting of three quintessential Hungarian wines. During the tasting your guide will introduce you to the Hungarian wine regions, varietals, and styles. This tour will give you a taste of the traditional side of Hungarian cuisine, as well as the modern artisan producers and speciality food shops of the area.

We try our very best to cater for dietary requirements but due to local food customs we cannot guarantee that this will be possible in all cases. Options for vegetarians, guests with allergies and religious dietary restrictions may be very limited.
June 2016
Really good. Lots of food - don't have breakfast beforehand !
Michael Benj Australia
June 2016
Well what a fabulous place Hungary is. Our guide was friendly and informative and starting off with a liquor digestive? got us on our way around a most interesting market place offering delights such as fried bread, salami of course and other traditional dishes. a great way to get into and around the city and mix with the locals we ended up at a wine tasting place learning all about the wines of Hungary and completed with cheese and an informative host.
May 2016
Excellent tour and tour guide! Food and more food and more food at the Great Market Hall, at the restaurant, at the chocolatier, at the patisserie. A great introduction to the foods of Hungary. I left the tour before the wine bar, but it was absolutely worth the money and time.
May 2016
Our guide was very interesting and well versed in Hungarian food culture/history. All of the locations visited served excellent food and wines/aperitifs. Lots of good information about the various food/wines of Hungary. You really get your money's worth on this tour!
Dave JN Australia
April 2016
We did a food and wine tour of Budapest a few weeks ago with our guide Szofia. The great thing was there was only four of us so it was quite a personal tour where we were lead by Szofia to indulge in the magnificent food and the wine of Budapest and the surrounding regions. The market has a fantastic atmosphere and when we left there on foot and explored other locations eating and drinking our way around the streets of Budapest we had a thoroughly relaxed and enjoyable experience. The lunch Belvarosi Disznotoros was fantastic as we tasted a wonderfully wide range of food with every bite a delicious treat in an enjoyable atmosphere. The wine tasting at Tasting Time was also exceptional with delightful wines and delicious array of cheeses provided. Szofia provided a wonderful tour experience throughout with her breadth of information and her fantastic personality, style and relaxed conversation.
February 2016
Excellent! We learnt about local food, culture and history. The tour guide was excellent, personable and a knowledgable. Sophie ? developed an instant rapport with us. Highly recommend it, make it the first thing you do there as its a great foundation for the rest of your stay.
Top tip..... Visit Budapest!! It's a wonderful city.
February 2016
Sophia was the best tour guide, as we stopped through out Budapest to sample Hungarian food and drink. I highly recommend this tour, since you are educated on not only food and drink, but also the Hungarian culture, history and lifestyle.

January 2016
This was absolutely wonderful! Be sure not to eat before because there is so much to taste on this tour. Budapest is a lovely city and our guide was very informative as we walked. We tasted a good variety of regional favorites, food and beverages! The finally was wine tasting in a lovely wine cellar. We highly recommend this tour!
November 2015
Barbara was fantastic with here knowledge and dedication to the group. A great and enjoyable time.
September 2015
This was the best thing we did in Budapest! Our guide Gabriella was a delight and the small group size made this an exceptional tour. I highly recommend this tour.
Advertisement
Advertisement