Travel through Budapest's historic Jewish Quarter on a walking tour and learn about the community that remains active there today. See the Kazinczy Street Synagogue, Raul Wallenberg Holocaust Memorial Park, the Jewish Museum and more, as your guide discusses in-depth the Jewish heritage behind the streets that you pass. With a 2-hour and 4-hour route to choose from, you'll hear about the community's past and the important role that the Jewish culture plays in contemporary Hungarian society.
Highlights
Jewish history tour of Budapest
Enjoy a casually paced walk around Budapest's important Jewish sites
Visit the Jewish Museum, Dohány Street Synagogue, Jewish quarter and more
Enter the noteworthy Kazinczy Street Synagogue and enjoy cake from a local kosher bakery (Grand Tour only)
Learn all about Hungary's Jewish history, heritage and culture from an expert guide
Choose from several tour durations and itineraries
What You Can Expect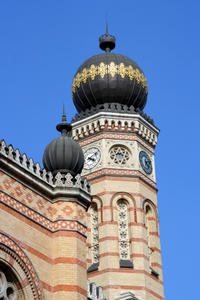 Your tour will begin at the Sztehlo Gábor Monument, where your local guide will meet you. As you walk through the city streets, you'll hear about the Jewish community in Budapest, both past and present.

Essential Tour: (approximately 2.5 hours)
This option offers a concise route for travelers on a stricter schedule. The Essential Tour will begin with a step inside the biggest synagogue in Europe, the Dohány Street Synagogue. While inside you'll explore the Jewish Museum, which hosts an impressive exhibit of pieces from Hungarian and Eastern European artists.

Your guide will then take you to Raoul Wallenberg Holocaust Memorial Park, named for the man credited with saving the lives of thousands in the Jewish community. You'll pass through the old Jewish Quarter, once a ghetto during the Second World War, as well as Heroes' Temple, which pays homage to lives lost during WWI.

Grand Tour: (approximately 4 hours)
For a more comprehensive option, choose the Grand Tour, which picks up where the Essential Tour leaves off. You'll make your way to the Jewish Quarter, where kosher bakeries and restaurants are located, along with other synagogues and memorials.

Admire the Gozsdu Courtyard, an old passageway currently converted into bustling bars and restaurants and popular with locals and visitors alike. You'll also visit Carl Lutz Memorial Park, named after another famous figurehead during WWII, as well as the Rumbach Street Synagogue.

After a stop at the center of the orthodox community, the Kazinczy Street Synagogue, you'll pause for some sweets at the kosher Frohlich Bakery and Café. You'll also be given a 10% discount by your guide to the kosher restaurant, Carmel, to be enjoyed later in the evening on your own if you wish.

June 2016
Excellent informative tour
June 2016
Excellent. Very thorough. I learn d a lot and highly recommend it.
June 2016
I am glad we chose this tour. The tour guide was friendly and knowledgeable. The Great Synagogue was very impressive and the museum guide very good.
June 2016
Fatima was a terrific guide, she was very knowledgeable and took us on a lovely tour about the city. I totally recommend her and the tour.
June 2016
We had an excellent tour with our super guide Petra. She was extremely knowledgable, despite not being Jewish. We would highly recommend her to anyone. It was fun, at the right pace, with much interesting information. We would have liked to have gone inside the two other local synagogues in addition, which we had to do independently, afterwards. That was the only disappointment.
Gary Thailand
June 2016
Excellent tour and gives a lot of background to an essential part of Budapest history, society and culture. Do the extended tour to get a bit extra from it. Our guide Joel was intimately knowledgeable and involved in his subject, and his family is an example of the Jewish history of Budapest itself, as is the elderly gentleman who conducted the tour of the museum. Definitely worth doing, especially if you are traveling elsewhere in Eastern Europe, and most esoecially Poland.
June 2016
Excellent tour given by Fatima. Thoroughly enjoyed it 5! Highly recommended .
June 2016
The guide was fabulous--she was knowledgeable, interesting, thorough and well spoken. The tour was extensive and very worthwhile. We visited all of the important sites as well as lesser known meaningful ones. The tour not only met our expectations, but even exceeded them.
May 2016
The tour was very informative and interesting. Fatima is a young, personable guide with a great passion and knowledge base regarding the subject matter. The tour was well paced and Fatima answered all questions our small group presented to her. Compared to the cost of the same tour offered through Viking River Cruises, we paid only 1/2 price per each of us. I would highly recommend this tour to my friends.
May 2016
The tour was excellent! Fatima was knowledgeable, friendly and just a pleasure to spend a few hours with. The group was small, 8-10 people, so it was easy to have conversations with the other members of the group as well as Fatima. I would highly recommend this tour!
Advertisement
Advertisement