30 Reviews
Location:

Budapest, Hungary

Duration:

Varies
Dive into Budapest's fascinating Jewish history, culture and heritage on a walking tour led by a local guide. With one of the largest Jewish communities in Middle and Eastern Europe, Budapest is full of historic Jewish quarters, memorials and synagogues, each with their own unique story and significance. Visit the Jewish Museum, Dohány Street Synagogue, Raul Wallenberg Holocaust Memorial Park, the old Jewish quarter, Kazinczy Street Synagogue and more while learning about Hungary's complicated Jewish history over the centuries. A choice of times and durations are available when booking.
Highlights
Jewish history tour of Budapest
Enjoy a casually paced walk around Budapest's important Jewish sites
Visit the Jewish Museum, Dohány Street Synagogue, Jewish quarter and more
Enter the noteworthy Kazinczy Street Synagogue and enjoy cake from a local kosher bakery (Grand Tour only)
Learn all about Hungary's Jewish history, heritage and culture from an expert guide
Choose from several tour durations and itineraries
What You Can Expect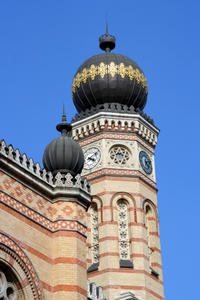 Meet your guide at Deák Ferenc square, at the Sztehlo Gábor Monument at your chosen start time. On your walking tour, listen to your expert local guide and hear about Hungary's immense and complicated Jewish history, from the tragic events of World War I and World War II to the important role that Jewish religion and culture play in today's society.
Essential Tour: (between 1.5 and 2 hours)
Ideal for those with a shorter amount of time, the Essential Tour hits all the must-see sites. Be wowed as you enter Dohány Street Synagogue, the largest in Europe, and then take a tour of the Jewish Museum to see an important and unique collection of art pieces from Hungary and Eastern Europe.
Spend time in Raoul Wallenberg Holocaust Memorial Park, seeing the graves of thousands of Hungarian Jews killed in WWII. Pass by the Heroes' Temple, built in memory of those who gave their lives during WWI, and wander through the eye-opening Jewish quarter, which served as a ghetto in WWII.

Grand Tour: (between 2.5 and 3 hours)
Get a full overview of Hungary's Jewish past and present on the Grand Tour. Start with the above Essential Tour itinerary and then continue to the Jewish quarter, home to many synagogues, monuments, and kosher restaurants and shops.
View the exterior of Rumbach Street Synagogue, see Carl Lutz Memorial Park and view the famous Gozsdu Courtyard. A highlight of this tour is Kazinczy Street Synagogue, the center of the orthodox Jewish community in Budapest.
At the end of your tour, enjoy some cake at Frohlich Bakery and Cafe, a local kosher bakery. Or, simply say your goodbyes to your guide and group and receive a 10% discount card to be used later at Carmel, a local kosher restaurant.
September 2015
Guide was excellent, knowledgeable, and interesting!
August 2015
Fatima did an excellent job and she was partcularly helpful with special need we had my wife is blind and travels with a guide dog which could have posed access problems
August 2015
Great tour. I was hoping for a more linear historical narrative of the Jews in central Europe but the sites are worth seeing and the guide was knowledgeable.
August 2015
The 4 of us thoroughly enjoyed this excellent tour. We were the only ones signed up so we were lucky enough to get a private tour. Petra, our guide, was extremely knowledgeable and personable. We learned so much about Jewish life in Budapest. This tour was one of the highlights of our trip. The guide at the Jewish Museum was also outstanding. We would highly recommend this tour to anyone visiting Budapest. Thank you for putting together such a wonderful tour. And please send our warm regards to Petra.
Joan Kober
August 2015
Excellent!
Great guide, Fatima
July 2015
Tour guide was the best ever. So informative and just a pleasure to spend four hours with. Added so much to our experience
July 2015
It was a perfect tour.. My guide was energetic and so helpful..Spoke beautifully and took the time to answer any questions we had. This was the only tour I took in Budapest and so glad I did. I hope you enjoy your time there.
July 2015
Excellent tour, excellent guide, lots of great information, accessible and interesting for Jews and non-Jews.
July 2015
We really enjoyed this informative tour. Petra did a wonderful job and was very knowledgeable. We would highly recommend it.
June 2015
Knowledgable
Responsive
Patient
Advertisement
Advertisement