Experience an organ concert at St. Stephen's Basilica on your next trip to Budapest. The sound inside the dome of this neoclassical church makes it the perfect spot for Bach and Vivaldi, performed by some of Hungary's most revered musicians. To continue the festivities, upgrade to a late-night dinner cruise on the Danube afterward, and toast to the beautiful view with a glass of Champagne. A traditional Hungarian meal is also available on board, served buffet-style. Along the way you'll pass UNESCO World Heritage sights like the Buda Castle, lit up for the evening hours.
Highlights
Ticket to an organ concert at St Stephen's Basilica in Budapest
Enjoy famous musical works, performed by some of Hungary's most renowned musicians
Listen to classical pieces by prestigious composers including Bach, Beethoven, Schubert and Vivaldi
Choose from two different seating categories to suit your budget

Upgrade to include a Danube River dinner cruise after the concert
Savor a buffet meal with Champagne and wine and enjoy stunning nighttime views of Budapest (if option selected)

Recent Photos of This Tour
What You Can Expect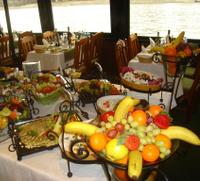 Your evening will begin in the impressive structure of St. Stephen's Basilica. One of the most important churches in the country, it is also renowned for its acoustics, making it a popular spot for classical concerts.

Adapted by Miklos Teleki, a prominent Hungarian organist, the concert includes arias from award-winning oratorio singer Kolos Kováts and the revered Eleonóra Krusic. Take your place inside the beautiful neoclassical structure and enjoy the 70-minute performance. You'll recognize notable pieces such as Agnus Dei and Ave Maria as the church acoustics ring in your ears.

Concert plus Dinner:
Then enjoy dinner or late-night drinks on a Danube River cruise to complete your evening in Budapest. You'll be transported by taxi (ride included with your ticket) from St. Stephen's to Budai Vigadó where your 90-minute cruise will be waiting. You'll have a front row seat to admire the UNESCO World Heritage Budapest panorama while sipping Champagne or wine. A buffet dinner will also be available with traditional Hungarian dishes and treats.

After dinner, grab your drink and climb to the upper deck. From the open-air view you'll spot the glowing Chain Bridge, the Gellért Baths, the Freedom Monument atop Mount Gellért and the grand sprawl of Buda Castle. Your evening will conclude back at Budai Vigadó.
Itinerary
Sample Concert:
Wolfgang Amadeus Mozart (1756-1791): Fantasy in F minor K 608
Antonio Vivaldi: 4 Seasons - Winter (Largo)
Alessandro Stradella (1639-1682): Pieta Signore
Tommaso Albinoni (1671-1751): Adagio
Ferenc Liszt (1811-1886): Choral
Franz Schubert (1797-1828): Ave Maria
Robert Schumann (1810-1856): Fugue on the Theme B-A-C-H
Georges Bizet (1838-1875): Agnus Dei
Johann Sebastian Bach: Badinerie from suite in B minor
Johann Sebastian Bach: Toccata and Fugue in D minor BWV 565
Sample Menu:
First courses (buffet selection):

Spiced cottage cheese cream and traditional greaves (traditional creamy bacon sauce)
Alföld-style goulash with noodles (slow-boiled beef and vegetable soup)
Vegetable soup with tarragon and noodles
Main courses (buffet selection):
Mini stuffed cabbage
Roasted chicken breast with basil and cheese sauce
Spicy pork slices rib with thyme and mustard sauce
Traditional Chicken with paprika
Roasted sea fish served with Chardonnay sauce
Grilled polenta with feta cheese
Homemade spinach dumplings served with mustard and mushroom sauce
Side dishes and salads (buffet selection):
Fresh seasonal salads with dressings
Italian pasta salad
Caesar's salad
Sweet corn salad with mayonnaise
Hash-brown or roasted potatoes
Grilled vegetables
Steamed Jasmin rice with corn
Desserts (buffet selection):
Home-made strudel
Somló sponge cake (layers of sponge and cream)
Mini tarts
Dessert variations Európa style
Season fruit basket
Drinks (one of each option available):
1 glass of Champagne
1 glass of wine, beer, juice or soft drink and 1 bottle of mineral water
June 2016
A very good experience for our first day in Budapest. The bountiful Basilica was ideal for the concert. Excellent organist, flautist and English soprano - not so sure about the 'tenor'. The Danube river cruise was marvellous, good food, entertainment and service.
June 2016
This concert was fantastic. They had organized,flute,and singing. To sit in this beautiful basilica to listen to someone playing instruments was amazing.
April 2016
An excellent Organ concert with Tenor and Flautist, quality musicians in a superb venue. The following cruise down the Danube was also excellent with good food, musicians and views of the floodlit buildings and banks of the river. I would recommend this without reservation.
March 2016
Loved the concert! Was able to sit at the front. Its a great opportunity to admire the inside of the Basilica whilst listening to great music. The Basilica is breathtaking
March 2016
Wonderful, what a pleasant surprise to have a flute and singer. Perfect time 1 hr 10mins perfect setting. loved loved it.
March 2016
הקונצרט היה מקסים, אקוסטיקה נפלאה, מגוון יצירות ביצועים נהדרים. חוויה נפלאה
November 2015
Well organized, easy to get to seats, excellent performance, reasonable price. What more could you ask?
November 2015
Concert was wonderful in the huge cathedral! Dinner was good on the river boat, but it was the beautiful lit buildings along the Danube that stole the show - what a sight!

September 2015
The concert was amazing. Sit in the front on the right hand side so you have a good view of the organist and how he plays the organ with both hands and feet.
September 2015
We happened to be in Budapest on a Thursday. My wife and I sat on the front row and soaked in the ambiance of the beautiful building while listening to the rich sounds. We also purchased the optional Danube dinner cruise and loved that also. The views of Parliament and the Chain Bridge will forever be imprinted in my memory.
Advertisement
Advertisement