Enjoy a Danube Symphony Orchestra concert at elegant Danube Palace in Budapest, choosing seats in the front or middle rows. Enhanced by a typical Hungarian folk instrument, the cimbalom, this concert gives you the unique opportunity to enjoy some of history's most famous classical melodies in Hungarian style. Upgrade to include a late-night dinner cruise on the Danube River, the perfect way to end your night. Sip Champagne and wine and savor a buffet meal in the romantic candlelight atmosphere as you view Budapest's UNESCO World Heritage-listed sites such as the Buda Castle Quarter.
Highlights
Ticket to a Danube Symphony Orchestra concert in Budapest
Enjoy a unique Hungarian-style concert in the intimate Danube Palace concert hall
Listen to famous classical works enhanced by a traditional Hungarian instrument, the cimbalom
Choose from two different seating categories to suit your budget
Upgrade to include a Danube River dinner cruise after the concert
Enjoy a buffet meal with Champagne and wine while enjoying striking nighttime views of Budapest (if option selected)
What You Can Expect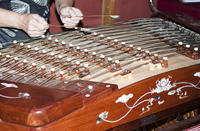 Your evening concert takes place at Danube Palace, a splendid Neo-Baroque-style concert hall in Budapest. A host will direct you to your seat in the front or middle rows of the intimate theater for the start of the Danube Symphony Orchestra concert.
Formed in 1961, the Danube Symphony Orchestra has become a sensation throughout Europe, with a repertoire that covers almost every musical style, from Baroque music to modern music of the 20th century. What's unique about this orchestra is that they perform famous classical melodies accompanied by the cimbalom, a typical Hungarian instrument played by striking two beaters against a range of strings. You can only enjoy this type of sound in Hungary!
Every concert consists of two parts, between 40 and 45 minutes each (see sample program below). During the intermission, you can have a drink at the bar, purchase DVDs of the Danube Symphony Orchestra or browse Hungarian souvenirs.
Concert plus Dinner
A Danube River cruise is a great ending to your night in Budapest, whether you fancy a late dinner or a scenic setting for after-dinner drinks. At the end of the concert, a host will escort you out to Budai Vigadó to board a boat for your 1.5-hour late dinner cruise. Sip Champagne and wine or beer amid the candlelit atmosphere, and then enjoy a buffet dinner presented with a creative touch by an award-winning food sculptor (see sample menu below).
After dinner, make your way to the open upper deck for stunning views of Budapest's UNESCO World Heritage-listed urban panorama, a series of landmarks and monuments that illustrate the city's history. You'll see the Buda Castle Quarter, the Chain Bridge (Clark Ádám Square), the Gellért Baths and Mt Gellért with its Freedom Monument before finishing back at Danube Palace. When you arrive at the dock, your host will be happy to call a taxi for you upon request.
Itinerary
Sample Concert

Berlioz: Rákóczi March

Erkel: Palotás from the opera László Hunyadi

Delibes: Coppelia – Tschardas

Bartók: Romanian folk dances

Haydn: Farewell Symphony IV Movement

Liszt: Hungarian Rhapsody No. 2

Kálmán: Devil-Rider – Palotás

Lehár: Gold and Silver Waltz

Liszt: Love Dreams

Folk-song adaptation: Under the Mountains of Csitár

Kodály: Intermezzo

Monti: Csárdás

Strauss: Long Live the Hungarians!

Strauss: Radetzky March
Sample Menu
First courses (buffet selection):
Spiced cottage cheese cream and traditional greaves (traditional creamy bacon sauce)

Alföld-style goulash with noodles (slow-boiled beef and vegetable soup)

Vegetable soup with tarragon and noodles

Main courses (buffet selection):
Mini stuffed cabbage
Roasted chicken breast with basil and cheese sauce
Spicy pork slices rib with thyme and mustard sauce
Traditional Chicken with paprika
Roasted sea fish served with Chardonnay sauce
Grilled polenta with feta cheese
Homemade spinach dumplings served with mustard and mushroom sauce
Side dishes and salads (buffet selection):
Fresh seasonal salads with dressings
Italian pasta salad
Caesar's salad
Sweet corn salad with mayonnaise
Hash-brown or roasted potatoes
Grilled vegetables
Steamed Jasmin rice with corn
Desserts (buffet selection):

Home-made strudel
Somló sponge cake (layers of sponge and cream)
Mini tarts
Dessert variations Európa style
Season fruit basket
Drinks (one of each option available):
1 glass of Champagne

1 glass of wine, beer, juice or soft drink

Mineral water

September 2015
I am not great culture vulture but thought that whilst in Hungary it would be the correct place to listen to a symphony orchestra and I can honestly say I am pleased I did. I booked a package via Viator which encompassed the orchestra concert followed by a late night dinner cruise on the Danube.
The Danube Palace has such ornate decor in the auditorium, it is mind blowing really. The Orchestra played for an hour and a half with a fifteen minute break. Their music was amazing and interspersed with a little bit of humour from the conductor.
Following the concert we waited in the lobby to be escorted for the ten minute walk to the boat. What a magical experience that was, to travel down the Danube with all the major buildings and bridges lit up and looking so majestic and beautiful. The food on board was plentiful and varied, with hot meat dishes, soups, salads and desserts, there was so much no one needed to worry about getting fed. Wines are offered on board at additional cost you receive a glass of bubbles on arrival and small bottles of water on your table gratis, they also come round after the meal with local liqueurs to tempt you at further cost. The boat ride is only an hour and a half and they are keen to get you of the boat at the end. However this whole evening really was a magical experience that wasn't even marred by our subsequent 3km walk home due to the chain bridge being closed!!
September 2015
Only did the concert which was very good. A wide selection of music and a great orchestra.
August 2015
This was indeed a surprise the venue was very good and the concert was superbe would highly recommend it.
July 2015
You must go this trip in your life.The concert is perfect.The Danube River dinner cruise is amazing and romantic.
July 2015
this was a bucket list item for me and worth it. Loved the personality of the conductor and audience interaction. The music was wonderful.
June 2015
September 2014
Easy to get to and a delightful concert. Highly recommend.
August 2014
The concert was very nice, in a nice theatre. The Danube river cruise was fantastic. The food was good and varied. The only complaint I make is that the food was not labelled so my vegetarian friend found it difficult to choose vegetarian options.
August 2014
I stayed for a week in Budapest during August 2014. The concert I attended was wonderful. The concert hall was really beautiful and the musicians very talented. The orchestra played a selection of classical pieces. Most pieces were well known and played with verve and enthusiasm.
Later we walked to the ship which took us on a trip down the Danube. I paid for a dinner and was so pleased I had. There was a very good selection of dishes in buffet style and the quality was excellent. The view of the buildings on the banks of the Danube at night is stunning and should not be missed.
I would fully recommend this tour
July 2014
Advertisement
Advertisement