Learn the secrets of the royal family on this 4- to 5-hour tour of Gödöllo Palace, the summer residence of Emperor Franz Joseph I and the beloved Hungarian Queen Elisabeth. Departing from Budapest, a guide will drive you 30 minutes northeast to explore this lavish Baroque castle. Then, stop at an authentic Hungarian farm to sample palinka, a popular fruit brandy native to Hungary, and savory scones before enjoying a carriage ride. Your tour will conclude with an equestrian show and transportation back to your hotel in Budapest.
Highlights
4.5-hour tour of the royal Baroque palace of Gödöllo and traditional Hungarian farm
Tour the rich palace interiors, once home to Franz Joseph I of Austria-Hungary and wife Elisabeth (Sisi)
Learn about the couples' lives and secrets amid the opulent halls and chambers
Enjoy a welcome glass of pálinka and pogácsa (savory scones) at the farm
Take a horse-drawn carriage ride around the farm
Watch an exciting Hungarian horse show featuring daredevil races and skills
What You Can Expect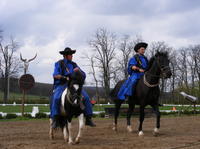 Your guided tour will begin at your hotel in Budapest, where you will be picked up and driven 30 minutes northeast through the Hungarian countryside. You will then arrive at Gödöllo Palace, the opulent castle that hosted Hungarian Queen Elisabeth, also known as Sisi, and her husband Franz Joseph I, the Habsburg Emperor. With stunning gardens surrounding the property, the castle was presented as gift to the couple, who visited seasonally.

Take a tour of the exterior landscape before traveling inside to see the Grand Hall and Sisi's private suite, adorned in her favorite shade of purple. Your guide will narrate the history behind the building, along with the juicer tales of the couple's secret lovers and hidden doorways. You'll also learn about the Queen's ardent equestrian interests.

Next, travel through idyllic countryside to an authentic Hungarian farm. You'll be offered a glass of Hungary's famous plum brandy, palinka, upon arrival, as well as pogácsa, delicious savory scones traditional to the region. Then, take a ride on a horse-drawn carriage to view the surrounding trails and fields of the property.

After, you'll be treated to an impressive equestrian show, filled with fearless tricks and high-speed carriage races. Your tour will conclude with transportation back to your hotel in Budapest.
May 2016
Wonderful. Guide was very friendly and informative. I had a great time!!!!
November 2015
The Godollo Palace was extraordinary! The palace is in excellent condition. Beautiful!
But the great pleasant surprise was the added visit to the horse farm. The horse show was outstanding! Fantastic exhibition of horsemanship!
August 2015
July 2015
Excellent entertainment - great guide and driver - highly recommended
September 2015
This tour was very enjoyable and it gave us the opportunity to see some of the countryside outside of Budapest. Both Godollo Palace and the horse show was worth it. The tour guide did an excellent job.

September 2015
We're collected at correct time, tour guide was informative but unfortunately we missed most of the trip as were left behind by the tour at the first stop in the middle of nowhere completely lost no one could speak English and we had no idea how to get home. No response from viator for 3 days :((
Advertisement
Advertisement