Skip the line on your trip to Gellert Spa, one of Budapest's most beautiful thermal baths. Relax under beautiful art nouveau architecture as you float in a Roman-style swimming pool. The spa also includes 13 baths as well as steam rooms and saunas. This ticket is valid for a full day of use, with access to your own private changing cabin. If you're interested in a little more luxury, upgrade your entrance ticket with 20-minute aromatherapy massage or a private 50 minutes Harmony Relax Massage in one of the lavish VIP rooms.
Highlights
Skip-the-line private entry to the Gellert Spa in Budapest
Enjoy full-day access to the baths, including cabin usage
Unwind amid 13 spring-fed pools plus steam room, sauna, cold plunge and open-air swimming pool
Admire the beautiful mosaic walls and stained-glass windows
Pamper yourself with a 20-minute aromatherapy massage or 50 minutes Harmony Relax Massage in a luxury private treatment room (optional)
Recent Photos of This Tour
What You Can Expect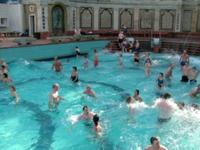 Constructed in 1918 with a distinct art nouveau aesthetic, Gellert Spa is located on the Buda side of the Danube River, where mineral hot springs from within Gellert Hill feed the spa. Budapest is a city known for its bath culture, and Gellert Spa draws locals and visitors alike with its ornate mosaic walls, stained-glass windows and impressive glass roof in the main hall.
Begin your full-day experience by skipping the line at the main entrance and making your way to a separate welcome desk, where a host will lead you to your own private changing cabin. From there, get ready to unwind and explore 13 indoor and outdoor thermal spring pools.
The thermal waters are cooled from their natural high heat of 170 degrees Fahrenheit (77 degrees Celsius) to varying temperatures and contain minerals such as magnesium and calcium, a treat for your joints. Be sure to check out the steam rooms and saunas, too, taking a quick dip in the cold pool after you've had enough heat. The Roman-style pool and wave pool also await you.
There's no need to keep your eye on the time, as the ticket is valid for full-day use. When you're ready to rinse off, enjoy a shower with a Gellert Spa gift of shampoo and shower gel, included in this package. If you choose to upgrade, continue the relaxation with a 20-minute aromatherapy massage or a private 50 minutes Harmony Relax Massage in one of the VIP rooms.
Please click on 'View Additional Info' to see a map for Gellert Spa.
June 2016
June 2016
June 2016
Great vacation, great city! Great Airbnb apartment at Tamas Bauhaus at utca. FO great recommendation!
May 2016
Highly recommend the massage! Baths were therapeutic.
April 2016
Worth every Forint! Just the thing we needed the day after our long flight from the US. We spent several hours in the hot baths, had lunch at the upstairs café, and the massage was first rate! Good value!
April 2016
This was excellent. I opted to pay 15 to upgrade from the VIP massage to a 70-minute-long Royal Thermal Massage. It was so good that I may have to return to Budapest for a 3rd time just to have this experience again. The Baths are great but for me this visit was all about the 'treatment'.
March 2016
Well worth every penny!!! We did a 30 minute massage and then spent the rest od the day going from pool to pool!!! We lucked out, there was a concert going on in the main hall so that's where we stayed till it was time for our massages. my only recommendation ...which I knew about..make sure you bring a swimming/ bathing cap, other wise you cannot go in the swimming pool swim lap. They were very nice but strick about this!! Great experience for my 89 yr old mother law!!!! A total blast!!
March 2016
Well worth a visit. Very good value for money and an enjoyable experience. Would defiantly recommend and very impressed with Viator.
February 2016
The spa is superb, the massages were magnificent and it was a very enjoyable day for my wife and I

November 2015
This was one of the highlights of my entire holiday. The 30min massage was incredible and I only wish i had of paid a bit extra for the 1 hour. The hottest bath was the most enjoyable for me.
Advertisement
Advertisement