Learn the rich history behind the city of Budapest on this 3.5-hour walking tour. Led by a local guide, you'll hear about Hungary's involvement in World War I and II, the Hungarian Revolution of 1956 and the demise of the Soviet Union. Along the way, you'll visit landmarks such as the Parliament Building and Momento Park, as well as an exhibition hall filled with cultural relics. Numbers are limited on this tour to keep the experience as intimate as possible.
Highlights
Private historical walking tour of Budapest
Tour Memento Park to see statues of history's most famous communist leaders including Marx and Engels
See sites related to WWI, WWII, the Iron Curtain and the Hungarian Revolution of 1956
Explore a private exhibition hall to see glimpses of daily like under Hungarian communist propaganda
Learn about Hungary's turbulent communist history from your informative private guide
What You Can Expect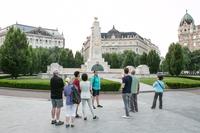 Your tour will begin with pickup by private vehicle at your hotel. Your guide will then begin to discuss the country's political history and the influence of the Communist party as you make your way to Momento Park.

This outdoor attraction includes a collection of statues from 1949 to 1989, during the leadership of the Communist party. Among the stony faces you'll spot leaders such Engles, Lenin, Marx and Béla Kun as you continue on your walk through the park. You'll also see the Trabant car, a vehicle that enjoyed large popularity among Hungarian families at that time.

Afterward, you'll return to the center of the city to learn more about the Hungarian Revolution of 1956, the people's revolt against the Soviet leadership. You'll pause at Liberty Square to see Budapest's remaining tribute to the Soviet Union, and hear about politician Imre Nagy, who rebelled against the Soviet government and was executed as a result. See also where significant speeches and protests took place as you head to the Hungarian House of Parliament.

Lastly, you'll enter an exhibition hall housing artifacts from before the fall of the Iron Curtain. Your guide will point out how families and individuals traveled, and recount stories of the banana lines and black markets. Also on display are registration books for community party members, passports, currency and more.

You'll end your tour with a deeper understanding of the political history that has shaped both Budapest and Hungary for the last century. Your guide will leave you near the Opera House, with recommendations on how you might like to continue the rest of your day.

beachpebble United Kingdom
October 2015
If you don't go on any other tour, go on this one. We learnt so much and Lazlo was a great guide.
October 2015
Lazlo was knowledgeable and going by myself, although costly, was well worth it, not only for convenience, but on my own I would not have known how to interpret the statues in Memento Park, nor understand the various buildings and sites I visited. I highly recommend. The Communist statues are designed to intimidate, not to be uplifting. I got to sit in a Trabant!
October 2015
An absolute must for anyone interested in the history of this fantastic and beautiful city. Really great value for money
August 2015
Great tour guide. Very well informed about Budapest.
August 2015
This is the best way to see Memento Park as it is a ways out of the city. Our guide was fantastic.
July 2015
Really enjoyed the trip, our guide Zsolt was very well informed and friendly
June 2015
Highly recommended. Laslo is a wonderful, thoughtful and informative guide. The tour of monuments in the park outside the city was a terrific backdrop for his insights into life under communism. He included personal and family stories that brought the era to life for us. This tour opened our eyes to a by-gone era that we only poorly understood. If you only take one tour in Budapest make it this one!
June 2015
This tour is quite expensive, but a really good way of seeing Memento Park. The park is quite a distance from Budapest. It is accessible by public transport, but with limited time it is more sensible to go on this private tour.
The park is not a dumping ground for these statues, but was a conceptual creation of the architect, Akos Eleod, from 1993. It was a brave and unique act of the Hungarian authorities to create such a museum.
Not all the statues are Socialist Realist in style. There is a cubist Marx and Engels. Probably the most striking statue is a relatively modern one from 1986 by Imre Varga, the Bela Kun Memorial.
This illustrates the ambiguity for the viewer in seeing these statues.It is extremely striking, but celebrates a man who was responsible for at least 60,000 deaths during the Soviet Terror. He himself was 'eliminated' in 1937. It will probably be a long time before these statues can be judged for their artistic merits. Too much individual suffering accrues to them in their role as purveyers of ideological substance.
The statues were subverted during these times by being given alternative names. The one illustrated here is the Monument to the Hungarian Socialist Republic. It was nicknamed 'The Cloakroom Attendant', who was trying to return a scarf to a customer. The Bela Kun Memorial was also open to other more subversive interpretations.
The English guide is cheap and well illustrated.
Laszlo was my guide from Absolute Walking Tours. His English was excellent. His tour was sesitive and knowledgeable. As the tour is a private tour it is tailor made to your requirements. Laszio was very flexible. We finished movingly listening to the Hungarian National Anthem surrounded by the monuments.
David F USA
October 2014
We really enjoyed this tour. Both the guide, Laszlo, and driver, Peter, were great.
Advertisement
Advertisement