This private tour takes you through Hungary's fascinating and turbulent communist history filled with victories, failures and struggles, from the rule of Big Brother to the fall of the Iron Curtain and everything in between. You'll get an in-depth historical overview of Budapest as you tour Memento Park (formerly Statue Park) and visit other famous historic sites including the Hungarian Parliament. Hear stories about the Hungarian Revolution of 1956, WWI and WII, and the collapse of the Soviet Union and the fall of the Iron Curtain. At the end of the tour you'll visit a private exhibition hall to witness what life was like for Hungarians living under communist propaganda. This private tour ensures an intimate experience of Budapest and personalized attention from your guide.
Highlights
Private historical walking tour of Budapest
Tour Memento Park to see statues of history's most famous communist leaders including Marx and Engels
See sites related to WWI, WWII, the Iron Curtain and the Hungarian Revolution of 1956
Explore a private exhibition hall to see glimpses of daily like under Hungarian communist propaganda
Learn about Hungary's turbulent communist history from your informative private guide
What You Can Expect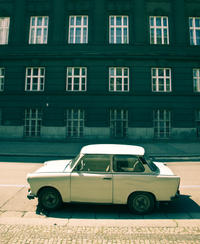 Your guide will meet you at your hotel and take you by private vehicle to Memento Park, located outside of the city. Along the way, you'll receive an overview of Hungary's communist years and the political history of Budapest and Hungary as a whole.
When you arrive at the open-air museum, view massive monumental statues from Hungary's Communist period, from 1949 to 1989. You'll see statues of famous leaders including Lenin, Marx, Engels and Béla Kun on your guided tour of the park, and your guide will teach you about the symbolism of the statues and explain why they were placed here. You'll also visit some communist exhibitions displaying things like the iconic Trabant car, which became a popular family car throughout Hungary.
After Memento Park, drive back to the city center to explore Budapest's major areas tied to the Hungarian Revolution of 1956 -- the culmination of the Hungarian quest for freedom against the government's Soviet policies. Learn about the events leading up to the revolution, including WWI, WWII, the War of Independence and the Great Compromise, and see first-hand where the protests, marches and speeches took place, including the area around the Hungarian Parliament Building.
Hear stories about times when Big Brother watched over everyone's every move. Your guide will illustrate what life was like behind the Iron Curtain – how children were raised, how families lived, how and where people traveled, how long it took to get a passport and many other interesting experiences, from black markets to banana lines.

Stop at Liberty Square, discover the city's last remaining tribute to the Soviet Union, and hear about the role of Hungarian communist politician Imre Nagy, who defied the Soviet leaders in Moscow and was executed for treason after the revolution.
Finally, head to a private exhibition hall to become immersed in the history you've just learned about. Discover the features of Hungarian home life as you observe a series of artifacts and furniture displays, and discover an extensive collection of communist-related artifacts and relics such as red and blue passports, party member's registration book, pins, medals, currency and huge placards. All of these relics will help you understand the propaganda Hungarians once lived under.
By the end of the tour, you'll have a grasp of the last 100 years of contemporary Hungarian history and understand how these years have shaped modern-day Hungary. Your tour ends near the Opera House, where your guide will be happy to give you recommendations and directions for what to do or see next.
August 2015
Great tour guide. Very well informed about Budapest.
August 2015
This is the best way to see Memento Park as it is a ways out of the city. Our guide was fantastic.
July 2015
Really enjoyed the trip, our guide Zsolt was very well informed and friendly
June 2015
Highly recommended. Laslo is a wonderful, thoughtful and informative guide. The tour of monuments in the park outside the city was a terrific backdrop for his insights into life under communism. He included personal and family stories that brought the era to life for us. This tour opened our eyes to a by-gone era that we only poorly understood. If you only take one tour in Budapest make it this one!
June 2015
This tour is quite expensive, but a really good way of seeing Memento Park. The park is quite a distance from Budapest. It is accessible by public transport, but with limited time it is more sensible to go on this private tour.
The park is not a dumping ground for these statues, but was a conceptual creation of the architect, Akos Eleod, from 1993. It was a brave and unique act of the Hungarian authorities to create such a museum.
Not all the statues are Socialist Realist in style. There is a cubist Marx and Engels. Probably the most striking statue is a relatively modern one from 1986 by Imre Varga, the Bela Kun Memorial.
This illustrates the ambiguity for the viewer in seeing these statues.It is extremely striking, but celebrates a man who was responsible for at least 60,000 deaths during the Soviet Terror. He himself was 'eliminated' in 1937. It will probably be a long time before these statues can be judged for their artistic merits. Too much individual suffering accrues to them in their role as purveyers of ideological substance.
The statues were subverted during these times by being given alternative names. The one illustrated here is the Monument to the Hungarian Socialist Republic. It was nicknamed 'The Cloakroom Attendant', who was trying to return a scarf to a customer. The Bela Kun Memorial was also open to other more subversive interpretations.
The English guide is cheap and well illustrated.
Laszlo was my guide from Absolute Walking Tours. His English was excellent. His tour was sesitive and knowledgeable. As the tour is a private tour it is tailor made to your requirements. Laszio was very flexible. We finished movingly listening to the Hungarian National Anthem surrounded by the monuments.
October 2014
We really enjoyed this tour. Both the guide, Laszlo, and driver, Peter, were great.
Advertisement
Advertisement