Learn the history behind the streets of Budapest on this 3.5-hour walking tour, led by a professional guide. Spot the architectural gems of Hungary's capital as you hear about the Hungarian Revolution of 1956 and the stories behind the Iron Curtain. You'll also stop at a private exhibition hall to view relics from the Communist era, and pause for a hot beverage with two Hungarian pastries.
Highlights
3-hour historical walking tour of Budapest
Learn about Hungary's communist history from your expert guide
See sites related to WWI, WWII, the Iron Curtain and the Hungarian Revolution of 1956
Hear vivid stories about the revolution's "ground zero" as you visit the Hungarian Parliament Building and Liberty Square
Explore an exhibit that showcases cultural relics with communist propaganda
Check out Budapest's UNESCO World Heritage-listed sites like Andrassy Avenue and Heroes' Square

What You Can Expect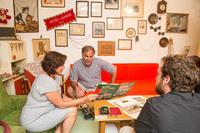 Your historical walking tour will begin with pickup at your Budapest hotel. From there, your guide will help you time travel, as you listen to the stories of Hungary's political climate World War I and II, and the Communist leadership that took over as a result. You'll also learn about the Hungarian Revolution of 1956, a revolt against Soviet policies. Explore the sections of Budapest where important marches, protests and speeches took place during this heated time in history.

Then travel to the Hungarian House of Parliament, another crucial landmark during the revolution. Here you'll learn about Imre Nagy, a politician and a communist who rebelled against Soviet orders and was executed for treason as a result.

Your guide will also share stories about daily life behind the Iron Curtain. Hear how families lived, how people traveled and the excruciating difficulties of getting a passport. Stop at a private exhibition hall to study communist relics, such as registration books for party members, red and blue passports, currency and more.

Finally, rest your feet at a café for a hot beverage and two traditional Hungarian pastries. The tour will conclude in central Budapest, leaving you with a deeper understanding of the history of the last century and how it has informed Hungary today.

Advertisement
Advertisement