Discover a behind-the-scenes look at Budapest's art culture on this 3-hour walking tour. You'll explore the architecture, graffiti and street art with a local guide for a more intimate experience of this vibrant capital city. You'll also visit the A38 Ship, an old cargo vessel that has transformed into a popular concert spot for locals. Along the way, make additional stops at cool coffee shops, street art galleries and bars and take a jaunt through the Jewish Quarter to spot hidden synagogues.
Highlights
Small-group cultural walking tour of Budapest

Discover Budapest's underground art and culture on a three-hour walking tour
See Budapest's Jewish district, and visit street art and photo galleries
Maximum of 20 participants ensures a more personalized experience
Recent Photos of This Tour
What You Can Expect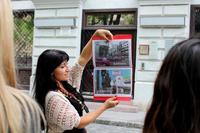 Shy away from the usual tourist stops on this 3-hour walking experience with a local guide, and get an inside look at Budapest's alternative culture. You'll first scout out the synagogues in the Jewish Quarter, hidden slightly from view. Next, head to some of Budapest's most impressive street art galleries to immerse yourself in the underground art scene, before making a quick stop at a cool coffeehouse (own expense) and photo gallery.

Then travel to the place where the underground scene started, the former working-class districts that have since become the pulse of arts and culture. Learn the stories of how the art world kept alive under the communist leadership.

Then enjoy a walk over to the Buda side of the city, crossing the Danube along the way. There you'll see the ex-Ukrainian vessel, A38, that has transformed into one of the city's most popular spots for live music. Your guide will conclude your tour in front of the ship.

Please note: In an effort to visit the most up-to-date and exciting artistic venues, the itinerary details are subject to change.


March 2016
Fabulous tour with charming Bogata who is knowledgeable on all Budapest street art and funky venues offering a stylish insight of evolving Budapest contemporary culture. I loved the visit to Massolit book store and cafe, the visit to Corvina and fab trendy cafe enjoying great company.
Thankyou Bogata, wishing you well in future ventures.
Lesley
Portsmouth. UK
February 2016
Informative, entertaining and relaxed from the start, this tour was exactly the combination of artsy insights into today's city life and welcoming orientation exercise on new and exotic streets I was looking for. And my guide, media designer Dareios brought massive charm, wry humour and jaw-droopingly good English to the mix. His smart commentary added an authentic, young-local-artist perspective to the more official line about contemporary culture and its commercial successes, and as I was lucky enough to be the only customer on the freezing January afternoon I took the tour, he asked how he could tailor it my interests, and even invited me for an excellent Hungarian craft beer afterwards in a deeply cool bar in District 8 I'll probably never be able to find again. 11 out of 10 for customer service and canny chat. Thanks D.

Miriam S United Kingdom
December 2015
My tour guide became a friend, ended up going to one of her gigs. highly recommended
August 2015
Clear stories, very good languages and funny presenter with full knowledge of Budapest
August 2015
I really enjoyed this tour. Agnes was a very charming and knowledgeable guide. I liked that the stops showed various aspects of Budapest culture, providing us with places to revisit at a later date (which I did!). If you want to get a taste of cool places to see in Budapest then this is the tour!
Maram A United States of ...
June 2015
Very nice. Guide was friendly and new her information. Very lovely lady and beautiful sites.
March 2015
My boyfreind and I booked this a mere 24hours before and we received our confirmation quickly.
Antonia was our guide and is very much a local who doesn't only know Budapest art and culture, it is her lifestyle. You know this as during the tour she'll acknowledge local acquaintances and discus how she herself discovered the things she will show you.
I really wouldn't of understood/ noticed the significance of the things pointed out and really aren't in any guide books Trust me I bought 3 before my trip. The tour is based mostly in 7th district, the modern young hub of the city with a complex past.It is a walking tour and you'll stop for a drink on route which allows you a little time to explore the venue alone at your pace.

You must be into arts in some form to enjoy it,history and politics of course plays a part of the tour but you don't need to be well versed in it as she explains well and it is only really discussed in context of what is being shown. If you are interested in 'Hungarians opinion about ...' she's happy to oblige you. Her english is fantastic and was well understood by all the nationalities on the tour. The tone is friendly, relaxed and light hearted. Expect hipster havens, peeping in on local artists at work and the products of community projects. At the end of the tour she was very accommodating in offering us tips during our stay of events going on and places we might like based on our tastes.
The Tour will take your afternoon but you leave the guide with a feeling of understanding the modern Budapest and its arty inhabitants. More than worth the time and money.
Antonia Vai is also a fantastic musician and we were fortunate to be able to pop in on a gig which we thoroughly enjoyed.
- Mac
December 2014
A really interesting tour, with a very welcoming and knowledgeable guide who clearly loved the city and wanted us, as visitors, to know more about its recent artistic history. A couple of pit-stops for coffee and mulled cider were much appreciated on a cold November afternoon! Would highly recommend.
June 2014
Great guide. Took her time to explain the street art we saw and really enjoyed our stop at a ruin bar and coffee shop. In addition, our guide made many suggestions for restaurants and other sights we might be interested in.
April 2014
This tour was wonderful and our guide was enthusiastic and knowledgeable. We saw a part of the city that we would never have seen on our own. She took us to places that only a local would know about. Truly worthwhile. We had a very small group and they still honored the commitment.
Advertisement
Advertisement