Explore Budapest's underground labyrinth on this 3-hour caving adventure. Your guide will lead you on a small-group tour through the multilevel Palvolgyi-Matyashegyi system, chambers that lie under the residential district of Budapest. You'll be provided with expert instruction and all necessary equipment as you learn the secrets of the city's underworld. With a group limit of 20 people, your caving experience will be as intimate as it is unique.
Highlights
Small-croup caving tour under central Budapest

Experience the thrill of crawling and caving across a multilevel labyrinth system located under Budapest residential district

Professional guides and equipment

Maximum of 20 participants ensures a more personalized experience

Recent Photos of This Tour
What You Can Expect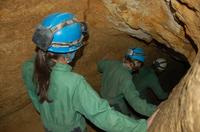 This Budapest caving tour requires no previous experience and is a great thrill for first-timers or novices alike! Led by your professional guide, this 3- to 4-hour excursion builds your skills crawling and climbing as you navigate through Budapest's subterranean cave system. Narrow passages abound, so be ready for the adventure of a lifetime.

Your guide will give you thorough instructions on the equipment provided along with helpful techniques for making your way through the caves. After you are geared up and ready to go, you'll begin your 12-mile (20-km) journey underground through the multilevel Palvolgyi-Matyashegyi labyrinth system.

Though you'll have to crawl, climb, scramble or creep throughout the journey, no caving experience is necessary, and ages 13 through 50 are welcome.

June 2016
This was such a fun trip. It was a great opportunity to see more of the Buda side and our guide was fantastic! I definitely recommend this trip!
Tip: make sure you have 4 bus tickets per person before the excursion and plan to do the Budapest baths the day after! It and #39;s a great combination!!!
June 2016
Lazlo was hysterical and an experienced caver - this was by far our best experience in a two week European trip. Extremely challenging for the lay person and we both had such an incredible sense of personal accomplishment - sore for days. Do not skip this - AMAZING time and people up to 250 lbs. can
June 2016
This is one of the most amazing tours I have done anywhere! Highly recommend. The guide was very knowledgeable and made sure we were all safe and knew exactly what to do. It is a highly physical activity so expect tight spaces and lots of crawling/squeezing/sliding/climbing. You will get dirty so plan on a change of clothes or going back to your hotel after to shower. I would say wear shorts, a tshirt and boots/tennis shoes as you do get coveralls and all the activity keeps you warm even though the caves themselves are cooler.
Two things to note: While this says 3.5 hrs for a tour by the time you get there and finish the whole thing it turns into more of a 5-6 hr activity. You need to plan your day around it. They also end the tour at the caves, leaving you to find your way back on your own so make sure you have a map and some bus tickets handy for after the tour. Great value for the money but they really should charge a bit more to get a bus or something to take you to and away from the site.
June 2016
Super cool experience, exploring the caves. We had a very experience and engaging tour guide that made this very worthwhile. Do wear shoes with good grip and that you dont mind getting muddy!
June 2016
Not for the closterphobic! That said, this was an experience of a lifetime. I was scared to death the entire time ya know, one way in one way out kinda thing but it was worth every minute. When we are talking tight spaces, I am talking about doing a superman pose through some passages. Our tour guide was excellent and even though I was more focused on how to get myself through a hole, the part of the tour that I was listening to was very interesting. This was one of my top experiences of my entire trip and I would definitely recommend it.

June 2016
It and #39;s really exciting. And the guide intriduced clearly. You must experience this in Budapest.

May 2016
This was the highlight of my trip. It was a little challenging in places, but with amazing guidance from our tour guide, we all managed to get through it. For those of you that are worried, there is always support if you need it and there are even times when you can go an easier way walking around, rather than crawling through. One of the best things I have done in my life!!!!
May 2016
Such a fun adventure! Our guide made us feel capable and confident even when squeezing ourselves into what looked like impossible spaces, and kept us laughing the entire time. Cannot go to Budapest and miss out on this experience!
April 2016
Great experience, lovely instructor! Highly recommended!
March 2016
So much better than expected!! Tour guides amazing! Really fun and challenging experience.
Advertisement
Advertisement