Travel back through time on a 3-hour history tour of Budapest by foot. As you walk, your guide will narrate the country's rich history, from the 1956 Revolution to the fall of the Iron Curtain and everything in between. Take in stories of World War I and II as you pass the Parliament Building and visit a private exhibition hall to witness cultural relics along with communist propaganda. This small group walking tour is limited to 15 people to ensure a personalized experience with your guide.
Highlights
3-hour historical walking tour of Budapest
Learn about Hungary's turbulent communist history from your expert guide
See sites related to WWI, WWII, the Iron Curtain and the Hungarian Revolution of 1956
Hear vivid stories about the revolution as you visit the Hungarian Parliament Building and Liberty Square
Explore an exhibition hall to discover interesting cultural relics and communist propaganda
Small-group tour limited to 15 people ensures a more personalized experience
What You Can Expect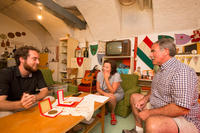 Your 3-hour walking tour will begin at the Hungarian Opera House in central Budapest. Your guide will initiate your trip back through time by discussing Hungary's role in World War I and II, as well as the 1956 Revolution against the communist government and its Soviet policies.

The Revolution of 1956 continues to be honored every year on October 23, marking the culmination of the Hungarian quest for freedom. Your guide will take you through significant landmarks where protests, speeches and marches took place. A stop at Liberty Square will offer a glimpse at the city's final tribute to the Soviet Union.

Additionally, you'll hear stories about life behind the Iron Curtain – how families lived, the great difficulties of travel and many other interesting facts and anecdotes, from black markets to banana lines.

You'll also have the opportunity to travel to a private exhibition hall to study cultural artifacts and communist propaganda, such as red and blue passports, party member registration books, currency, medals and more.

Your guide will then take you to the impressive structure of the Parliament building, where the first shots of the 1956 Revolution were fired. You'll learn about the important Hungarian figure Imre Nagy, a communist best known for defying the Soviet leaders in Moscow and executed for treason as a result.

As your tour concludes in central Budapest, you'll have a clearer sense of the last century of history that has shaped both the capital city and its country today.

Sara United States of ...
May 2016
The second afternoon we were in Budapest, we did the Communism, Revolution, WWI, and WWII tour with Tomas. We were the only people signed up for the tour, so Tomas was happy to cater it to our personal interests. He took us back in time to Communist Budapest with photos, books, relics, soda, and other mementos of the past. Being huge history nerds, we monopolized his time and peppered him with questions. His passion for Budapest and history was palpable, and there wasn't a question that stumped him. When we finally emerged from communist Budapest, he took us on a walking tour of the city and shared more about the current events and modern-day Budapest. Our only regret was when we finished the tour and that we didn't have more time in Budapest. We will definitely be back though.
George is a fantastic guide with a deep knowledge of his city and the events that have shaped current day Budapest. He knows a lot about history and politics and he is eager to share his passion. Take advantage of the amazing opportunity to learn everything you can from him.
April 2016
The tour was outstanding and the young man who was our tour guide was excellent. He was extremely knowledgable and you coud see he loved his work. He was fun to be with. My wife and I thought this was one of our best Viator tours. We learned quite a lot about Hungary during World Wars I and II as well as during the communist occupation. And we saw a number of historical sites including a mock up of a home in the early 70's to feel what living under communism in Hungary was like.
February 2016
This tour exceeded my expectations. The tour starting point was easy to locate. The tour guide was terrific and I learned a lot from him. He was very responsive to questions. At the conclusion of the tour, he made sure that I got on the correct subway train in the correct direction so that I could get back to my hotel. I definitely recommend this tour.

Jamie S United Kingdom
November 2015
One of the most in depth and interesting tours I've ever down.
I was the only person on this tour and was a bit worried but within 5 min of meeting my guide George felt really at ease.
Tour started in a mock up of a 1960's living room where I was shown and explained the items around me and an in-depth insight to Hungary's history past and present then out on to the streets of Budapest to learn and see about the area.
The guide George was exceptionally Knowledgeable and he was very proud and passionate about his heritage and made the tour that much more personal.
Next time I'm in Budapest I will most definitely be using this company again worth every penny and time I even got a fantastic gift at the end of my tour.
Thanks once again for a fantastic afternoon
September 2015
Our Guide was the most interesting person we met in Budapest. Knowledgable, accurate, involved etc. A real education into the Hungarian peoples struggle for independance and freedom.
June 2015
Our guide Robert was fantastic. Can't recommend this tour highly enough!
June 2015
Extremely interesting in-depth overview of Hungary trapped in a vise between Germany and Russia in the 40's. Life for Hungarians was mighty tough. Ex-teacher was an excellent tour guide with great knowledge and good flow of English language.
June 2015
May 2015
Robert made this a very informative tour and fun to be with.
April 2015
Excellent guide, Zsolt, who incorporated some interesting activities into the tour. He established the context first and then showed us many of the relevant sights. This was also a useful introduction to Budapest in general.
Advertisement
Advertisement