Learn about Hungary's rich wine heritage on a 2-hour wine tasting tour in Budapest. Led by a wine expert and enthusiast, you'll sample six varietals at the Faust Wine Cellar, accompanied by traditional Hungarian snacks. Enjoy a mix of white and red wines, including one from the famous Tokaj region, and deepen your knowledge of the area's offerings. This small group tour is limited to 20 travelers in an effort to keep the experience as intimate as possible.
Highlights
Small-group wine-tasting tour of Budapest

Introduction to the Hungarian wines and their history

Try a selection of six of the most traditional Hungarian wines

Complimentary snack in accompaniment of the wine to enhance the tasting

Maximum of 20 participants ensures a more personalized experience
What You Can Expect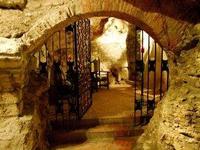 The Small-Group Budapest Historical Wine-Tasting Tour is led by a wine enthusiast who speaks English and is passionate about wine and the Hungarian capital. With over 22 entirely different wine regions and more than 100 different varietals to explore, you'll discover the rich wine heritage of Hungary.

Led by your local guide, your tour will take place in a traditional wine bar in the heart of Budapest. Here you will be introduced to mainstream Hungarian wines, as well as the wine-making and crafting processes used in Hungary today.

During your wine tasting, six of the most typical Hungarian wines and their stories will be featured, accompanied by delicious snacks to enhance the taste of each varietal. Enjoy a mix of five white and red wines, plus one wine from the Tokaj selection, and learn about the historical and modern-day importance of wine-making in Hungary.
October 2015
This was a great experience. Somilier was very knowledgeable and very attentive even though the wine cellar was very busy. Guests are set at separate tables and so you can taste the 6 wines at your own pace. This is a great way to learn more about Hungarian wines.

December 2014
September 2014
a brilliant tour , i have done a few wine tasting tours over the world, and this is one of the best, the venue is underneath the hilton hotel, in a old monasrty .
we tried six diffrent wines , all from hungary , and are hosts was able to tell us everythng about the wines and the region they came from.
you also have the option the buy the wines you taste , and they also offer a shipping option.
if you are in budapest and like wine and wine tasting, then this is the tour to do
April 2014
After a small walk under the ground you'll find the beautiful wine cellar. It was very nice to taste the wines and hear some information about it.

July 2013
The Faust Wine Cellar was a unique place to experience the wines of Hungary. Deep beneath the Hilton in the Castle district in a real cellar. Fantastic. Gabor freely shared his knowledge and he was an excellent host to our adventure. Very nice.
Robert D USA
November 2012
After some initial confusion with the hotel pickup, we finally arrived at a wine bar in downtown Pest near the Jewish synagogue. We had a delightful bartender who was most gracious and had us sample six different wines. He carefully explained the origin of each vintage and then we tasted. Had a great time and would definitely recommend this for any adult group. Most enjoyable.
June 2012
We tasted 6 different Hungarian wines, they were all excellent. The portions were generous so was the portion of the snack (bread, cheese,etc..). The title of the trip on your web site is fairly misleading ;- ''Wine -Tasting Tour'' and so is the picture underneath. It is wine tasting but not a tour as it takes place in a pub which was very pleasant but unfortunately no atmosphere as we (2 of us) were the only people in the pub all evening. The pub is on a small side road which is very quiet and hidden from busy streets. Our waitress was lovely and very helpful but far away from knowledgeable about wine as it was advertised in the trip description on your website ,so we ended up reading the back of the bottles to have an idea what we were drinking. But after all, we had a nice evening, excellent choice of wines.
September 2015
The wines were horrible. We have enjoyed so many wines of Hungary and these did not represent the quality we have found in Hungary. The service was very slow. Getting to the wine cellar was difficult. They have an elevator but after you leave the elevator, it is several steps in the dark. Do not do this tour if you have any vision issues.
September 2014
I was expecting a small group, but I was the only one on the wine tasting.. It would probably help to know how many people are on this tour before one signs up. It was weird sitting on a table by yourself with no one else to interact with. The wine tasting itself was ok, nothing special nor is it worth it.
Tracy H USA
November 2012
This is not a tour and there is no tour guide. You sit in a wine bar, which would have been fine but my paper said that I was to meet a tour guide and finally ask someone about the wine tasting. At first, they would bring over a glass of wine with the bottle and talk about it and the area it was from. They did this for the first two glasses and after that, we had to keep asking for the next glass.
Advertisement
Advertisement