Visit the charming town of Szentendre on a 4- to 5-hour guided tour. You'll be picked up from your hotel in Budapest and transported to this scenic town on the Danube Bend, just a short trip from the capital city. Wander through town, shop and peruse the myriad museums and galleries. Then pause for a coffee at a museum before concluding your sightseeing. Depending on the season, you'll return to Budapest either by boat along the Danube or by bus.
Highlights
Half-day trip from Budapest to Szentendre

Stoll through the charming streets of Szentendre

Return to Budapest on a Danube River boat cruise

Hotel pickup included
What You Can Expect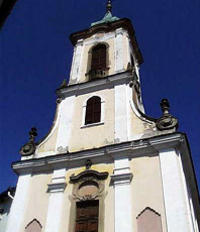 Located at the South Gate of the Danube Bend, Szentendre features charming squares, cobblestone streets, Serb temples and Baroque architecture. The town also hosts a vibrant collection of artists, and a large selection of contemporary art galleries and museums have been formed there as a result. A nearby artists' quarter houses many of the great minds behind the work on the display.

Spend some time with your guide strolling at a relaxed pace through town, perhaps picking up a few Hungarian souvenirs as you go. Then make a stop at one of the museums and enjoy a beverage, included with your ticket.

Depending on the season you're traveling, you will head back to Budapest by boat on the Danube and conclude your tour at the Pier. Otherwise, you will return to the city by bus.

March 2016
Wonderful tour of a beautiful, little town.

Harjeet K Malaysia
November 2015
A beautiful country side tour and a must visit place. Love the view and the small towns.
August 2015
Great tour guide and very informative. Great time management to allow us free time
Raymond P USA
January 2015
the guide was very informative, and even on his break sat with us as we drank hot chocolate and tasted wonderful pastries. It was a great tour
August 2014
very good tour guide, interesting town and nice trip back on the Danube.
May 2014
Very good. A 4 hour trip is an ideal getaway from the city. Seeing the Danube bend is indeed a special treat and Szentendre is very quaint. The tour guide was superb and very informative.
December 2013
This was a lovely trip --- lots of very interesting information about the areas we passed through and about Hungary in general. I really appreciated the taxi pick up to take me to the bus.
Good shopping time at Szentendre and the cruise back was also very enjoyable.
Roderick E Australia
August 2010
An experience of old Budapest
June 2015
The trip was enjoyable and informative. There was enough time for shopping and looking around.
December 2013
This was our second visit to Budapest and our second time on this wonderful trip to see the lovely village of Szentendre. This is such a pretty village and well worth a visit whilst spending time in Budapest, it makes for a nice change from the heart of city life too. Also included with the trip is a pass for a hop on and hop off boat ride on the Danube, this is a great way of seeing parts of Budapest along the river and although this trip is advertised as a half day trip with the boat trip ticket included you end up spending the whole day on the trip, which was great for us! I would recommend this trip.
Advertisement
Advertisement