Explore El Calafate on this 3-night excursion from Buenos Aires including airfare. Fly from Argentina's capital to El Calafate, the gateway city to Los Glaciares National Park. Tour this UNESCO World Heritage Site and visit the Perito Moreno glacier. Explore El Calafate at your leisure during a full day of free time. Flights and breakfast each day are included; choose from 5-, 4-, or 3-star hotels.
Highlights
3-night tour to El Calafate by air from Buenos Aries

Explore a piece of Argentine Patagonia during a quick trip from Buenos Aires
Take a guided tour to Los Glaciares National Park, a UNESCO World Heritage site
Discover the Perito Moreno glacier on a 2-hour walking tour with an experienced guide
Choose from 3-, 4- or 5-star hotel accommodation in El Calafate

Round-trip flight, airport transport in El Calafate and breakfasts are included
What You Can Expect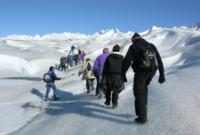 Discover El Calafate, the gateway Los Glaciares National Park and the stunning Perito Moreno glacier. Stay in a double room at your choice of 3-, 4-, or 5-star hotels with included breakfast. All hotel choices are depending on availability.
5-star: Los Alamos, Alto Calafate or Xelena




4-star: Calafate Parque, La Cantera or Kosten Aike




3-star: Hainen, Kau Kaleshen or Kelta



The local tour operator will provide a schedule with a tour itinerary and instructions for choosing flights upon booking. View the below itinerary for a summary of activities on each day of the tour.
Itinerary
Day 1: Buenos Aires – El Calafate
Make your own way to Jorge Newbery Airfield in Buenos Aires for your 4-hour flight to El Calafate, about 1,700 miles (2,700 km) south of Buenos Aires on the shores of Lake Argentino (Lago Argentino).

When you arrive, you'll be picked up by your professional guide and driven to your select hotel. The rest of the evening is yours to have dinner (own expense) and do what you wish.

Overnight: Your selected hotel in El Calafate

Day 2: Los Glaciares National Park (B)
Today, enjoy an excursion to the Perito Moreno glacier in Los Glaciares National Park. After breakfast, make the 50-mile (80-km) drive from El Calafate to the glacier, which sits on the southwestern corner of Lake Argentino.

The most famous feature of the World Heritage-listed national park, Perito Moreno is 19 miles (30 km) long, 3 miles (5 km) wide and 197 feet (60 m) tall. With your guide, walk along the 1,300-foot (400-meter) walking path that takes you to a lookout point near the glacier. You'll spend about two hours here; when you reach the viewpoint (about an hour's walk), your guide will give you free time to take photos and admire the amazing view of the glacier and lake.

Perito Moreno is a growing glacier, creeping forward a little bit each day. If you're lucky, you may witness the natural phenomenon of ice breaking off of the glacier walls and crashing into the water.

You may bring your own packed lunch with you to eat during the tour, have lunch at the restaurant inside the national park, or bring a few snacks on the tour and wait until you get back to El Calafate to eat lunch; the usual return time to El Calafate is 1pm, unless your tour group decides to spend more time at the national park.

Please note, the entrance fee to Los Glaciares National Park is not included in the price of the tour; you will pay at the gate when you get there.

Overnight: Your selected hotel in El Calafate

Day 3: El Calafate (B)
Today is a free day to explore El Calafate and its surrounding Patagonian sights on your own.

Perhaps speak to your guide about optional excursions (own expense), such as a Lake Argentino cruise, a 4x4 off-roading tour, a day trip to Torres del Paine National Park or a full-day tour back to Los Glaciares National Park to see what you missed on Day 2. Or, check out attractions in town like the Glaciarium, a stunning museum about the crazy world of glaciers and icebergs. All activities are at your own expense.

Overnight: Your selected hotel in El Calafate

Day 4: El Calafate – Buenos Aires (B)
After breakfast, spend a bit more free time in El Calafate before you are driven to the airport to catch your 4-hour flight back to Buenos Aires, where your tour ends. There are a range of flight times out of El Calafate from which you can choose after booking.
October 2014
We were picked up and taken to the airport and hotel on time. The guide was friendly, extremely helpful, and informative. We have seen glaciers before but nothing like Perito Moreno, truly a wonder of nature. We choose to pack our lunch although there is a cafe at the Park because we wanted to spend more time seeing the glacier. There are walk ways that allow you to see different views of the glacier which are not strenuous and very doable. Although there are steep steps, there are alternative routes that can be taken. Because we had an extra day, we selected the Sailing Hiking and Off Road Patagonia Adventure to Estancia Cristina which was a nice complement to this tour.
June 2016
Patagonia is gorgeous and the tour gets you up close to the glaciers. My disappointment was mainly the price. We went during off season (in June). Price for airfare, transport, and hotel added up to be the half the listed price on Viator.
Advertisement
Advertisement