Fly from Buenos Aires to Puerto Iguazu for a 3-night Iguassu Falls adventure! Just 1.5 hours away by air, the town of Puerto Iguazu provides easy access to Iguazu National Park on the Argentina side of the falls and Iguacu National Park on the Brazil side, both UNESCO World Heritage sites. Visit both parks during two days of tours, marveling at more than 200 individual waterfalls, including the biggest and most famous: Devil's Throat. You have your choice of 3-, 4- or 5-star accommodation; flights and breakfast are included.
Highlights
3-night tour from Buenos Aires to Iguassu Falls by air
Explore one of South America's most amazing natural wonders with a professional guide
Take a half-day tour to Iguacu National Park on the Brazil side of the falls
Enjoy a full-day tour to Iguazu National Park on the Argentina side of the falls
Be wowed by Devil's Throat and more than 200 waterfalls
Choose 3-, 4- or 5-star accommodation in Puerto Iguazu
Round-trip flight, airport transportation in Puerto Iguazu and breakfast included
What You Can Expect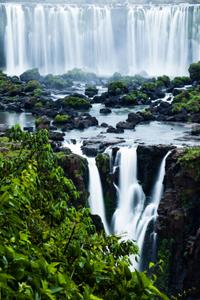 The Argentine town of Puerto Iguazu is often considered the gateway to Iguassu Falls and the national parks on both sides: Iguazu National Park and Iguacu National Park. Stay in a standard double room at your choice of three levels of accommodation in town — 3-star, 4-star or 5-star; breakfast is included. After booking, the local tour operator will send you a schedule with your tour itinerary and instructions for choosing your flight times.
3-star: stay at the Jardin de Iguazu, Helechos or Marcopolo hotel, depending on availability
4-star: stay at the Saint George, Esturion or Grand Crucero hotel, depending on availability
5-star: stay at the Amerian, La Cantera or Loi Suites hotel, depending on availability
Please note:
the entrance fee to Iguacu National Park is not included in the tour price; you'll pay separately when you get there.
Itinerary
Day 1: Buenos Aires – Puerto Iguazu
Make your own way to Jorge Newbery Airfield in Buenos Aires for your 1.5-hour flight to Puerto Iguazu, which sits just across the Iguazu River from Brazil and is only 11 miles (18 km) from Iguassu Falls.

When you arrive, you'll be picked up by your guide and driven to your chosen hotel. The rest of the day is yours to have dinner in town (own expense) and do what you wish.

Overnight: Your selected hotel in Puerto Iguazu

Day 2: Iguacu National Park, Brazil side (B)
Today, take a half-day tour to Iguacu National Park on the Brazilian side of Iguassu Falls. After breakfast at your hotel, start the 30-minute drive across the river and to the park.

With your guide, walk for roughly one hour (1.2 miles) along a 3,280-foot (1,000-meter) path from Das Cataratas Hotel that will take you to a fabulous viewpoint of Devil's Throat, where the largest amount of water pours through Iguassu Falls. At 262 feet (80 meters), Devil's Throat is Iguassu's largest individual waterfall and a definite must-see.

You'll then have time to buy lunch at one of the restaurants in the park, or, if you've brought a packed lunch with you, have a picnic at one of the park's several scenic spots. You may also wait to have lunch when you get back to Puerto Iguazu. Your guide can give you suggestions for restaurants inside the park.

In the early afternoon, return to Puerto Iguazu and spend the rest of your day at leisure.

Overnight: Your selected hotel in Puerto Iguazu

Day 3: Iguazu National Park, Argentina side (B)
Wake up to breakfast at your hotel, and then start your 9-hour day trip to Iguazu National Park on the Argentina side of the falls.

Explore the area in three parts, both with your guide and during free time to roam on your own. Start with a 2.5-mile (4-km) train ride to the point where the Iguazu River turns into Iguassu Falls. Disembark the train here to visit a viewpoint that overlooks Devil's Throat, allowing you to enjoy another perspective of this stunning natural wonder.

Next, tour the Upper Circuit, a 45-minute uphill walk that rewards you with breathtaking panoramic views of many of the waterfalls, including Dos Hermanos, Adam and Eve, Bernabe Mendez, Mbigua and San Martin. From here, you can rappel down if you're feeling adventurous, or ride down to the bottom of the falls in a 4x4 vehicle.

Lastly, head with your guide to the Lower Circuit, where an 0.8-mile (1.3-km) trail provides incredible photo opportunities of lower falls such as Bossetti. You'll then be transferred to the Visitor Center, where you can take the train back to Devil's Throat.

During the day, you'll have time to buy lunch at one of the restaurants in the park (your guide can offer suggestions), or bring a packed lunch with you from Puerto Iguazu to enjoy eating in the great outdoors. Return to Puerto Iguazu in the evening, and make the most of some free time to relax and savor dinner.

Overnight: Your selected hotel in Puerto Iguazu

Day 4: Puerto Iguazu – Buenos Aires (B)
After breakfast, enjoy more free time in Puerto Iguazu to pick up souvenirs or take a walk around town before you are transferred to the airport for your flight back to Buenos Aires. There is a range of flight departure times, which you can choose after booking.
December 2014
Our Tour Guide, Laura, was phenomenal!!! She went at our pace and we were able to take in how amazing the falls are. It is definitely a worthwhile trip. They pick you up from the hotel each day and drop you off back at your hotel. We left the hotel early in the morning which kept us from waiting in line at the entrances and we got to have the falls to ourselves for a little while. The only complaint I have is we did the 5 star hotel package and we were given Raices Sturión hotel. It was not up to par with a 5 star hotel. The food, both dinner and breakfast, at the hotel was not good. The rooms were small and the plumbing desperately needs to be updated.
December 2014
All personal were very attent tours on time and Marco Polo hotel clean and a lot of room to rest.
January 2015
*** Everyone take note that US citizens must have a Visa to visit the Brazil side of the Falls. That information is buried deeply in the Viator voucher that was sent. Of course, it was my responsibility, but at least the information could have been highlighted, in bold print, something. As a result, we saw only the Argentinian side.
June 2015
Tour can be finished in 2 nights instead of 3 nights. Nothing to do on third day afternoon but flight was scheduled on fourth day evening !
Tour for Brazil side only half day so please consider to add option tour such as visit Bird Park or the famous water dam to made it comprehensive.
Advertisement
Advertisement