Experience Mendoza's highlights on this 5-day guided excursion from Buenos Aires. Taste the best varietals that Mendoza's winemaking regions of Maipu and Lujan de Cuyo have to offer. Visit the Christ the Redeemer statue and ascend Aconcagua, the highest point in both North and South America. Accommodation on a comfortable overnight bus and in a clean, friendly youth hostel are included, as well as some meals.
Highlights
5-day guided tour to Mendoza from Buenos Aires
See Aconcagua, the highest point in the Americas
Visit the Christ the Redeemer Statue as well as the Puente del Inca
Relish in a full day visit to Cordillera de los Andes
Spend a half day touring famous Argentinian wine cellars
What You Can Expect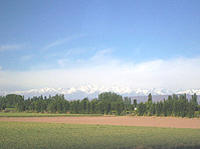 Discover Mendoza, a dynamic urban center that enjoys a sun-drenched climate, views of the surrounding mountains, and world-class wine country nearby.
Mendoza's weather is perfect for outdoor adventure activities such as skiing, mountain climbing, hiking, river rafting and sailing. The Americas' highest peak, Aconcagua, looms over the city at an elevation of 22,835 ft (6,960 meters.)
Nearby landmarks include the natural stone bridge called Puente del Inca and the Christ the Redeemer Statue.
Itinerary
Day 1: Meet your comfortable 'cama' or bed bus at Retiro bus terminal. Eat both dinner and breakfast on board, and sleep soundly in your plush seat in between. Gaze out the window at the passing Argentine pampas.
Day 2: Arrive at the bus station in Mendoza, then transfer to the hostel. Check in to a four-bed room with private bathroom in a clean, friendly environment.
Day 3: Visit Cordillera de Los Andes in this full-day adventure that leaves the hostel at 7:30am. Stop in the village of Uspallata and visit the Puente del Inca, a naturally-formed stone bridge at an ancient Incan ruin site. View Aconcagua, the Western Hemisphere's highest peak.
Day 4: Spend the morning visiting wineries in Lujan de Cuyo and Maipu. In the afternoon, arrive at the station in Mendoza to board your overnight bus back to Buenos Aires. Enjoy dinner, a full night's rest, and breakfast on the bus.
Day 5: Arrive in Buenos Aires.
December 2013
Of the several tours I took in Argentina, this was my favorite. The hostel I stayed in, damajuana, was clean and quiet, and thankfully the attached bar closed at 11pm on weeknights. I thoroughly enjoyed the high mountain trip even though we only made if half way due to unpredictable weather. The friendly tour guide was personable and made the best of the change of plans by taking us to a museum and a nice local restaurant. The vineyard tour was also quite enjoyable. Both vineyards visited were unique and I learned quite a bit from each, and of course, thoroughly enjoyed each accompanying tasting.
My only suggestion is to include a detailed itinerary in an email with the pick up times for the activities so your customer doesn't have to e-mail you the night before asking when their early morning pick up is.
July 2013
Definitely was worth doing.
Advertisement
Advertisement