Discover Argentina's traditional foods on this 3-hour walking tour of Recoleta with an in-the-know guide. Visit several of the elegant neighborhood's best restaurants to sample authentic cuisine such as empanadas, dulce de leche and parilla. You'll taste Argentine wines and dine like the locals on this food-lover's tour of one of Buenos Aires' most charming barrios.
Highlights
Recoleta food tour in Buenos Aires
Visit three local restaurants with an English-speaking guide
Enjoy appetizers of empanadas
Dine on Argentinean steak at a parrilla grill
Savor home-made ice cream topped with dulce de leche
Food and wine tasting included
Why Our Insiders Chose This Tour
This tour is a great way to explore Buenos Aires' Recoleta neighborhood while tasting authentic Argentinian cuisine!
What You Can Expect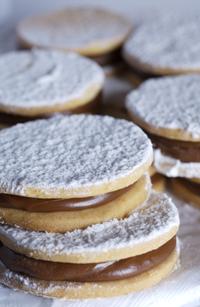 Meet your guide at the entrance to the famous Recoleta Cemetery, the heart of this historic Buenos Aires neighborhood. Stroll through the early evening light down picturesque streets toward your first restaurant stop. Taste authentic empanadas with cheese, beef and vegetarian fillings at this typical Argentinian neighborhood cafe while learning about the history of one of the country's favorite foods.
Continue to the parilla restaurant for your main course. Enjoy a glass of local malbec paired with the country's famously high-quality beef and other tasty options.
Move on to your final stop, a restaurant that serves homemade ice cream topped with decadent dulce de leche. This rich caramel sauce is a favorite among the locals, who also consume it in the country's traditional cookies called alfajores. After dessert, try some mate, a traditional Argentine tea that has a history and culture unto itself.
After your culinary tour is complete, feel free to explore Recoleta on your own.
AG-NC USA
June 2016
Under NO circumstance should you eat breakfast before this tour!
Go early and wander Recoleta Cemetery before you meat see what I did there your phenomenal guide for a great walking tour of the neighborhood.
First comes the best empanada I've had in my life. Then we circle back to the cemetery area to a parrilla. At first I thought, oh no, we're going to a tourist trap. But it was REALLY good. And the food kept coming. First out proveletta, chirizo and salad with many types of breads and condiments. I was happy and content with this. Then the entire side of beef came out! A perfect medium rare, 2 inch thick steak. Oh, and did I mention the included glass of Malbec that was about 300 ml?
Next I tried Mate made in the traditional way an acquired taste.
Finally, if you can still stand up after a meat coma, there's a stop for ice cream.... something I never knew BA was famous for. It was on par with anything I've had on a street corner in Italy.
A perfect afternoon with an expert guide eager to share culture and knowledge about BA.
A MUST tour if you love food culture and a great walk.
May 2016
Awesome tour! Great guide and food
March 2016
Fun to experience BA with a local. We had never done a food tour before and it was interesting to see what they really eat and where they really go. Not your local tourist stops. Great fun with lots of background.
March 2016
Like going to lunch with a new Argentinian friend. We had a charming young guide who spoke excellent English. She was chatty and happy to discuss life in Argentina with us honestly and without resorting to a script. The food was outstanding. We had been in Argentina a few days and had already had all of the dishes, but each one on this tour was the best. All at local establishments, not touristy locations. The Recoleta district is charming, but don't expect a tour of the sights, this is really about food and conversation. Had a little problems spotting our guide at the meeting point. Look for someone in a red t-shirt with the name of the tour company on the front, outside of the cemetary entrance. A relaxing and thouroughly enjoyable experience.
Barbara C USA
February 2016
The tour was very well done and Candy was exceptional.

May 2016
We arrived at Recoleta and had to look for our tour guide. He did not have a sign and we had to ask several people. Eventually after about 30 minutes of searching we found him. Otherwise it was a nice tour and we loved Buenos Aires.
March 2014
I did not feel that this tour was a good value for the money. The food that we ate on the tour was nothing special. I could have gotten the same things much cheaper by simply going to one of the restaurants around Recoleta cemetery. The guide tried hard to make this fun, but she spoke very poor English and had a hard time understanding and responding to our questions. My husband and I felt that we would've had a better time simply going out for dinner on our own.
February 2014
This is the first Viator I have not rated as superior. Disappointing. Marcella (guide) was good providing basic info but she is learning English and did not have the vocabulary to answer foodie questions - how foods were prepared, ingredients, origin of foods, etc. We also were surprised that we had to buy water to drink with the empanadas and side dishes to go with the steak. The tour included steak as an entree but nothing else. Also each participant ordered a side dish but they were so large 1 order would have been enough for the table. This tour has the potential to be stellar but fell short on multiple levels.
December 2014
A terrible experience - don't waste your money. The restaurants chosen were inferior quality and I had a tough chewy steak and what tasted like watered down wine. Worst experience of my Argentinian trip.

April 2014
We met at the Recoletta cemetery which was an odd place to meet especially since we do not go in. The tour was 4 people and a guide. We walked from the cemetery through the streets of Recoletta (an area of Buenos Aries). This area is the more upscale section of BA and, we were told to hide the jewelry we were wearing. I did not see a threat anywhere and felt safe however.
The tour guide was not very good. She spoke in broken English, very difficult to understand. The language issue along with the street noise and small sidewalks made hearing anything very difficult. Much of the value of this tour was simply lost.
We walked for a substantially longer time than we ate. Our fist stop for Empanadas was fine, very tasty. The restaurant however did not have most beverages and water was the best choice. Anything other than Empanada cost.. and cost plenty. Do not forget the tip. Lesson learned.
The main course was a steak house and, I am generous in that description given we are from the USA. The food quality was poor, the lighting was garish and the decor was 1960s USA stuff on the walls. We had to pay for some items and, the tip. The beef was Argentine, not up to US standards.
There was alos some confusion in ordering. Our guide seemed determined to take our order and relate it to the waiter who, spoke enough English to take an order directly. The guide kept butting in and each time, got it wrong (her English was not that great). Inevitably, the food ordered was not what was delivered. one member of our party ordered the pasta. Well, why one would order pasta in a steak house is a mystery to me and, he paid the price.
You would be better off finding a nice place to eat our, take a Tango Dinner tour instead.
Advertisement
Advertisement