Journey from colonial times to present-day with this 3-hour walking tour of historic Buenos Aires – an ideal introduction to the capital for first-time visitors. Stand before the grand Metropolitan Cathedral on Plaza de Mayo; see the Casa Rosada, where Evita famously addressed the people from the balcony; and stroll along Calle Florida, where the historic buildings have been transformed into designer boutiques. There's also time to explore the lively San Telmo market and see the modern riverfront district of Puerto Madero.
Highlights
Guided walking tour of historic downtown Buenos Aires

See Plaza de Mayo and San Telmo

Learn about Evita's story and the Mothers Path

Coffee break

What You Can Expect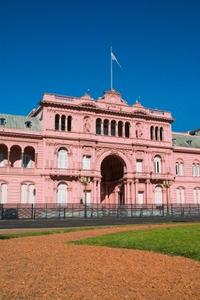 On this 2.5 mile (4 km) city walking tour, you'll see some of the most famous historical attractions in Buenos Aires. As you explore unique buildings and plazas around the city, your local tour guide will give you in-depth details on the immigration, local history, traditions and architectural evolution of Buenos Aires. This fun, relaxing walking tour will take you off the beaten track and show you the rich culture of the city.

On this walking tour, you'll visit:
• Calle Florida, the 400-year-old main street
• Plaza de Mayo, where you'll hear the story of the foundation of Buenos Aires
• Government House, where you'll learn about Evita and the Path of the Madres
• National Bank, May Pyramid and the early Opera House
• Metropolitan Cathedral and San Martin's Tomb
• See Puerto Madero
• Defensa Street, where the fight against invaders in 1807
•The oldest shop, oldest church and oldest house in town
• Four Basilicas in four blocks, from the early Spanish period
• St Domingo's feisty (and scarred) church
• Viceroy Linier's house, and example of colonial Architecture
• Chile Street, the old city limit and ancient tunnels
• Minimal House and Slave Market Street
• Old San Telmo, and up-close look at colonial houses
• Early San Telmo Market and Market Square
• Visit of Ezeiza's Conventillo ("little convent")
• Belen Church, where you'll hear the story of smart Martina Cespedes
• ...plus, hear lots of other local stories, curious facts and peculiarities!


Note: You may not see the full itinerary, depending on time and circumstances of your tour
October 2015
Soledad was extremely nice and was very informative. Highly recommended for anyone looking to learn about Buenos Aires from a local and not just a history book.
Sharne A Australia
February 2014
The tour guide was very informative. Asa there were only three of us in the tour it was like having a personal tour

January 2014
Learned lots of interesting information we would have not gotten on our own.
April 2013
Ater meeting up with our guide and his father who was also doing a tour, it was decided that we would do the different areas tour along with the Recolleta Cemetary and it was very good. M
August 2015
Soledad was great and informative. We saw a lot but the tour needed one more hour as it was rushed. I couldn't photograph the cathedral and we really didn't even see it beyond the spot where San Martin's body lays at rest. But we learned and saw a lot. Good walking shoes a must.
March 2013
This was wonderful. Our guide was so knowledgeable, entertaining and very very pleasant to walk with. He was well informed on old and new Lima and was fascinating to listen to. A great tour. Rhonda M
February 2016
Dont waste your time. Very poor tour. We ended terribly disappointed. I would definitely wont suggest this tour to anyone.
The tour last for 2 hours, the guide was not in the mood to show much around.. she had a terrible attitude with us and considering the price we paid her, she should had put a minimum effort!
Advertisement
Advertisement