Make your transfer from Ezeiza International Airport to your Buenos Aires hotel smooth and easy with this private transfer service. A professional driver will meet your flight on arrival — seven days a week, 24 hours a day — ferrying you and your luggage comfortably to your accommodation. Start your relaxing vacation as soon as you hit the ground without the need to worry about taxi lines or public transportation.
Highlights
What You Can Expect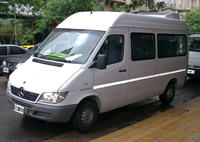 Start your exciting vacation in Buenos Aires when your plane lands, without worrying over local transportation to your hotel. Skip long taxi lines at the airport and avoid confusing public transportation with this private transfer service.
After you clear customs at Ezeiza International Airport (
officially known as Ministro Pistarini International Airport),
a representative holding a sign with your name on it will accompany you to your waiting vehicle. Travel
with your private party
to your Buenos Aires hotel
in a spacious car or minivan with plenty of legroom and storage capacity.
Advise the booking agent of your flight details and your Buenos Aires hotel details when you make your reservation. You'll receive confirmation of your airport arrival transfer and a travel voucher to give to the driver.
Price is per vehicle.
May 2016
Our driver was efficient and friendly. Good idea to hire a car if it's your first time in the city.
April 2016
It was great after a long flight to be met by someone at the airport. Unfortunately, because of the language barrier and because we were a little tired from the overnight flight, we were unable to communicate with him. He was very nice though and tried to point out some interesting things to us on the ride to the city and our hotel.
March 2016
HIGHLY recommend this service! Amazing enough, our plane arrived 1/2 EARLY!!! Our driver was waiting for us with a big sign right outside the luggage area. He took our luggage and took us to our private transport just steps from the airport exit. He knew where he was going and it was a smooth, easy drive for about 35 minutes door to door. It was just 2 of us and the cost may have been slightly higher than taking a taxi but it was WELL worth it! We have used Viator private transfers in several different countries and have always been pleased. No standing in line for a taxi, no language or money issues to resolve, no waiting. Family members who arrived at a later date took a taxi - what a mess that was for them - the driver didn't speak English, he got lost several times, didn't understand the address they were going to and didn't bother to use the GPS in his taxi until it was clear that he went the wrong direction not once but twice. So - pay the extra money - in your own currency and have someone waiting for you who knows where they are going and is in a clean well maintained car. VERY pleased!!!
March 2016
Our airport to hotel transfer worked very well after the driver and we spotted each other in the airport. It took a while but we were on our way and we enjoyed the drive. It was very early morning and it made the trip much less of a hassle than it might have been in a cab.
February 2016
This transfer was very convenient. After spending many hours in an airplane, it was great to have this transfer arranged. Since this airport is some distance from the city, the money spent on the transfer was a good value. Our driver was courteous and professional and met us at arrivals. I highly recommend this transfer service.
February 2016
driver was at airport with signage, and very pleasant.
Dorothy R USA
January 2016
Leandro mets us and promptly brought the car around to drive us to our hotel. He was friendly and shared with us some of his Argentine favorite music. Although he spoke limited English and we spoke no Spanish we were very comfortable and very pleased with the ride
June 2015
Driver was waiting/helped with luggage and weaved his way through traffic in a very profesional way. He even told us of the sights we were seeing on our trip into the city.
June 2015
March 2015
Rafael met us outside the airport gate and we had a very nice ride to the airport. He was kind enough to point out some points of interest. Thank you!
Advertisement
Advertisement