Tour Buenos Aires' top attractions via sightseeing coach on this 3-hour shore excursion. Snap photos during your tour's stops at several landmarks such as Casa Rosada, Obelisco de Buenos Aires and Teatro Colón. While your cruise ship is in port, you're driven through historical neighborhoods like Palermo, La Boca and San Telmo, learning about Buenos Aires' highlights from your local guide.
Highlights
3-hour shore excursion of Buenos Aires by coach
Visit the popular neighborhoods of Buenos Aires, including San Telmo, Palermo, Retiro and La Boca
Enjoy city highlights such as Recoleta Cemetery, Plaza de Mayo, Dorrego Square and Palermo Woods
Stroll through La Boca and admire the colorful houses and artwork
Learn from a local guide about the city's history and culture
Port pickup included

What You Can Expect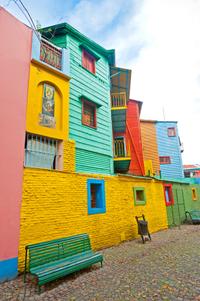 Enjoy this informative 3-hour coach tour that hits all the highlights of Buenos Aires. Once your ship docks at the port, meet your guide aboard your comfortable coach and settle in for a morning or afternoon of sightseeing.
Stop at Plaza de Mayo to see Casa Rosada, the office of the Argentine president; it's a perfect site for photo ops due to its rosy pink exterior. Plaza de Mayo is also home to the Cabildo (town hall) and the Metropolitan Cathedral. Teatro Colón, the city's monumental opera house, is up next. View the Plaza de la República and the Obelisco de Buenos Aires, both important parts of Buenos Aires' political and cultural history.
Continue your tour through several historical neighborhoods, including Puerto Madera, San Telmo and La Boca. See the points of interest that make each of these neighborhoods famous, including colonial architecture, spontaneous tango performances and bustling pedestrian walkways where you can hop off the bus and purchase local art.
Visit Palermo next, including Palermo Woods, home to the Buenos Aires Zoo and the Planetarium. End your tour in Recoleta, one of the city's toniest neighborhoods and home to the famous Recoleta Cemetery. Visit the cemetery or the nearby shops and restaurants on your own.
Conclude your excursion when you are ready with a 15-minute taxi ride (own expense) back to your ship on your own timetable. Please give yourself ample time to return to the cruise port, as this tour is not covered by our worry-free policy.
March 2016
Fantastic tour taking in the major sights in BA. Loved the pictures you made of us in the tango and soccer stadium. Only bought the tango one but wish I had both! The tour guide was great! Should have a bigger sign at the pick up that says Viatour! We could not confirm due to no internet but it all worked out. Got the email message the day before about the time change
February 2014
All was good, but one suggestion: to make more stops for photos - let them (stops) be even very short. We have seen lots of fine parks and other places worth of making pictures of them, but bus was going further and we were bound to head-swinging (look on left - look on right - look on left... and so on). Tried making pictures through the bus' window - but not always had time...
February 2015
The tour was very informative and covered most tourist highlights in the city.
February 2015
Good overview of Buenos Aires but would have liked more "photo" stops.
February 2014
Tour was great and gave an excellent overview of the city. Guide was very knowledgeable. I was happy that my first experience booking with Viator was a pleasant one with no problems
February 2014
Book this tour in the U.K. prior to departing on the Queen Victoria .We were met at the cruise terminal at 9 am the tour was very good the guide spoke perfect English
We requested a drop off in down town, and she gave me the correct addresses for the cruise terminal for our taxi return to the ship.
March 2013
We were met just outside the port terminal on time and led to the bus down the street. We then sat for an hour waiting for the tour to begin. It would have been better if the guide had informed us of the reason for the delay rather than just let us sit there. Several people got quite angry and when she tried to apologize, one man in particular was so rude she's started crying. One of the passengers calmed her down and we were finally able to start what turned out to be a lovely, informative tour. I suppose the only way to avoid the delay would be to have a strict departure time but seems unfair too. Our guide was very good and she handled herself well after we got started.
January 2015
While BA is a beautiful city, our Tangol tour was conducted in three languages. The guide indicated that was the way they always did it even though we had bought the "English" tour. We didn't understand most of what she said and also spent most of the time in the least desirable areas. Horrible!!
January 2015
The tour operator picked us up at the cruise terminal, however they refused to take us back to ship at the end of tour.
They said tour ended downtown, we were responsible to find our own way back to the ship. That is not what we contracted for. Very disappointed in your service.
Sophia Canada
January 2014
The tour guide we have are not very good, may be 3 hours for the whole city is too short. Instead please extend this sightseeing tour in future to 4 hrs at least, and charge the price a bit higher. We didn't stop at Recoleta, just drive through, which is a prime tourist spot. Also the time at the Presidential Office as shown in this photo do not have enough time either. Would rather advise future tourists to take their Hop On and Off bus. The guide only speak to the tourist at front of coach, we want to ask questions but no chance at all, she only entertain their Spanish speaking guests.
Advertisement
Advertisement