Experience an unforgettable evening at one of Buenos Aires' most elegant tango venues, with this 4-hour shore excursion. Indulge in a 3-course gourmet dinner and wine tasting, then prepare to be swept away by the passion of the tango. With live musicians, exquisite costumes and impressive dance moves, you'll be on the edge of your seat for the entire performance.
Highlights
4-hour Buenos Aires shore excursion to a tango show with dinner
Enjoy the cozy ambiance of the 19th-century tango venue located in the Recoleta district of Buenos Aires
Savor a 3-course gourmet meal and choose from several main dishes, including ravioli, grilled pork or beefsteak
Taste several Argentine wines from the famous Finca Flichman
Be amazed by some of the greatest tango musicians and dancers in Buenos Aires!
Port pickup included

What You Can Expect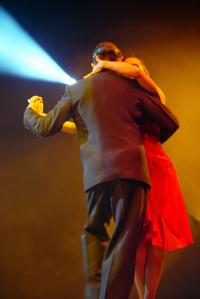 When your cruise ship docks in Buenos Aires, your guide will accompany you to El Querandí, a fashionable 1867 tango venue in the city's Recoleta district. Decorated like an old tango bar of the early 1900s, this historic site will make you feel like you've been transported back to the height of tango at the turn of the century.
Before the evening tango show begins, dine on a three-course meal of international and Argentine dishes, and taste several Argentine wines from the famous Finca Flichman. Plus, enjoy coffee and a glass of sparkling wine. Featured below is a sample menu, offering many choices for a starter, main course and dessert.
The exciting show begins around 10:15pm, highlighting the history of tango and Buenos Aires from 1860 to the present. Prepare to be delighted by the fiery performances on stage as four couples demonstrate their remarkable moves while tango musicians sing and play the accordion, piano, violin and bass. You'll be blown away by the skill of some of the best dancers in the city!

This excursion concludes within a 15-minute taxi ride to the cruise port, so you determine the time you return to your ship in Buenos Aires. Please allow yourself ample time to enjoy the excursion and ensure your timely return to the port. This excursion is not covered by our worry-free policy.

Sample menu (choice of one each):
Starter
Plate of cold meats and cheese
Mozzarella capresse
Stuffed pastry
Creamy soup
Caesar salad
Ranch salad
Main course
Florentine crepe (with spinach and creamed mushroom sauce)
Vegetable ravioli with fileto sauce
Mediterranean sole (champignon, tomatoes, pepper, onions, black olives, garlic and basil)
Portuguese chicken (peppers, onions, garlic, tomato sauce; with noisette potatoes and parsley)
Beefsteak with French fries
Cremolata bondiola (grilled pork with citrus peel, garlic and parsley; served with pumpkin puree)
Dessert
Chocolate mousse
Soft cheese with dulce de batata
Fruit salad
Ice cream
Homemade custard with cream or dulce de leche
Rice pudding
January 2016
A Must-Do in Buenos Aires! This show is, unlike most other Tango shows in BsAs, not a Broadway-style show, but an historical retrospective of the Tango from its origins in the Barrios to modern day. The dancers were fantastic, accompanied by live orchestra and two wonderful baritones who interspersed local, historical songs with the dance. Don't miss THIS show in Buenos Aires!
January 2014
The show and dinner was great,but the tour guide did not wait for us at the designated time.We were only a few minutes late and not knowing the area and where exactly to meet,we were disappointed that the guide left without us
We ended up getting a cab on our own to get to the venue,some 40 minutes later
Advertisement
Advertisement