Special Offer
Save up to 14% when you book these popular tours together!
Enjoy a Super Saver full-day tour of all the highlights of vibrant Buenos Aires. Begin the morning with a restful boat ride in the Tigre Delta that lets you see a different view of Argentina. Then transfer to a coach to spend the afternoon hitting all of Buenos Aires' important attractions in neighborhoods like La Boca, San Telmo, Palermo and Recoleta. End your marathon day with a delicious dinner and sensual tango show at one of two local haunts, Tango Porteño or Café de los Angelitos.
Highlights
Tigre Delta cruise, Buenos Aires coach tour and tango show with dinner – a great value Super Saver!
View the mansions and cathedral of San Isidro
Encounter waterfront sights and homes on stilts with a boat ride over Tigre Delta
See Buenos Aires monuments like Casa Rosada, Plaza de la República and Teatro Colón while sightseeing through the city's greatest neighborhoods
Stroll down Caminito in La Boca and admire local artwork
Watch a spectacular tango show as you enjoy dinner and drinks at a local venue
Hear commentary from a local guide
Recent Photos of This Tour
Buenos Aires Super Saver: City Sightseeing Tour, Tango Show with Dinner and Tigre Delta River Cruise
What You Can Expect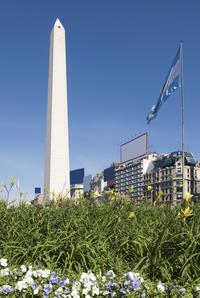 Tigre Delta Tour: (Morning)
You'll be collected from your Buenos Aires hotel by a coach that will whisk you from the center of the city out to San Isidro, with views of the beautiful Rio de la Plata along the way. Upon arrival in the prosperous town, your guide will give you a short tour including the San Isidro cathedral and the weekend homes of many of Buenos Aires' elite families.

Board a catamaran at Tigre and cruise through the Tigre River Delta for 40 minutes to see how life works here. Pass homes on stilts and get a chance to buy something from the supermarket boat. Your last stop is at the home and museum of former president Sarmiento, before you return to your coach and to Buenos Aires proper.

Buenos Aires Sightseeing Tour: (Afternoon)
Start in Retiro, one of the city's most popular neighborhoods. Pass by many of Buenos Aires' famous landmarks, with historical and cultural commentary from your guide. Stop at Casa Rosada, the Argentine presidential office in Plaza de Mayo, which makes a great photo opportunity with its rosy pink color. Visit the the Plaza de la República and the Obelisco de Buenos Aires (Obelisk of Buenos Aires.) On the way to Teatro Colón, the city's famous opera house, see the Metropolitan Cathedral and the town hall, or Cabildo.

Head to San Telmo, passing through Puerto Madero, one of Buenos Aires' oldest neighborhoods right on the water. Colonial architecture abounds in San Telmo, especially around Dorrego Square, which is a hot spot for amateur tango performances.

La Boca, a historically Italian neighborhood, features brightly-painted buildings with Italian architectural influence on its main thoroughfare. Disembark and check out some local art for sale on the pedestrian streets. After hopping back on the coach, pass through the sprawling Palermo neighborhood and Palermo Woods, the city's largest green space. End your tour in Recoleta, location of the fascinating Recoleta Cemetery. The next two hours are yours to rest or explore the city before the evening's tango show.

Tango Show with Dinner: (Evening)
Enjoy Argentina's historic national pastime while you dine on delicious Argentinian and international cuisine. Accompanied by unlimited wine, this dinner and professional tango show can experienced at one of two tango clubs.

Tango Option 1: Café de los Angelitos
The tango show will teach diners the history and passion of the tango while enjoying exceptional food and wine. Café de los Angelitos has over a century of experience bringing tango to the public and their experience and polish is evident.

Tango Option 2: Tango Porteño
This tango show features music from some of the great orchestras of the time like Piassolla and Pugliesse, accompanied by enticing food and drink. Reminiscent of Argentine tango's golden era, this themed club recreates the elegance and passion of Buenos Aires in the 1940s.
June 2016
this is a three for one so it was good. we actually booked two city tours and only ended up doing one. the city sightseeing tour is what you could google on tripadvisor or online, there were 3-4 touristy areas to visit and we were part of a very small group so that was nice. the tango show with dinner was lovely, food not so much, but we were sitting right up front towards the middle even though we were picked up late. The river cruise was decent, something different, and something on the water. Passed by chinatown which was interesting for where it was. overall, rated better than the madero tango show.
May 2016
This tour was perfect to get a good feel for the history and culture of Buenos Aires in one day! We had two really great tour guides and the bus drivers were very professional and helpful as well. Very impressed with this tour. Great deal for the price!
April 2016
They picked us up at our hotel when they told us they would, right on time!! The boat tour was GREAT!! Then they brought us back to a meeting place where we had to wait about 45 minutes for the city tour. Again, that was GREAT!! Then they brought us back to our hotel so we could rest awhile and then picked us up right when they told us they would and a short ride later we were at the Tango Show. That was more than GREAT, it was OUTSTANDING!!! The steak was one of the best I have ever had, they had their own blend of three wines at was soooo good and unlimited, the service was amazing, and then it was show time. NOT a boring show. It went by so fast! Overall, it was a WONDERFUL day!!!!!!!!!!!!! Would do this one again. Oh yea, really pleasant host on the buses.
April 2016
No one came to pick me up for the tour. Still waiting!
February 2016
great value fantastic trip but be aware it is all day but something for all ages
November 2015
I loved the combination of the different tours a lot! Especially Tigre was very interesting. Just be aware that the tango dinner is a very fancy one - you will certainly feel misplaced if you gou there alone and in your backpackers' uniform as I did.
October 2015
Very well organized tour and well worth it.

Drewstontexas United States of ...
June 2015
All three were tons of fun. It was a long day, but the dinner, wine, and show made it all worth while. Definitely worth the time. Would recommend!
June 2015
These three tours in one package were 1 well worth the price. 2 were well organized with pick up and delivery. 3 Each tour was excellent by themselves and together made a pretty complete day in BA.
Igor Australia
May 2015
Special Offer
$154.82 Save $21.37
Advertisement
Advertisement