Explore the charming coastal capital of Uruguay with a full-day trip to Montevideo from Buenos Aires. Journey across the Rio Plata on a scenic ferry ride, and then discover the old-world atmosphere and cultural highlights of Montevideo on a sightseeing tour. Enjoy leisure time to wander the colonial streets, shop for unique goods or relax at the beach. It's a unique opportunity to experience one of South America's capital cities in a single day!
Highlights
Day trip to Montevideo, including a scenic ferry ride from Buenos Aires
Enjoy a guided sightseeing tour of Montevideo, the capital of Uruguay
See spectacular landmarks such as the Parliament Building and Solis Theater
Enjoy free time to explore the city, shop and discover impressive sites at your leisure
Hotel pickup and drop-off included

Recent Photos of This Tour
Day Trip to Montevideo from Buenos Aires
What You Can Expect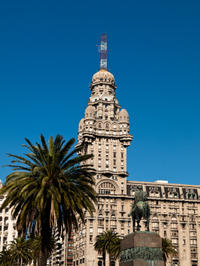 Take a day-long detour from Buenos Aires to visit the nearby capital city of Uruguay. Grab your passport and make your way to the ferry terminal in the early morning, or enjoy hotel pickup (depending on option selected). Your full-day tour to Montevideo begins with a 3-hour ferry ride across the Rio Plata that separates Argentina from Uruguay. Soak up the sights along this beautiful body of water and enjoy panoramic views of Montevideo and the Uruguayan coast as you approach.
After arriving on land, embark on a 1.5-hour tour of the city's highlights. With a unique atmosphere that combines Latin American and European cultural influences, Montevideo is an artistic hub known for its rich theatrical and musical scene. See the beautifully restored Solis Theater — one of the first theaters in South America.
Admire the impressive colonial architecture of Plaza Independencia, including the Palacio Salvo — Uruguay's tallest building. See the majestic marble statue of national military hero General José Gervasio Artigas, and keep your camera ready for the many highlights of Montevideo's old and new quarters.
In the afternoon, enjoy several hours of leisure time of the city. Taste regional flavors with lunch at a local restaurant (own expense), and delve into the history of this historic port town at a variety of museums and cultural centers. Browse artisanal goods at local shops or stroll along the lovely coastline.
Connect with your group at the appointed time and place, and board the ferry for the return trip to Buenos Aires. Gain a new fantastic new perspective on the Argentinian metropolis as you approach from water. After landing at the dock, you'll either be transported back to your hotel (if option selected) or make your own way to your next destination.
Eduard K USA
February 2016
October 2014
Excellent, educational and enjoyed especially from one that comes from the South Pacific.
Anonymous
June 2012
Awesome day trip and well worth the money! Smooth operation.

Bandit USA
June 2012
Great day trip and a good escape from Buenos Aires! Montevideo is like a small Bs As and definitely worth a visit. It has some great museums, parks and plazas and must-see landmarks - Teatro Solis, the Rambla and the Castillo Pittamiglio, amongst others! I would recommend!
April 2011
December 2012
our trip was very enjoyable and went well. pick up and drop off were on time, would not recommend to any one, to much in one day. from start to finish, a 16hr. day.
June 2014
The actual tour of the city was excellent, however the transport to and from was pretty disappointing
No directions or person to direct
Arrived in Montevideo and once again no direction or person to direct
Arrived back in Buenes Aires and was left stranded at Port as no transport back to hotel
October 2014
This tour suits best if you don't have a lot if time and want to take a quick trip over to Uruguay to see Montevideo. The bus tour was alright, we got dropped at a shopping center or at a lake/beach for 2 hours in the afternoon which was far too long.
March 2014
Your pretty much on your own with this one. Theres no tour guide. I never received any help at all. I enjoyed seeing Montivideo, but it would have been better to just go to the Buquebus website and buy your own ticket. Its cheaper.
April 2015
This tour was big disappointment. Not worth taking - better buy round trip ticket at ferry place for USD 100, and hoop on/off bus tour locally for USD 15. You get pretty much same thing with this trip. No tour guide, no tour in English. Beware that trip is really 17 hours long, from 5:30 am t 10:30 pm advertised as 10.5 hrs long. First bad experience ever with Viator.
Advertisement
Advertisement