Learn the Argentine tango during a 90-minute private dance lesson with an expert instructor. Tango is part of Argentina's history and culture, and learning the dance teaches you about both. Experience the rhythms, dramatic pauses and passion of this elegant dance in this session for up to four people with a private instructor. Where better to perfect the heated dance moves than in the city that made tango world-famous?
Highlights
90-minute private Argentine tango dance lesson in Buenos Aires
Learn basic steps of the elegant tango in the city where it originated
Get a feel for the unique rhythms and dramatic pauses of this passionate dance form
Great introduction to Argentine culture!
What You Can Expect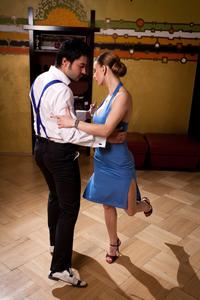 Meet your dance instructor at the studio in Buenos Aires for this 90-minute private tango lesson. Once you get acquainted, you and your group of up to four people will learn the legendary tango, a dance so passionate that it has been known to burst out spontaneously between partners in the San Telmo neighborhood's Dorrego Square.
Learn that tango is a dance based upon the simple act of walking with your partner across the floor and pausing to express emotion and passion through dance moves at dramatic moments. Observe your instructor demonstrate the technical and musical aspects of the tango and its music.
Listen to the harmonies and melodies of the accordion, guitar, or clarinet as they set the tempo, mood and rhythm of the dance. Learn the 'close embrace,' the proper way to hold your partner during tango, and some basic steps.
Whether you are a seasoned dancer or have never taken a step, y
ou'll develop an appreciation for this quintessentially Argentine art form. Enjoy personalized attention and a truly authentic Argentinian experience in this private tango lesson in Buenos Aires.
March 2014
The dance teacher was very professional. I would only recommend this lesson to those who have a dance background
Advertisement
Advertisement