Immerse yourself in the sport of polo on a full-day tour in the Argentinian countryside. Travel from Buenos Aires with a friendly guide to a posh country club, where you're welcomed with a snack and wine as you learn more about the game. After, watch a high-energy match. If you're inspired by what you see, climb onto a horse and have a go yourself in a lesson for all experience levels! Add a hearty barbecue lunch, washed down by Argentinian wine, plus time to relax with a swim or a stroll for a day you'll never forget.
Highlights
Full-day polo experience from Buenos Aires
Learn about the history, horses and players of Argentina's most exclusive sport
Watch a live polo game and learn the rules and techniques of the game
Hop on a horse to play polo during a lesson with an expert

Enjoy a delicious BBQ accompanied by Argentinian wine
Relax with a swim in the pool or a countryside stroll



What You Can Expect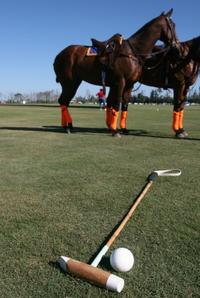 Leave your centrally located Buenos Aires hotel in a comfortable minibus, driven by your friendly guide. During your roughly 45-minute journey, admire the Argentinian countryside as your guide explains the country's passion for polo and the exceptional talents of the horses and players.
Arrive at a polo center and enjoy a welcome snack of empanadas and Argentinian wine during a fascinating talk about this niche sport. Hear how Argentina's horses are bred and trained and how blood lineages are continued.


After learning about the time and energy invested in the horses, expect to be blown away by the pace of a live polo game! Watch a high-octane match of four chukkas (time periods) involving 30 horses as your guide describes the techniques and rules.
At lunch, savor an included Argentinian asado (barbecue) of scrumptious grilled meats, or opt for a vegetarian dish, accompanied by Argentinian wine. Then, lounge by an outdoor swimming pool or soak up the rural views on a stroll.
After you've digested and relaxed, get ready for a polo lesson! Start with a safety briefing, and then climb onto a horse that matches your riding ability. Don't worry if you've never been on a horse or played polo: this lesson is suitable for all skill levels. Grab your taco (polo mallet) and learn the essentials from an expert instructor in a practice session. Once you feel confident, take part in your own mini-game! Feel the adrenaline pumping as you chase and hit the ball with your fellow novices — it's a thrilling experience!
Afterward, reflect on your exciting day on your return journey and enjoy a convenient drop-off at your hotel.
November 2015
Excellent from start to finish! I am dying to go back, worth every dollar and more. Best part of our trip. It was such a fun unique experience!
November 2015
Outstanding experience! unique oportunity to be introduce to the Polo game in the outskirts of Buenos AIres, the BBQ is all you can eat with nice Malbec and the environment being so nature-friendly
April 2015
NOT TO BE MISSED .....WELL DONE...GREAT DAY ...POOL , POLO, FOOD AND HISTORY....!!!!
GREAT STAFF
April 2015
Transfer from a local location to the Argentine country side, on arrival we get told the history and rules of polo along with wine. We see a game, have an amazing bbq, more wine, get on the horses to play polo, then at the end relax in the lovely pool. Really recommend this excursion.
March 2015
We had a great day- the polo was fun and interesting, and the guide and the rest of the staff were extraordinarily helpful and welcoming. The food and wine were great, too!
December 2014
Great day out!! Had an awesome experience where the South Africans showed their might, although the Matt Damon doppelganger was a good candidate for man of the match. Would def go again.
December 2014
An incredible experience and one of the real highlights of our trip to Argentina. The guides were very welcoming and entertaining. The puppies were an added bonus.
September 2014
Absolutely a MUST if you plan to go visit Buenos Aires. First, because it is a reputated sport within Argentina and second, it will give you a glance of the Argentinian Pampa which was for us absolutely priceless.
The instructor, Pablo, is very professional, warm and welcoming. We've had selected the whole day Tour with Barbecue/Lunch included and we loved it.
The only down thing was the VERY cold weather! Indeed, living in Dubai and wanting to escape the dying heat of the desert, we were not well prepared to face this icy/rainy/windy weather, although very common during winter. This made our experience more difficult being an outdoor activity.
Nevertheless, this is an experience we highly recommend and we are already planning another trip to Buenos Aires with a slightly warmer weather though.
October 2014
This is a unique kind of tour option outside the city when if you love horses and like to try Polo. The tour is very carefully designed for a small group, and nicely carried out from time of hotel pick up to time of drop off. It is a beautiful area where the club is located , with very warm welcome and hospitality.
Advertisement
Advertisement