Steep yourself in the sport and culture of polo on this full-day adventure from Buenos Aires. Visit an upscale country club to learn more about the game as you enjoy a snack and wine. Watch a dynamic match of both human and equine athletic prowess and, if you're so inspired, give it a shot yourself. Take a lesson tailored to your experience level from a professional player. Afterward, enjoy a traditional barbecue lunch including local wine and time to stroll the grounds of the club or relax in the pool before your return to Buenos Aires.
Highlights
Full-day polo experience from Buenos Aires
Learn about the history, horses and players of Argentina's most exclusive sport
Watch a live polo game and learn the rules and techniques of the game
Hop on a horse to play polo during a lesson with an expert

Enjoy a delicious BBQ accompanied by Argentinian wine
Relax with a swim in the pool or a countryside stroll



What You Can Expect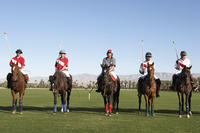 Depart your hotel in central Buenos Aires by comfortable minivan. Gaze out the window at the Argentinian pampas during your 45-minute journey and listen your guide's introduction to the sport of polo.
Arrive at the country club to a snack of wine and empanadas accompanied by a talk about Argentina's passion for polo. Learn about some of the top players and the breeding program that ensures the exceptional polo horses' blood lineages are passed on.
Watch a live polo match that takes place over four fast-passed chukkas, or quarters, and involves 30 horses thundering up and down the field. Look to your guide for explanations of the rules, techniques and strategies on the field.
Enjoy a traditional Argentinian asado (barbecue) for lunch, including grilled meats and local wine. Choose a vegetarian or fish dish if you prefer. Walk the grounds or take a dip in the country club's pool after lunch.
Then saddle up for your polo lesson, which begins with a safety briefing and introduction from your expert teacher. Get your leg up on a horse that's suitable for your skill level and practice holding the polo mallet, or taco, before engaging in a mini match with your fellow classmates.
After your day of adventures on the polo field is over, enjoy drop-off back at your Buenos Aires hotel.
December 2015
Great and well planned day. Super facilities and people. A must do in BA.
Bo and Edie
November 2015
Excellent from start to finish! I am dying to go back, worth every dollar and more. Best part of our trip. It was such a fun unique experience!
November 2015
Outstanding experience! unique oportunity to be introduce to the Polo game in the outskirts of Buenos AIres, the BBQ is all you can eat with nice Malbec and the environment being so nature-friendly
April 2015
NOT TO BE MISSED .....WELL DONE...GREAT DAY ...POOL , POLO, FOOD AND HISTORY....!!!!
GREAT STAFF

April 2015
Transfer from a local location to the Argentine country side, on arrival we get told the history and rules of polo along with wine. We see a game, have an amazing bbq, more wine, get on the horses to play polo, then at the end relax in the lovely pool. Really recommend this excursion.

March 2015
We had a great day- the polo was fun and interesting, and the guide and the rest of the staff were extraordinarily helpful and welcoming. The food and wine were great, too!
Gavin M South Africa
December 2014
Great day out!! Had an awesome experience where the South Africans showed their might, although the Matt Damon doppelganger was a good candidate for man of the match. Would def go again.
December 2014
An incredible experience and one of the real highlights of our trip to Argentina. The guides were very welcoming and entertaining. The puppies were an added bonus.

September 2014
Absolutely a MUST if you plan to go visit Buenos Aires. First, because it is a reputated sport within Argentina and second, it will give you a glance of the Argentinian Pampa which was for us absolutely priceless.
The instructor, Pablo, is very professional, warm and welcoming. We've had selected the whole day Tour with Barbecue/Lunch included and we loved it.
The only down thing was the VERY cold weather! Indeed, living in Dubai and wanting to escape the dying heat of the desert, we were not well prepared to face this icy/rainy/windy weather, although very common during winter. This made our experience more difficult being an outdoor activity.
Nevertheless, this is an experience we highly recommend and we are already planning another trip to Buenos Aires with a slightly warmer weather though.

Badr Saudi Arabia
October 2014
This is a unique kind of tour option outside the city when if you love horses and like to try Polo. The tour is very carefully designed for a small group, and nicely carried out from time of hotel pick up to time of drop off. It is a beautiful area where the club is located , with very warm welcome and hospitality.
Advertisement
Advertisement