Revel in the excitement of a live 'fútbol' (soccer) match in Buenos Aires! Depending on which game you go to, visit El Monumental Stadium or La Bombonera Stadium and roar along with the fans. Watch Argentina's national team play to qualify for World Cup status, or see some favorite local soccer clubs compete, such as River Plate and Boca Juniors. Your guide will tell you all about the teams and players as you enjoy the festive atmosphere along with the crowd at one of the biggest cultural events in Buenos Aires!
Highlights
Admission to either El Monumental Stadium or La Bombonera Stadium to watch a soccer match in Buenos Aires
See Argentina's national team compete or watch the soccer clubs play in a local game
Cheer along with the passionate crowd
Learn to sing the fútbol songs
Hear stories about the soccer players, local clubs and teams from your guide
Recent Photos of This Tour
What You Can Expect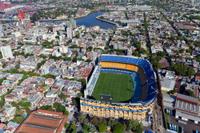 After pickup from your hotel in Buenos Aires, arrive at the stadium and settle into your seat on the side of the home team. Then, get ready to watch some of the world's best soccer players face their contenders on the fútbol field!
Depending on which date you select, you'll see any of the Argentinean athletic clubs' professional teams compete in the first division.
Hear the crowd roar, and sing along with the packed stadium, as fans cheer for their favorite players. Watch with amazement as players perform amazing moves toward another goal against their opponent! Sit on the edge of your seat for an exciting match between local clubs, such as River Plate and Boca Juniors – two of the most successful teams in the country – from the Belgrano and La Boca barrios (neighborhoods) of Buenos Aires.
Your guide – a fútbol aficionado as well – will inform you about Argentina's sports clubs, the players of the national team and the subculture of fans who follow them. When the matches are over, your guide will return you to your hotel.
Itinerary
Schedule:
March 4: San Lorenzo vs Corinthians (Copa Libertadores)
March 5: River Plate vs Tigres (Copa Libertadores)
March 8: Independiente vs Belgrano
March 8: River Plate vs Union
March 10: Racing vs Sporting Cristal
March 15: Racing vs Colon
March 19: River Plate vs J. Aurich (Copa Libertadores)
March 22: Velez vs Belgrano
March 22: River Plate vs Godoy Cruz
March 29: Racing vs San Martin
April 1: San Lorenzo vs San Pablo
April 5: Huracan vs Boca Juniors
April 5: River Plate vs San Lorenzo
April 12: Argentinos vs River Plate
April 12: San Lorenzo vs Independiente
April 14: Racing vs Tachira (Copa Libertadores)
April 15: River Plate vs San Jose (Copa Libertadores)
April 19: Lanus vs Boca Juniors
April 19: River Plate vs Banfield
April 22: San Lorenzo vs Danubio (Copa Libertadores)
May 3: Racing vs Lanus
May 3: San Lorenzo vs Velez
May 10: Independiente vs Boca Juniors
May 10: River Plate vs Racing
May 10: Velez vs Argentinos
May 17: San Lorenzo vs San Martin
May 24: Independiente vs Tigre
May 24: River Plate vs Rosario Central
May 24: Velez vs Boca Juniors
May 31: Racing vs Velez
May 31: San Lorenzo vs Belgrano
June 7: River Plate vs Temperey
June 7: Velez vs Tigre
July 12: Racing vs Sarmiento
July 12: San Lorenzo vs Arsenal
July 19: River Plate vs Colon
July 19: Independiente vs Rafaela
July 26: Racing vs Belgrano
July 26: San Lorenzo vs Gimnasia
August 2: River Plate vs San Martin
August 2: San Lorenzo vs Crucero del Norte
August 16: Racing vs Arsenal
August 16: Argentinos vs San Lorenzo
August 23: River Plate vs Huracan
August 23: San Lorenzo vs Banfield
August 30: Huracan vs Independiente
August 30: Racing vs Gimnasia
September 13: Huracan vs San Lorenzo
September 20: Argentinos vs Boca Juniors
September 20: River Plate vs Lanus
September 20: San Lorenzo vs Racing
September 27: Huracan vs Velez
September 27: Racing vs Argentinos
October 4: Independiente vs River Plate
October 4: San Lorenzo vs Rosario Central
October 18: River Plate vs Aldovisi
October 18: Racing vs Boca Juniors
November 1: Velez vs River Plate
November 1: San Lorenzo vs Temperley
November 8: Independiente vs Velez
November 8: River Plate vs Newell's
June 2015
I truly enjoyed this. They picked us up, got the tickets, in short they took care of everything. It was safe, fun and I would do it again when in Buenos Aires. The guide, Leandro, was awesome.
April 2014
I was back in Buenos Aires and had to go to another game! The atmosphere is indescribably; fans constantly singing and jumping up and down cheering on their team. Highly recommend to everyone, regardless as to whether or not you're a football (soccer) fan
December 2013
Amazing experience. You need to go to a football match to see how the people are passionate about tgeir football. Guide Andres was so nice and informative. Highly recommended.
Anonymous
October 2013
Awesome experience, 5/5 stars! Thank you Viator!
October 2013
A once in a lifetime experience! It was great being able to get to a football game in Buenos Aires and seeing the famous River Plate take on the All Boys! The atmosphere was crazy and the fans sure do love their team. If you're a football fan, this is not to be missed!
March 2013
Great experience. Guides were on time and easy to deal with, cannot fault in any way!
March 2014
It was an exciting evening and the tour guide was great...he picked everyone up at about 4 different locations right on time...he was a nice guy...gave us good insight into the two teams playing (River Plate and All Boys) and was very organized about keeping us all together. We had perfect seats on the centre/sideline. I would recommend viatour and their people in Buenos Aires to friends going there. The booking was easy, friendly and a fair price. We felt secure and well looked after.
December 2014
Seats could have been in a better location.
Advertisement
Advertisement