Experience the highlights of Buenos Aires, including an insider's tour of the Casa Rosada, with this Viator Exclusive private tour, which can't be booked anywhere else! Walk through the Argentinian president's office and out on to the famous balcony where Evita Peron gave her speeches, then visit Teatro Colón and the Plaza de República. Inside your private car, tour desirable neighborhoods like Puerto Madero and Palermo. Hit the famous Recoleta Cemetery and La Boca's colorful Caminito before your optional barbecue lunch upgrade at a legendary San Telmo steakhouse.
Highlights
Private sightseeing tour of Buenos Aires and trip inside Casa Rosada, a Viator Exclusive
Tour the Casa Rosada presidential house, led by a palace guard and guide who translates into English or Portuguese
Drive by private car to the Plaza de la República, Palermo Woods and Teatro Colón
Walk down the Caminito in La Boca and visit Evita Peron's grave in the Recoleta Cemetery
Enjoy an Argentinean barbecue lunch in San Telmo (if option selected)
This tour combining city sightseeing and entrance to Casa Rosada cannot be booked anywhere else!
What You Can Expect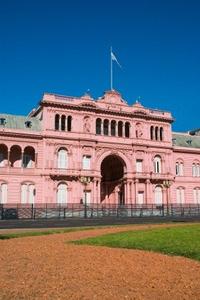 After pickup at your hotel, climb into your private car and meet your guide. Travel to the political headquarters of Buenos Aires, the Plaza de Mayo, whose centerpiece is the pink-walled Casa Rosada.
Here, receive a guided tour of the Argentinian president's office from a palace guard.
All tours are conducted in Spanish, but on this exclusive tour, your guide translates historical facts about the iconic site for you.
If you aren't fluent in Spanish, this is the tour to take and it's only available on Viator.
Peek into the presidential office itself to see the room where the country is run. Stride out onto the iconic balcony where First Lady Evita Peron gave speeches, and gaze over the plaza toward other nearby landmarks such as the Cabildo and the Metropolitan Cathedral.
Back in your car, relax as you travel past other city highlights like the Obelisco de Buenos Aires and Teatro Colón. If you've upgraded to the lunch option, arrive in historical San Telmo for your parrillada, or barbecue. After this traditional Argentine meal, tour the neighborhood, watching out for spontaneous tango performances in Dorrego Square. If you don't opt for a provided lunch, direct your driver to stop anywhere you like, or ask your guide for suggestions.
Stop in multicolored La Boca, originally settled by Italian immigrants and now home to a thriving arts community. Amble down the Caminito, the vibrant neighborhood's pedestrian thoroughfare. Pass through Puerto Madero's waterfront to Palermo, seeing the Galileo Galilei Planetarium, the Buenos Aires Zoo and Palermo Woods, the city's biggest green space. Arrive in tony Recoleta, where you'll have the chance to visit its famous cemetery and explore on foot.
Finish up your tour here, and your driver will return you and your party to your central Buenos Aires hotel.
Viator Exclusives combine unique experiences and great deals — from traditional tours to once-in- a-lifetime experiences — and are not available from other 3rd-party online sellers.

Itinerary
Note: Please list any special interests you have (art, architecture, history, culture) at the time of booking to alert your guide, so they can customize your private tour of Buenos Aires' iconic attractions.
April 2015
Our tour guide allowed us to design our tour. It was very special. She knew the city and shared her enthusiasm. Great tour.
April 2015
This was an expensive trip, but well worth it in the end.Our guide, a young man called Niko was an excellant guide. Our driver was very good and a very careful driver, which is not easy in Buenos Aries. We saw so much in almost 5 hours, The Presidential Palace were Niko guided us through the crowds with the help of people he knew in the Palace. We hit all the sights including again The Recoleta Cemetery which we had visited, but he gave us more information on the Eva Peron story than the previous guide had given us. His knowledge of the city was excellant, and his English was superb. He was an excellant ambassador for Viator and Argentina.
March 2015
Both the guide and driver were very helpful particularly as we had a problem with our luggage at hotel. The tour was very interesting introduction to Buenos Aires and the guide was very knowledgeable. One issue outside operators control is that the Presidential Palace tour is NOT exclusive and we were forced to line up in file like naughty school children! Apart from that, excellent.
February 2015
Excellent way to see the city !!! Nicholas are guide was great and extremely knowledgable. The driver was wonderful. Great lunch and superb way to a great into the city... A MUST ******
April 2016
We were quite disappointed in this over priced tour. We had booked this months in advance and when I called to confirm a week ahead I was informed that due to a new president in power we weren't allowed to enter the palace. I think that if I hadn't contacted the tour company, no one would have notified us. We had the option to cancel or modify the tour. it was too late to look for another tour. It was suggested that we go to the history museum. We were picked up by a very large van,there was only 2 of us the driver didn't speak english and the guide had a heavy accent and spoke softly, so she was hard to understand. We repeatedly asked her to speak slower so we could understand her better, but she didn't. Also we had to request that the air conditioning be turned on in the vehicle multiple times. It was a very hot and humid day.We asked to go to Evita's grave, but we were told that it was on the other side of town and no time, however we were returned to our hotel earlier than expected. We then went out by taxi for lunch and to the cemetary by ourselves. The tour was very expensive and we could've taken a taxi all over the city for the day for a lot less that the tour cost. We would not recommend this tour .
January 2016
Unfortunately, this was a major disappointment, the reason we took this tour was to see the Palace but it was closed on the day of our tour. How could you sell this when there is no way we could get into the palace! Truly upsetting considering we had already seen everything else offered in this tour in other tours - giant rip off!
February 2015
Terrible accent and couldn't understand most of info.
Advertisement
Advertisement