115 Reviews
Location:

Caen, France

Duration:

10 hours

(approx.)
Spend a remarkable day visiting the Mémorial de Caen museum and exploring historic D-Day sites such as Omaha Beach and Pointe du Hoc. Designed for day-trippers from Paris, this tour departs from Caen railway station and includes a guided visit to Memorial de Caen, lunch and a tour of pivotal D-Day sites. Choose whether you want to see the significant American D-Day sites, or if you'd prefer to visit the key Canadian sites. This small-group tour is limited to seven people for the American sites and 15 for Canadian sites. All options ensure personalized attention from the guide.
Highlights
Mémorial de Caen museum and D-Day sites tour, departing from Caen railway station
Enjoy a guided tour of the Mémorial de Caen museum
Take a 5-hour minivan tour of D-Day sites likes Arromanches and Normandy American Cemetery
Choose to see a mixture of American D-Day sites, or opt to focus on key Canadian sites
Learn the stories behind the statistics of D-Day and World War II from the knowledgeable and passionate guide
Savor a 2-course lunch at La Terrasse Restaurant at Mémorial de Caen following the museum tour
Small-group tour limited to seven or 15 people for a more intimate experience
Why Our Insiders Chose This Tour
If you want a fascinating, in-depth tour of the Normandy beaches and other D-Day sites, this is the one to take! Seeing the grave markers in the American cemetery after hearing the heroic and harrowing stories of the invasion was especially moving for me.
Recent Photos of This Tour
D-Day Tour Including Guided Visit of the Mémorial de Caen Museum, Lunch and D-Day Landing Beaches
What You Can Expect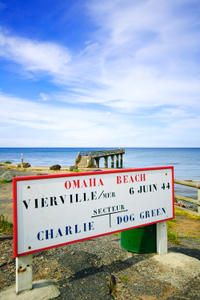 Your tour begins at Caen railway station, making it especially easy to join if you're coming into the city by train from Paris (own expense). Follow your guide to the Mémorial de Caen, a museum covering major historical events from the end of World War I to the fall of the Berlin Wall. Your guide - trained by the museum's historians - will explain the intense preparations for D-Day by both sides, and the tremendous significance of the day in the outcome of World War II.
Feel free to ask your guide any questions you may have about D-Day as you indulge in a 2-course lunch served with mineral water and a glass of wine at La Terrasse, a restaurant at the museum.
In the afternoon, board a comfortable, air-conditioned minivan and embark on a 5-hour guided tour of some of the most important D-Day sites you learned about during your Mémorial de Caen museum tour. The sites you see are dependent on whether you wish to visit the key American D-Day sites, or if you'd prefer to focus on Canadian sites instead.
If you've opted for the American tour, visit
the artificial harbour at Arromanches, the American Military Cemetery at Colleville-sur-Mer, Omaha Beach and the Pointe du Hoc. Alternatively, select the
Canadian tour to see Bernières-sur-Mer, the Juno Beach Centre, the Canadian Cemetery in Bény-sur-Mer and the Abbaye d'Ardenne

Throughout your small-group tour, your guide will share stories that will humanize the stark statistics of World War II and D-Day. By the end of this powerful tour of historic sites, you'll understand just how much was at stake on D-Day and have a new appreciation for the men who fought and died in the war. Your tour ends at Caen railway station in the evening so you can easily catch a train back to Paris (own expense) if you wish.

On Sundays from January 28 to March 31 and from October 1 to December 31 the guided visit of the Memorial de Caen museum will only last 30 minutes. This is because the first train from Paris arrives at 11am and the guided tour of the D-Day landing sites departs at 1pm.

November 2015
We loved the DDay tour in Normandy. Olivia and another female were our tour guides, and they were fabulous. We loved the tour, and will recommend this one to our friends.
November 2015
WOW! By far the most moving, heart-tugging and felt experience I've had. Everyone should visit these sites. Our tour guide was fabulous...very knowledgeable about history, France, life...and personable. We felt as if we were spending the day with a dear friend. I strongly recommend this tour, especially if you aren't a big tour person. There were only three others besides my husband and myself, making for a perfect paced day with lots of additional information that only a small group can allow. Everything about this tour was excellent.
October 2015
We LOVED our tour. Our tour guide Rosine was amazing. We can't say enough good things about her. And our diver was wonderful too. we enjoyed our whole day there!
October 2015
October 2015
We were picked up at the train station and taken by coach bus to the Mémorial de Caen. We were broken up into small groups and lead around the museum relating to WWII. We would have spent most of the day just at the museum which covers WWI, WWII and the Cold War. Great exhibits and well laid out. After a nice lunch, we boarded our van 7 people plus guide and driver and headed out to see the D-Day sites. Along the way, Theiry our Guide was very knowledgeable and interesting. We started with Omaha beach and Point du Hoc and then headed to the American Cemetery. Everywhere we stopped, out guide had great information and pictures to show us of how the area looked before the invasion. This tour exceeded all our expectations. We would highly recommend this tour to anyone who wants a great overview of D-Day and what went on during that part of the war.
October 2015
I was not feeling very good that day but the tour was great our tour guide was very good .When everyone was turned loose to look at the museum she had another tour guide who knew the area walk me to a pharmacy and helped me talk to the pharmicist about help with my cold .I will always be grateful.From the beaches to the lowering of the American flag at the cemetary the day was very emotional and I will never forget it.
October 2015
The entire day was well-planned and covered everything anyone would want to see regarding this important historic event. Our guide was intelligent, concise, and incredibly knowledgeable - he answered all questions and provided side stories that enhanced the experience. This type of tour can be tricky because it is of great historical interest, but numerous people died - the guide did an excellent job emphasizing the former while paying tribute to the latter. My only complaint was the duck I had for lunch - it was dry and stringy, but the rest of the meal was really good and the dessert almost made up for the duck. I would highly recommend this tour to anyone visiting Normandy.
October 2015
This tour was fabulous! Our guide, Lena, made the tour come alive for all of us. She was attentive, very knowledgeable, and indefatigueable..just what you want in a guide! Five star tour for sure!!
October 2015
This was by far our favorite tour! Our guide was excellent. She was extremely knowledgeable and had so many stories to tell us about the people and events that occurred during this time of war. I highly recommend this tour!
October 2015
Our train from Paris was cancelled so we had to take the next one to Caen which meant we missed over an hour of our tour. Lena and other tour guide met us at train station as we got off, much to our relief. She gave us an abbreviated tour of the museum then we had a tasty lunch. Really enjoyed the 5 hour tour of the beaches and she brought along a lot of historic photos to show us. Great tour!
Advertisement
Advertisement