Tour the historic locations of World War II with this tour of D-Day sites and the Mémorial de Caen museum. See Omaha Beach, Pointe du Hoc and other important D-Day sites, as well as a guided tour of Mémorial de Caen. Select either the American D-Day sites or Canadian ones. This is an ideal day trip from Paris, especially since it begins at the Caen train station. Group size is limited to seven for the American sites and 15 people for the tour of Canadian sites, both ensuring a personalized experience.
Highlights
Mémorial de Caen museum and D-Day sites tour, departing from Caen railway station
Enjoy a guided tour of the Mémorial de Caen museum
Take a 5-hour minivan tour of D-Day sites likes Arromanches and Normandy American Cemetery
Choose to see a mixture of American D-Day sites, or opt to focus on key Canadian sites
Learn the stories behind the statistics of D-Day and World War II from the knowledgeable and passionate guide
Savor a 2-course lunch at La Terrasse Restaurant at Mémorial de Caen following the museum tour
Small-group tour limited to seven or 15 people for a more intimate experience
Why Our Insiders Chose This Tour
If you want a fascinating, in-depth tour of the Normandy beaches and other D-Day sites, this is the one to take! Seeing the grave markers in the American cemetery after hearing the heroic and harrowing stories of the invasion was especially moving for me.
Recent Photos of This Tour
D-Day Tour Including Guided Visit of the Mémorial de Caen Museum, Lunch and D-Day Landing Beaches
What You Can Expect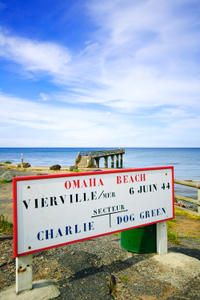 Meet your guide at the train station in Caen – this location makes it easy for day trippers from Paris to catch a train over (own expense) in time for the tour.
Begin with a tour of the Mémorial de Caen museum, the exhibits of which spans the period from the end of World War I through the fall of the Berlin Wall. With the assistance of your guide (trained specifically by historians at the museum), you'll gain a deeper understanding of the lead-up to D-Day on both sides of the war, and just how important D-Day was to the eventual end of World War II.
After your museum visit, enjoy a midday lunch break at La Terrasse, an on-site restaurant at Mémorial de Caen. You're welcome to ask questions of your guide as you dine on a 2-course lunch accompanied by a glass of wine and mineral water.
At the conclusion of the meal, climb into a climate-controlled minivan to begin a 5-hour guided visit to many of the area's most significant D-Day sites that you learned about earlier at the museum. The specific places you visit will depend on whether you have chosen to tour important American sites or Canadian sites.
Those on the American tour will see Omaha Beach, Pointe du Hoc, the artificial harbor at Arromanches and the American Military Cemetery at Colleville-sur-Mer. Those on the Canadian tour will see the Juno Beach Centre, the Abbaye d'Ardenne, Bernières-sur-Mer and the Canadian Cemetery in Bény-sur-Mer.
With either tour, the stories shared by your guide will help bring some of the history back to life and add a human touch to enormous events like D-Day and World War II as a whole. By the time your tour concludes, you should have a greater understanding of exactly how crucial D-Day was to the Allied war effort, and perhaps a deeper appreciation for the young people who gave their lives in the war. The cemeteries are the perfect places to pay your respects.
The tour ends back at the Caen train station where it began, making it easy for you to hop on a train back into Paris if you need to (own expense).
Please note: From January 28 to March 31 and October 1 to December 31, all tours given on Sundays will only have a half-hour tour at the Mémorial de Caen museum. The reason for this is that the first train coming from Paris doesn't arrive in Caen until 11am, and the post-lunch tours of D-Day sites leave at 1pm.

May 2016
Going to Normandy with Maryline our guide was an unforgettable experience. Her explanation at the Memorial de Caen Museum was so informative. Lunch at La Terrasse was excellent. The guided tour of the D-Day Beaches was amazing. We had time on our own as well as the chance to listen to Maryline. I will definitely consider using Viator again for another city tour.

May 2016
Our tour guide did a great job, she was very knowledgble.
May 2016
Out guide was very knowledgeable, friendly and easy to understand. The transportation was comfortable and the stops were efficient. I have studied the D-Day invasion for years and still learned a lot from this tour. Would recommend this tour to anyone traveling to France.
April 2016
Absolutely brilliant!! Our guide a really pleasant lady whose name I forget, unfortunately was exceptional. So friendly, making us all comfortable as if in the company of a lifelong friend. So important for our family, as this was my father's 80th birthday present and involved visiting a relative's grave the day after the tour. Her knowledge was outstanding and made the tour from being a good tour to a great tour!! The driver Frank was also friendly with a good sense of humour. This is a 'must-do' tour if in Caen....you won't be disappointed. The lunch with wine was also outstanding.
March 2016
Sandrine was informative, pleasant, energetic. Excellent tour.
March 2016
An absolutely amazing trip with the most knowledgeable guide! We would highly recommend it!!
March 2016
We had a wonderful experience. Our guide was exceptional, the museum was very well done, and the location of one of humanity's greatest victories is something everyone should see.
March 2016
It was an excellent tour with lots of valuable information provided by the guide who was exceptional. I was picked up at the train station and taken on a personal tour of the museum followed by a tour of the landing sites. The lunch too was very good. I would recommend this tour to interested people.
December 2015
Best Viator tour yet! Our guide met us at the train station at 9AM and never left our side until we were back at the train station at 7PM! She was pleasant and so very knowledgeable. We enjoyed every part of it. Not to be missed!
November 2015
We loved the DDay tour in Normandy. Olivia and another female were our tour guides, and they were fabulous. We loved the tour, and will recommend this one to our friends.
Advertisement
Advertisement