44 Reviews
Location:

Caen, France

Duration:

8 hours

(approx.)
Learn all about World War II and the momentous events of D-Day on this full-day tour. Explore the Mémorial de Caen museum at your leisure with or without an informative audio guide. Then, tour historic D-Day sites such as the artificial harbor at Arromanches, Omaha Beach and Pointe du Hoc. Choose whether you want to see a mixture of key American D-Day sites, or if you'd prefer to visit key Canadian sites instead. Your American small-group site tour is limited to seven people and the Canadian tours are limited to 15 people. Both options ensure personalized attention from the expert guide.
Highlights
Admission to Mémorial de Caen museum and guided tour of D-Day historic sites from Caen
Explore the Mémorial de Caen museum with or without an audio guide available in six languages
See major D-Day sites such as Arromanches, Omaha Beach and Pointe du Hoc on a 5-hour guided tour
Choose to see important American D-Day sites, or opt to focus on key Canadian sites
Learn about World War II and D-Day from a knowledgeable guide

Small-group site tour limited to seven or 15 people for a more intimate experience

Why Our Insiders Chose This Tour
World War II history comes to life on this tour! The museum is full of fascinating information about D-Day and seeing where the action took place makes it all seem so much more real. A truly eye-opening experience!
What You Can Expect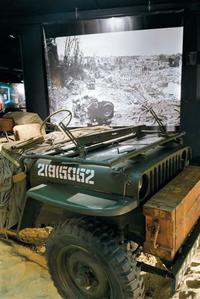 Mémorial de Caen
Choose to explore the museum at your own pace on the same day as your guided tour or on a different day, whatever is most convenient for you. This museum and war memorial tells the riveting story of D-Day within the larger context of historical events ranging from the end of World War I to the fall of the Berlin Wall. Learn about the preparation for and execution of the massive invasion by exploring on your own, or from your in-depth audio guide, available in six languages. You can enjoy lunch at the museum's restaurant or cafe (own expense).

D-Day Sites Guided Tour
Join your informative guide — trained by the museum's historians — for an educational and poignant morning or afternoon tour of sites related to the Normandy landings on D-Day that helped the Allies win the war. Choose to visit the important American D-Day sites, or opt to focus on Canadian sites, and then set off in a luxury, air-conditioned minivan. If you've selected the USA tour option, travel first to the Arromanches artificial harbor, where Allied forces brought in the hundreds of vehicles and many tons of weapons and materials needed for their assault.
Next, visit the Normandy American Cemetery and Memorial at Colleville-sur-Mer, where white crosses stretching far in all directions symbolize the terrible cost of war. Then, continue to the clifftop Pointe du Hoc, where the US Army Ranger Assault Group mounted a heroic attack.
Your tour culminates with a drive past the main Normandy landing beaches including Omaha Beach and the opportunity to set foot on one of those beaches yourself. Alternatively, if you've opted to see the key Canadian sites, the day's itinerary will differ, visiting only the sites relevant to your selected tour option.
Return to Mémorial de Caen after your 5-hour tour of D-Day sites with a much clearer understanding of how that fateful day helped define the outcome of World War II.
Please note: If you've opted for the American tour, visit the artificial harbour at Arromanches, the American Military Cemetery at Colleville-sur-Mer, Omaha Beach and the Pointe du Hoc. Alternatively, select the Canadian tour to see Bernières-sur-Mer, the Juno Beach Centre, the Canadian Cemetery in Bény-sur-Mer and the Abbaye d'Ardenne
October 2015
October 2015
Our guide was very articulate, well informed, and worked very hard to make it the excellent experience that we had hoped for.
September 2015
Friendly,knowledgeable what else do you need.very interstering
September 2015
The British sector tour is excellent and should be a must for all Nationalities.Both the Driver and Patrica my Guide were excellent
September 2015
Our guide Raphael was excellent!
August 2015
We were very fortunate to have Julian for out guide. His knowledge of events of D-Day, plus his way of presenting it, made this tour an outstanding one ! The pacing of this tour allows you time to reflect on the importance of these sites. As mentioned this is a good five hour tour !
We had taken the late morning train to Caen and started the 2:00 tour so did NOT have time to visit the Museum, but was able to do that the next day, which in itself is an all day event. At least it was for us.
If one has any interest at all about D-Day do take this tour. It is a WONDERFUL one !!!!!
July 2015
Amazing experience. Our guide Olivia was outstanding! I would highly recommend this tour!
July 2015
It rained for most of our tour but it was still an unforgettable experience. The museum was also eye-opening! It was a very solemn and heart-rendering display.
June 2015
Already did this a couple of weeks ago
June 2015
This was a wonderful tour and very personal as it turns out my husband and I were the only ones in the group. As it is, they never have more than 7 people in the van. Our tour guide, Prisca, was very well informed and did an excellent job of relaying lots of information about Normandy and what came before that. We felt the tour was interesting and moving.
Advertisement
Advertisement