Spend a day visiting the excellent Memorial de Caen Museum and key D-Day sites on this full-day tour from Caen. After a self-guided tour of the museum (with or without an audio guide), join your knowledgeable guide for a tour of D-Day sites like Omaha Beach, Pointe du Hoc and the artificial harbor of Arromanches. Choose to visit either the important American D-Day sites or the principal Canadian sites. Tour group size for the American sites is limited to seven, and for Canadian sites 15, ensuring plenty of personalized attention from your guide.
Highlights
Admission to Mémorial de Caen museum and guided tour of D-Day historic sites from Caen
Explore the Mémorial de Caen museum with or without an audio guide available in six languages
See major D-Day sites such as Arromanches, Omaha Beach and Pointe du Hoc on a 5-hour guided tour
Choose to see important American D-Day sites, or opt to focus on key Canadian sites
Learn about World War II and D-Day from a knowledgeable guide

Small-group site tour limited to seven or 15 people for a more intimate experience

Why Our Insiders Chose This Tour
World War II history comes to life on this tour! The museum is full of fascinating information about D-Day and seeing where the action took place makes it all seem so much more real. A truly eye-opening experience!
Recent Photos of This Tour
Mémorial de Caen Museum Admission and Guided Tour of D-Day Sites from Caen
What You Can Expect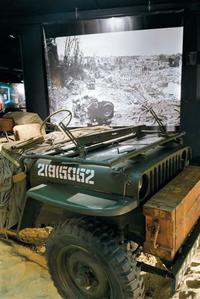 Mémorial de CaenVisit this impressive museum on the same day as your guided tour of D-Day sites or on another day – whichever option suits your schedule best. Your museum visit is self-guided, with the use of an informative audio guide (available in six languages) or on your own. The museum and war memorial covers a timeline of events starting right after the end of World War I through the fall of the Berlin Wall, which helps put the D-Day events which took place here into a larger historical context. Find out about the complex planning and execution of the D-Day invasion. Have lunch at the museum (own expense).
D-Day Sites Guided TourMeet your expert guide (guides are specifically trained by the historians at the Mémorial de Caen museum) for a morning or afternoon tour of the important D-Day sites in Normandy, where battles took place that eventually led to the end of World War II. Focus on either the key American sites or Canadian sites, traveling in a comfortable minivan for either option.
On a tour of the American D-Day sites, the first stop is the artificial harbor at Arromanches. This is where the Allies brought ashore hundreds of vehicles as well as tons of weapons, all of which were used in their invasion.
The next stop is the American Cemetery and Memorial near the town of Colleville-sur-Mer, where more than 9,300 soldiers are buried. Continue to Pointe du Hoc, the clifftop location from which a US Army Ranger Assault Group began a heroic attack.
The final stop is to the most famous Normandy beaches, including Omaha Beach, with an opportunity to disembark from the minivan to walk on one of the beaches.
On a tour of the Canadian D-Day sites, the itinerary visits only the sites relevant to Canadian forces during World War II. With either tour, you'll end the day better able to put the D-Day battles into historical context.
At the conclusion of your 5-hour tour, travel by minivan back to the Mémorial de Caen.
Please note: The American tour itinerary includes Arromanches' artificial harbor, the American Military Cemetery and Memorial at Colleville-sur-Mer, Omaha Beach and Pointe du Hoc. The Canadian tour itinerary includes Bernières-sur-Mer, the Juno Beach Centre, the Canadian Cemetery in Bény-sur-Mer and the Abbaye d'Ardenne.
May 2016
This was an excellent tour. I learned so much from the guide. It would have been good if we could have stopped once in a while to take some special photos that popped up along the way but that was a small thing. Thank you.
December 2015
October 2015
October 2015
Our guide was very articulate, well informed, and worked very hard to make it the excellent experience that we had hoped for.
September 2015
Friendly,knowledgeable what else do you need.very interstering
September 2015
The British sector tour is excellent and should be a must for all Nationalities.Both the Driver and Patrica my Guide were excellent
September 2015
Our guide Raphael was excellent!
August 2015
We were very fortunate to have Julian for out guide. His knowledge of events of D-Day, plus his way of presenting it, made this tour an outstanding one ! The pacing of this tour allows you time to reflect on the importance of these sites. As mentioned this is a good five hour tour !
We had taken the late morning train to Caen and started the 2:00 tour so did NOT have time to visit the Museum, but was able to do that the next day, which in itself is an all day event. At least it was for us.
If one has any interest at all about D-Day do take this tour. It is a WONDERFUL one !!!!!
July 2015
Amazing experience. Our guide Olivia was outstanding! I would highly recommend this tour!
July 2015
It rained for most of our tour but it was still an unforgettable experience. The museum was also eye-opening! It was a very solemn and heart-rendering display.
Advertisement
Advertisement