Explore some of the most famous battlefields of World War II during this private Normandy tour from Caen. Visit the D-Day beaches, where Allied soldiers invaded northern France on June 6, 1944. See the landing beaches and battlefields of Normandy, pay homage to the fallen at national cemeteries and visit area museums. Your expert guide can personalize this private tour to suit your interests.
Highlights
Private tour from Caen to WWII sites in Normandy

Personalize this tour to visit the D-Day sites that interest you!

Visit battlefields and landing beaches, including Utah Beach, Omaha Beach and Sword Beach
Spend time reflecting at the American, Canadian and Commonwealth cemeteries

Spend time reflecting at the American, Canadian and Commonwealth cemeteries

Private tour ensures a more personalized experience

Wonderful tour for history buffs!

Recent Photos of This Tour
Private Tour: Normandy Landing Beaches, Battlefields, Museums and Cemeteries from Caen
What You Can Expect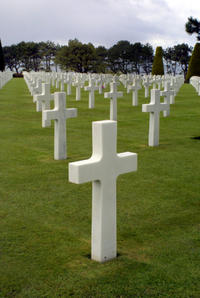 This private Normandy tour from Caen allows you to choose what World War II sites you visit and how long you spend at each one. There are many D-Day sites to visit, and your expert guide offers unique insights into each one, no matter what sites you choose.
The beaches of Normandy – now known as the D-Day beaches – were invaded by more than 16,000 Allied troops on the nights of June 5 and 6, 1944. Soon, the beaches along the coast of Normandy saw heavy fighting between Allied forces and the Germans. These brutal battles helped lead to the eventual end of the war.
During this private Normandy tour, choose from a number of potential sites to create your own itinerary.
See the most famous landing beaches, such as Omaha Beach – which saw some of the deadliest fighting – or Utah Beach, the first the Allies secured. Pay your respects at the American Cemetery near Omaha Beach, where more than 9,300 soldiers are buried, or the Airborne Museum of Saint-Mere-Eglise.
See Sword Beach, where British and Free French soldiers made their advances, moving from there to capture Pegasus Bridge. Pay your respects at the Commonwealth Military Cemeteries, tour the Merville Battery Museum, or visit the Hillman Bunker Complex near the town of Colleville-Montgomery.
Head for Juno Beach, where the Canadian forces invaded, to see the Juno Beach Center and the Canadian Cemetery near Reviers and Veny-sur-Mer. Visit Ardenne Abbey, a 12th-century abbey where 11 Canadian prisoners of war were executed.
The itinerary is yours to sculpt, with each option offering wonderful opportunities to put history in context and honor those who fought and died on these beaches in Normandy.
April 2016
Everything that Romain, our tour guide offered was absolutely professional and top-drawer!

Duane T United States of ...
September 2015
Gwen was a wonderful tour guide! His english was excellent and he explained, in detail, the many events leading up to as well as the D-Day invasion. My wife and I had a D-Day tour of Normandy in 2011 that we thought was excellent- but Gwen's tour was by far and away the best! He took us to a lovely hotel near Omaha beach for lunch and the food was exceptional! I would recommend Gwen and the Viator Normandy D-Day tour to all. Duane
September 2015
Excellent tour. Tour guide was efficient, courteous, knowledgeable.
July 2015
Outstanding. Our guide was very knowledgable and let us tailor the tour to suit our interests. I'd give it and extra star if I could.
June 2015
Our tour was made so excellent thanks to the expertise and enthusiasm of our guide, Roman. From the moment he picked us up until he left us at the train station, he filled us with interesting background information and answered all of our questions knowledgeably. He made the sequence of events of the time logical and able to be understood and he gave a human perspective that made the day very moving and memorable. We would highly recommend this tour to all Americans visiting France.
October 2014
the tour guide - sunny - was THE BEST! highly recommend her AND this tour!
August 2014
Anne-Soffie was a super guide. I would tell anyone to use Viator
July 2014
Our guide, Philip, was excellent! He was extremely knowledgable and passionate about the history of the area. We did this as a family of five, and all of us had the same opinion. If you are in the area DO THIS TOUR!
May 2014
I can't say enough good things about this tour. Our guide, Matt Legrande, was terrific. Informative, personable, high energy. A great guy. And as an area native whose grandparents lived through the war, he was able to share, not just the military perspective, but what its was like to be in the little villages that were just behind the beaches. I highly recommend Matt. And a private tour is far superior to doing the trip on your own. Without Matt, we would have just visited places and not experienced the stories behind the stories, the culture, and the context both before and after D-Day. Thanks Matt!

April 2014
Guy was our tour guide for the Normandy tour. and he was OUTSTANDING!. His knowledge of people, places and events made the day one that will always be remembered!
Advertisement
Advertisement