Take in the highlights of Northern Queensland on a 2-day 4WD adventure from Cairns, including overnight accommodation. Drive the scenic Captain Cook Highway and explore the UNESCO-listed landscapes of the Daintree National park, stopping to spot wildlife in rainforest and enjoy views of Black Mountain. After visiting historic Cooktown, discover the region's fascinating Aboriginal history, as you admire ancient rock art at the Ancestral Birth Cave and Reconciliation Cave, and learn about the Nugal-warra clan from your indigenous guide.
Highlights
Explore the best of Cooktown on a 2-day 4WD tour
Join Willie Gordon, the traditional story-teller of the Nugal-warra clan, on his Aboriginal Rock Art Tour

Cross the Daintree River by cable ferry
Free time to explore Cooktown at your leisure
Travel through remote tropical North Queensland
Enjoy lunch at an Aussie pub
Travel in a small group for a unique and intimate experience
Hotel pickup and drop off from Cairns, Northern Beaches and Port Douglas
What You Can Expect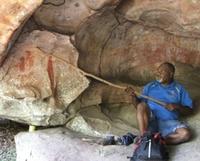 Day 1 - Cairns, Northern Beaches and Port Douglas to Cooktown
You'll be picked up by air-conditioned 4WD to travel north along the Captain Cook Highway, one of Australia's most scenic coastal drives. After crossing the mighty Daintree River by cable ferry, journey through the spectacular Daintree National park, which contains the highest number of rare or threatened plant and animal species in the world. Along the way, your experienced guide will enlighten you with stories and history as you continue on the 4WD-only Bloomfield Track through some of the most incredible scenery in Australia. Stop for lunch at the famous Lion's Den Hotel (established in 1875), one of North Queensland's oldest bush pubs. Continue to the unique geological oddity of Black Mountain, surrounded in mystery and ancient Aboriginal legend. Arriving in Cooktown, have your camera ready for 360-degree panoramic views from Grassy Hill of Cooktown and the Endeavour River.

Overnight Accommodation: Choice of motel or resort

Day 2 - Cooktown to Cairns, Northern Beaches and Port Douglas
This morning you will be collected from your accommodation by Willie Gordon,a Nugal-warra Elder. Willie will take you to his ancestral rock art sites, set in stunning countryside high in the hills above Hope Vale, 40 minutes from Cooktown.You'll travel by road through dramatic landscapes to six rock art sites, including an Ancestral Birth Cave and the Reconciliation Cave. Willie will give you an amazing insight into Aboriginal society and spirituality and will have you thinking about your own relationship with the land and how the lores of his people can apply to us all. Available from April to November only.

Or, you can choose to have a free day to explore Cooktown before returning to Port Douglas or Cairns in the late afternoon. On your return journey, travel via the Mulligan Highway through a diverse landscape of cattle stations and the Palmer Goldfields region, the Outback of Far North Queensland.

April 2013
We enjoyed the tour very much. Drivers were very informative, vehicle was comfortable. Accommodation in Cooktown was excellent..Museam and town of Cooktown delightful. Scones jam and cream for morning tea was a delightful in the Daintree... 8/10 rating...MH
July 2015
The Bloomfield Track would be much more pleasant if the Greenies allowed a Grader in to take out the deep culverts, the Track needs attention. We were told by the Driver that a lot of the guest Houses were closing due to lack of patronage this is understandable the Track is not fit for any vehicles other than heavy 4 wheel drive. Also we were told that vehicles are not allowed to carry alcohol.
Cook Town was a very interesting place, Capt Cook History, the fantastic old Convent that is now a great Museum. The Accomodation was good, but they did not include Breakfast in the Tariff. The return Trip to Pt Douglas on the made roAd was very interesting and much smoother- driving through Cattle Stations, a vey good commentary by Driver big Al. Those who did not stay the night in Cook Town would have only had about 1 hour to see the Town, which would be impossible. On the way to Cook Town we had a nice morning Tea, Scones, Jam amd Cream and a pot of Tea, very nice
Lorraine S Just ... Australia
January 2013
We were picked up right on time at our hotel and we were the only pick up in Cairns so we set off. Our driver and guide Mark was very good and attentive and we enjoyed our journey and the morning tea at the very pleasant resort. We picked up 4 other passengers and proceeded on to Cooktown. Up to this point everything was fine. Mark did a short tour of the town and we went up to the lookout and then we were dropped at our respective accommodations. We had selected the dearer option as we saw that it had a restuarant but upon checking in we were informed that the restuarant was closed for the holiday period. We then had to find somewhere else to go to dinner that night. Although there were other venues (RSL, Bowling Club, and another restuarant) we were disappointed. Mark told us that there would be someone to pick us up at the Motel about 4.00pm the next day. We had to check out from our motel by 10.00am and although they cloaked our luggage we feel that it would be better if we could have had access to our room for longer as it was very hot and there was nowhere to go to get out of the heat. When 4.00pm arrived we were met by Darryl who informed us that the large vehicle had broken down and we were all to go back to Cairns in a sedan. As there were 6 of us and there was another passenger already we were a little crowded. My husband and I sat in the back seat (I sat on the centre area which was not the most comfortable) but we felt sorry for the other three younger passengers who were squashed in the back seat. We did enjoy seeing Cooktown but feel that there was a long time to fill in on the second day when there was nowhere to go to rest or cool down.
Advertisement
Advertisement