15 Reviews
Location:

Cairns, Northern Beaches and Port Douglas, Australia

Duration:

11 hours

(approx.)
Experience the Daintree Rainforest and Australia's rich Aboriginal culture on this full-day tour from Cairns or Port Douglas. Learn about traditional hunting and gathering techniques on Cooya Beach with an indigenous guide, then visit the World Heritage-listed Daintree Rainforest. Gain insight into Australia's indigenous heritage and marvel at the natural beauty of the forest, with two options for the afternoon: walk through the forest to a watering hole; or upgrade to tour the forest with an Aboriginal guide who shares Dreamtime stories and deep knowledge of the land. Throughout the day, enjoy a hands-on experience on this small-group tour limited to 18 participants.
Highlights
Small-group tour to Daintree Rainforest with Aboriginal cultural experience, from Cairns, Northern Beaches or Port Douglas
Learn traditional Aboriginal hunting, fishing and animal tracking techniques with the Kubirri Warra brothers at Cooya Beach
Enjoy a morning tea at a private home and a lunch that incorporates bush foods and flavors

Browse artworks at Mossman Gorge Centre's gallery for Aboriginal artists
Swim in a private water hole in the Daintree Rainforest (if option chosen)
Explore Daintree with an indigenous guide who shares Dreamtime stories and cultural traditions (if option chosen)
Small-group tour limited to 18 people ensures an intimate experience with your guide
Recent Photos of This Tour
Aboriginal Cultural Daintree Rainforest Tour from Cairns or Port Douglas
What You Can Expect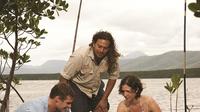 After morning pickup from your centrally located Cairns, Northern Beaches or Port Douglas hotel, travel in an air-conditioned minivan along one of Australia's most scenic coastal drives.

Head north to Cooya Beach, where one of the Kubirri Warra brothers will teach you how to throw a spear along with other Aboriginal hunting techniques. Take a walk with the brothers around their traditional lands. The brothers point out wildlife; teach you how to track and hunt fish, mud crabs and mussels in the mangroves; and give you the chance to try bush tucker and bush medicines.

After your walk, relax on the balcony of the brothers' family home, which overlooks the ocean. Snack on a morning tea with fresh homemade damper (bread cooked over a campfire), tea, coffee and the seafood you caught. The brothers demonstrate the use of certain Aboriginal tools, and might even teach you how to play a didgeridoo.

Say farewell to the brothers, then continue north to the township of Mossman, located on the southern edge of the Daintree Rainforest. Upon arrival, you are greeted by the traditional owners of the gorge with a 'welcome to country' ceremony. It is a ceremony of spiritual cleansing, to ward off evil spirits and ensure you are accepted and honored while on the traditional land of the Kuku Yalanji people.

Next up, head into the Mossman Gorge Centre for a lunch that features local flavors, then browse in the art gallery, which focuses on artwork from by indigenous artists from Kuku Yalanji and across North Queensland.

For the afternoon, choose from one of the following options when booking.

Aboriginal Cultural Daintree Tour:
Explore the World Heritage-listed Daintree National Park, one of the world's oldest rainforests, with your expert guide. Walk along sturdy boardwalks, tracks and bridges that protect the delicate ecosystem. Learn about resident animal and plant life of this biologically rich forest, which has existed for more than 120 million years. You'll get exclusive access to a swimming area in Mossman Gorge where most visitors are not permitted. Be sure to bring swim gear so that you can take a dip in the beautiful private swimming hole surrounded by rainforest.

Aboriginal guided Rainforest Walk:
Meet an experienced indigenous guide who introduces you to Aboriginal traditions and culture. Follow your guide on a walk through this stunning rain forest, taking private walking trails that pass traditional huts. Your guide demonstrates how to use plants to make medicine, soaps and ochre paint, and how to find identify bush food. You'll be fascinated by your guide's stories that illuminate the deep relationship between the indigenous peoples and their environment, and the Aboriginal perspective on the land and Dreamtime myths.

Please note, this tour is not suitable for people with limited mobility. A reasonable level of fitness is required to fully enjoy the experience
October 2015
I thought this tour was fantastic. Our guide was an aboriginal woman who was very open when answering questions. First we went out into the water with our spears and one of our group speared a crab - into the bucket it went. We didn't see other crabs but we moved on to various other mussels and clams in the mangroves. We had quite a bucket of food when we headed back. This was cooked and we ate it as a sort of morning tea. I am not big on shellfish and everything was delicious. In addition to what we had caught, he cooked up a fish soup and some fried fish, some bread and some muffins. It was all great. From there we went to the Daintree for a quick lunch - we were running late - and then our guided walk. I was concerned about this because the tour description made a big deal that you needed to be in good shape. That was only partly true. You do need to be steady on your feet and able to walk up and down rock steps but the walk is somewhat leisurely so walking more slowly than others was not an issue. We were shown lots of interesting plants. Back at the visitor center there was an enormous spider but they said it was not poisonous. I highly recommend this tour! It was very informative and well-done.
December 2014
Fabulous! Spending the day learning so much about the Daintree Rainforest and the Aboriginal Indigenous People with wonderful teachers and guides in a small group. A must trip for anyone interested in Aboriginal culture!
December 2014
Definitely 5 stars! Our guides were knowledgable and friendly. Our small group made the day easy and the two halves--Cooya Beach and the Daintree Rainforest were a superb combination. The lunch was exquisite and the final stop at Jambah Gallery was the perfect ending to a memorable day.
October 2014
This tour was amazing! The guides are incredibly knowledgeable. The tour gives you a really well rounded experience. I couldn't have asked for a better experience.
July 2014
March 2014
This was so much fun. Our tour guides taught us so much in a fun way. I was bitten head to toe though out the trip in Auz by mosquitoes. When we went for a swim in the special pool, Dean, one of our guides saw the extent of the damage to my body. He then ground up some leaves, mixed it with water and proceeded to let me wash myself in it. The plant mixture makes an antiseptic so that I would not get ill from the bites and it stopped the itching. Next day the bites were nearly gone! We ate freshly cooked crab caught by the group and cooked by our guide and hunter "Link" he also gave us a didgeridoo lesson and interesting facts on his tribe. It was great to be on a tour where you could get down and dirty with the locals. We were allowed to keep the paintings that we did with our art lesson and they now grace our wall. This is a kicked back, must do.
January 2013
This was an amazing tour. We had Darryl as our tour guide--can not imagine anyone better. He was raised with the aboriginal culture and knew both our artist and our spear fisherman personally. The tour through the rainforest was fascinating,Link taught us about medicinal plants
August 2012
Was an awesome day out. The guide was fantastic, and all the activities are a lot of fun. Great value for money. Was the best day of my holiday.
January 2011
Spear-hunting was really great! Though we did not get to catch anything, Brandon did catch a reef shark and a stingray. It was amazing to see his fishing skills, and how easy he made it look! Going through the mangroves, we picked up some shells and he showed us which ones were good to eat or not. It was really interesting to learn about traditional hunting and way of live. Definitely recommended! You'll get wet but you'll love it!
Anonymous
February 2010
The mangrove walk was so much fun, everyone ended up covered in mud from slipping and sliding over the tree roots. The brothers were funny and welcoming and it was interesting to see how they have combined modern life with the old traditions of the tribe. I would do this tour again in a heartbeat, but make sure I wear shorts next time not a sundress!
Advertisement
Advertisement